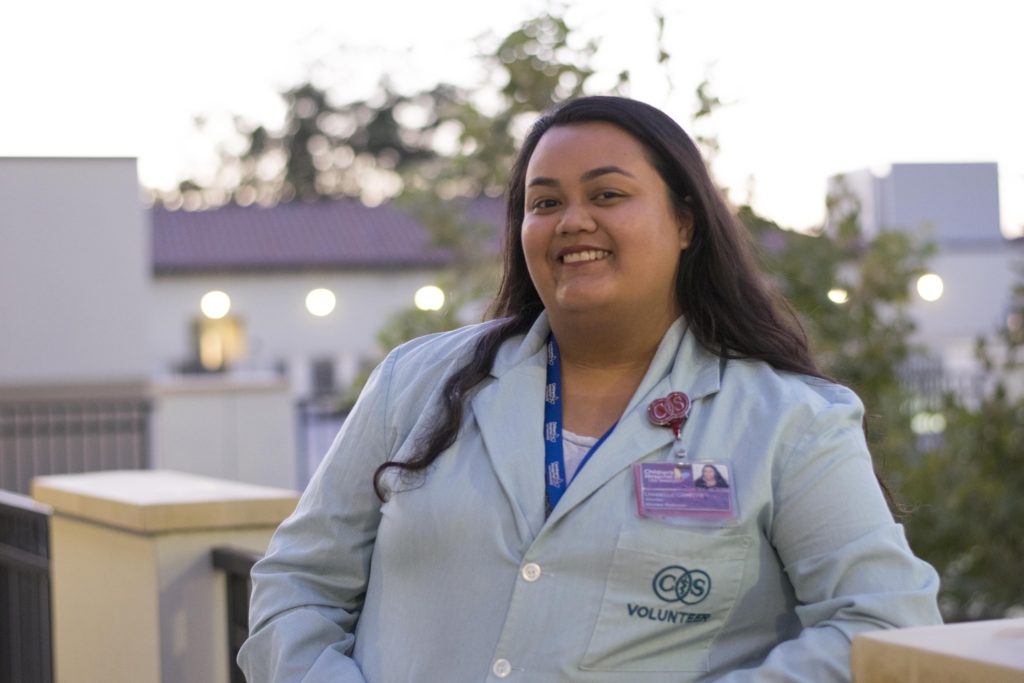 Helping others comes naturally to some, but not many would consider volunteering on their birthday. Chanelle Camello wouldn't spend her day doing anything else.
Camello, 23, is in her last semester at Pierce College and is double majoring in psychology and human development. She wants to be a child life specialist at the Los Angeles Children's Hospital, working in the hematology and oncology department, and a medical interpreter in sign language.
As a sophomore in high school, Camello first volunteered at the Saint Joseph Worker church school.
"I just like helping out with things I support and feel comfortable with, and I like the support I get back from people," Camello said. "The organizations I work with, their motives and their message, is very close to what I believe in."
Rather than celebrating her birthday, Camello decided to volunteer at Jack's Camp in Northern California.
"Every year, we usually go on a birthday trip. And when I went to Bereavement Camp in April, a camp for parents who lost their child due to cancer, they mentioned they were having a camp up north, and it was really special to be with these kids on my birthday," Camello said.
Camello is motivated to work far from home by her sister who works at the Los Angeles Cedar Sinai Medical Center.
Working at an elementary school and at a lawyer's office as a paralegal, Camello maintains a busy schedule while finishing her units at Pierce. She is applying to Cal. State University, East Bay and Cal. State University, Channel Islands in fall.
"I prefer it just because that's what I'm used to. I'm not used to having idle hands. I don't like not doing anything," Camello said. "I'm the type where I need to do stuff frequently or else I freak out."
Pierce student Cesar Guijarro, 24, volunteered with Camello at the Bereavement Camp and has been volunteering with her since high school.
"All she wants to do is help people out. She has a strong personality, and she's fun, but she could also be very serious when it comes to helping others," Guijarro said. "She never puts herself first; she always puts people before her."
Guijarro said volunteering was an eye-opener, and it changes one's life perspective.
"I went to this camp, and it made me fall in love with kids. They have cancer, but you can never tell because they're always smiling; they're always so happy and energetic," Guijarro said. "I think when you're helping someone out, you're doing this from the kindness of your heart, not because you're getting paid or it's going to look good on your resume. I think volunteering is something everyone should do because it opens your mind."
Guijarro and Camello both have volunteered at Transforming Care at Bedside (TCAB), a medical surgical unit focusing on improvement in four categories: safe and reliable care, vitality and teamwork, patient-centered care value, and added care process, according to their website.
"We basically shadow nurses, but also take care of patients while the nurses are busy," Guijarro said.
Guijarro said Camello encourages him and their friends to volunteer. He said one of the reasons they're friends is because of her character. He said she's constantly sending him emails about volunteer opportunities.
"She volunteers at any event, anything humanitarian," Guijarro said. "We're friends because we have the same personality and the same tone, but most importantly, we encourage each other to be a better versions of ourselves."
Guijarro said they are volunteering at a similar camp next year in March and November.
Camello said she prefers working in a hospital rather than a school because of the environment and prestigious hospital settings. She volunteered for women activist Amber Rose's SlutWalk in 2015.
"I really liked the message behind it, and I signed myself up," Camello said. "She's all for equality, same pay, for women being treated the same way, and women to be able to dress however, and I really like that message."
Cecilia Macias, bible studies major at Cal. State University, Northridge, met Camello at Camp Ronald McDonald for Good Times in 2015. Macias volunteers with her church, but also at events such as Relay for Life.
"We ended up being roommates at Camp Ronald McDonald and we spent a lot of time together," Macias said.
Macias said she is inspired by Camello's dedication. While working multiple jobs, she still finds time to volunteer.
"She's not afraid to be silly, and I think that's so important, especially when working with children," Macias said. "She's not scared to sing a song or dance. She's very nurturing, and the kids look up to that. When I see her with other kids, she's in the moment with them."
Macias said volunteering is beneficial, but it's a learning experience.
"It sounds cheesy, but it really does change your life, it really does. You think you're going to help these kids and they're going to learn so much from you, but it's the other way around," Macias said. "You learn, not just from the kids, but from the organization, the people you meet."
Camello meets new people at every event she attends. She make new friends who she still keeps in contact with years later.
"I think being at camp feels more like a family, rather than work. Definitely, the volunteers make you feel at home," Camello said. "They're the nicest people I've ever met. They know you're there for good intentions, you're there to help the kids, and you're there to give back and give your time, and they're so grateful for that."
Although volunteering is an unpaid job, Camello said hundreds of people donate their time to help others without hesitation.
"During the summer, we're gone for ten days. That's ten days without work, and we have more than 500 people who volunteer. That shows what kind of people there are," Camello said. "It means a lot."
Camello said people don't need to feel like they need to volunteer to make a difference. People can donate to organizations like Camp Ronald McDonald for Good Times, which helps children and families.
"I think after seeing these kids and what they go through, every problem you have is so miniscule compared to children two or five years old who have been sick their whole lives," Camello said. "Just giving back to that aspect, and those children who appreciate it so much, I think that's encouragement enough."