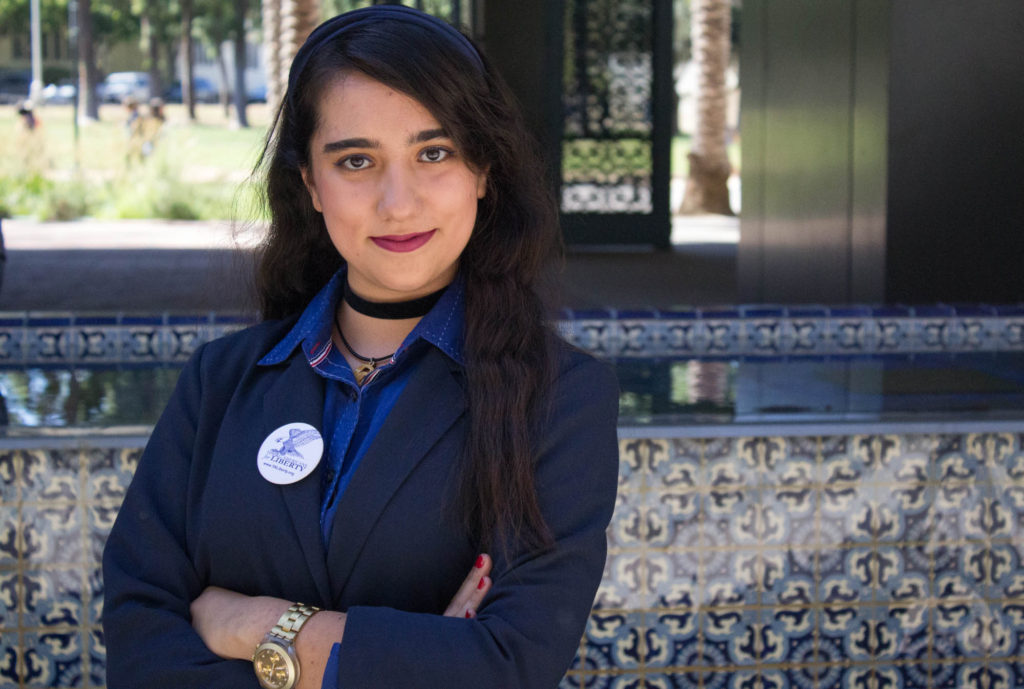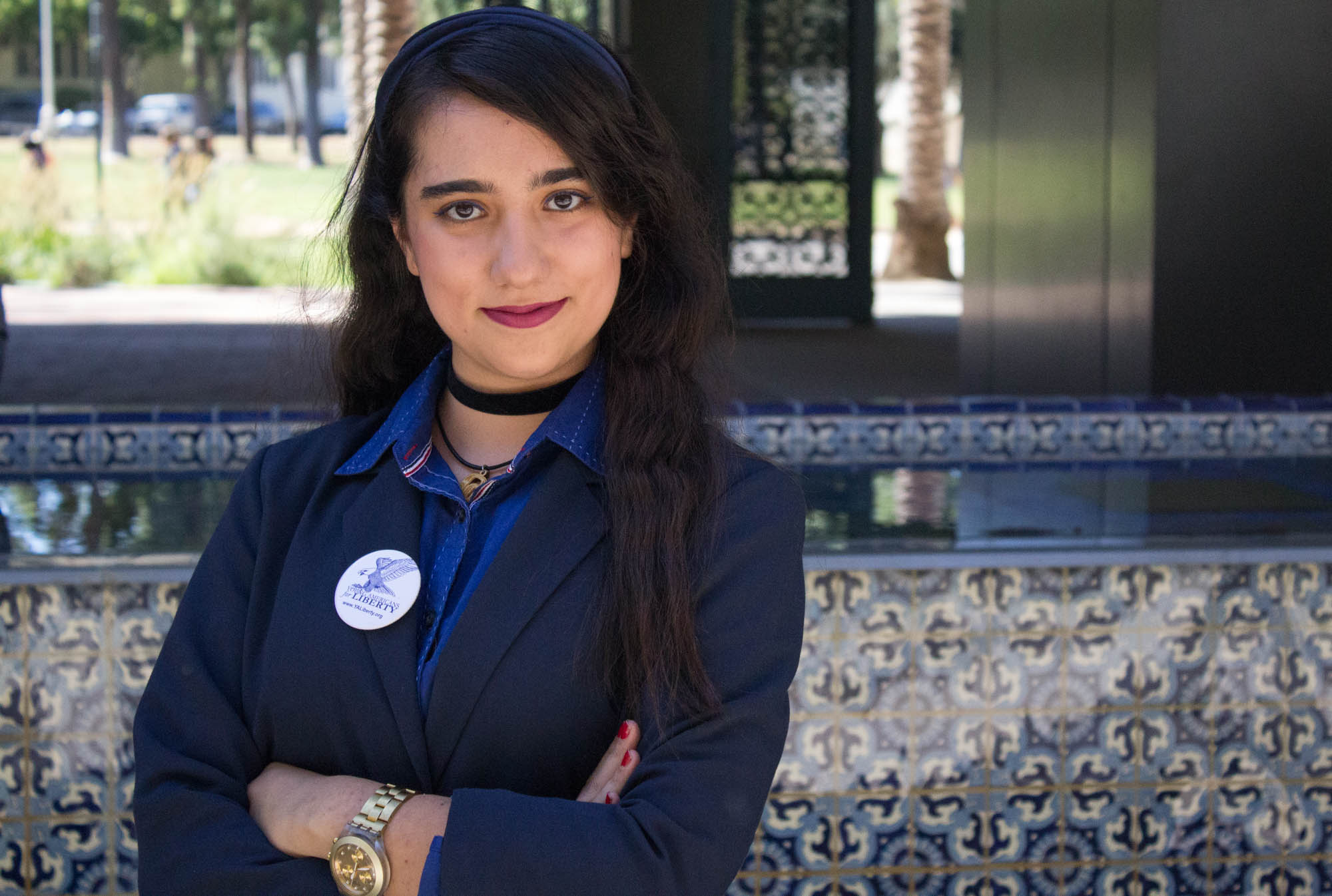 The appeal of politics has grown within the youth population through recent years, especially during and following the 2016 presidential election. Millennials have formed political and advocacy groups across the nation.
Pierce College is home to at least four, one run by a determined woman.
Tahmineh Dehbozorgi, the chapter president of the Young Americans for Liberty, created the club on campus to make sure that students knew that there was always someone to support them. She said the club would provide a space where people who could work together if they felt they couldn't say things others might not agree with.
Dehbozorgi immigrated from Iran in 2016. She was nationally ranked in the top 1 percent of the 2016 class in Iran and was admitted to Allameh Tabatabayi Law School. However, she decided to move to America because she said it was the land of liberty, where she could follow her dreams and pursue a political career.
"When I came to America for the first time, everyone accepted me with open arms as if I had been born there, and then I learned about the U.S. Constitution and how great it is," Dehbozorgi said. "America is the only country with these amendments and outlines, and the U.S. Constitution is the greatest document ever written, I believe, and I will do my best to protect it."
According to Dehbozorgi, she came to California because she said that everyone looked to California as a big political field in America, and her efforts with YAL would be able to pour out all across the United States.
"Los Angeles is a place where a lot of Iranians live, and we had some friends here," Dehbozorgi said. "Also, California is similar to where I came from in Iran. There is a lot of diversity, and this helped me realize that California is now my battlefield for politics. There is a lot going on with the government in California, and we should start making changes, especially in our college campuses when it comes to freedom of speech."
She chartered the club at Pierce in September and gathered more than 100 signatures of students willing to join. During the first meeting, about 30 students showed up to participate.
According to Dehbozorgi, her motivation comes from seeing liberty-minded students who are passionate about their work and will fight to reach their goals.
"We conduct different activism programs through YAL," Dehbozorgi said. "For example, we hope to have open forum discussions with students on current topics and connect them with different opportunities like a leadership school, where they train students to become leaders or how to pursue careers in different fields."
Dehbozorgi explained that there were many reasons why she wanted to create YAL on campus, but she really focused on liberty after receiving guidance from other YAL members.
"I was invited to go to YAL Con 2017 by the former Western Regional Director of YAL during the summer," Dehbozorgi said. "I was trained on how to start my own chapter of YAL at Pierce College. At the event, I met Senator Rand Paul, Congressman Justin Amash, Judge Andrew Napolitano, Congressman Thomas Massie and about 400 other activists who love liberty."
Dehbozorgi said she figured out that she wanted to pursue a career in politics after she visited Europe and met other international students from different backgrounds.
"I went to Germany on a scholarship for a language boot camp, which became one of the turning points in my life," Dehbozorgi said. "There were many students going to Germany from all these other countries with different backgrounds, and we talked, and then I realized that it is important to have this unity. This helped me realize that I should change my life to get political. I wanted to go internationally and fight for liberty and work on it for everyone's benefit."
Lauren Dziedzic, the free speech coordinator of the YAL club, said that she had known about YAL for years when she first met Dehbozorgi.
"On the first day of Club Rush, I saw the Gadsden Flag, which is a libertarian icon. It's bright yellow and flashy, and Tahmineh was there," Dziedzic said. "I told her that I didn't know we had a YAL chapter. She told me it was new on campus, so I said, 'Thank God, I didn't miss out on anything.' So, I joined."
Dehbozorgi wants to change Pierce's school policies and allow for more freedom of speech. She said she would change some of the ways that school administration runs things.
"I want to make the school an area where everyone can express themselves without being scared of the school administration," Dehbozorgi said. "We also want to change the bureaucracy on campus because it has postponed a lot of our efforts as well as other clubs."
According to Dehbozorgi, she fights for liberty to create change.
"The only way we can make changes in the policies of our government and our society is to start from ourselves, our colleges and our own community," Dehbozorgi said.
Michael Sabuncu, the vice president of YAL, said that he shares many of the same values with Dehbozorgi.
"She is very passionate and very empowered, and she is determined to achieve whatever she has in her mind when she is promoting this club and its values of liberty, and freedom of speech. I think with that ambition and collaboration of the group members, we will go very far," Sabuncu said.
Kosar Afsari, the ASO Club Council president, has known Dehbozorgi for some time and said she has made the club a big part of the Pierce community.
"YAL was one of the first clubs to send in all their paperwork to become an on-campus club," Afsari said. "I do like Tahmineh's spirit and enthusiasm about everything, and those are the kinds of people that we need. We need people who are passionate and are willing to do things."
Dehbozorgi said she hopes her message of liberty and free speech will make a difference at Pierce. She hopes that, just as she's gone to learn about liberty, students on campus and other places can learn as well.
"We're all coming from different countries, and we recognize the value of liberty, so that's why we fight for it," Dehbozorgi said. "We want people from all over the world to recognize that."
Dehbozorgi anticipates that more students will join YAL on Thursdays for its meetings in the coming months as it continues to grow. She also hopes that her club's first major event the Day of Politics on Oct. 19 [see pg. 8], will give way for students to listen to her voice, as well as others who love liberty and are interested in hearing its message of freedom, peace, and prosperity for the greatest number of people.