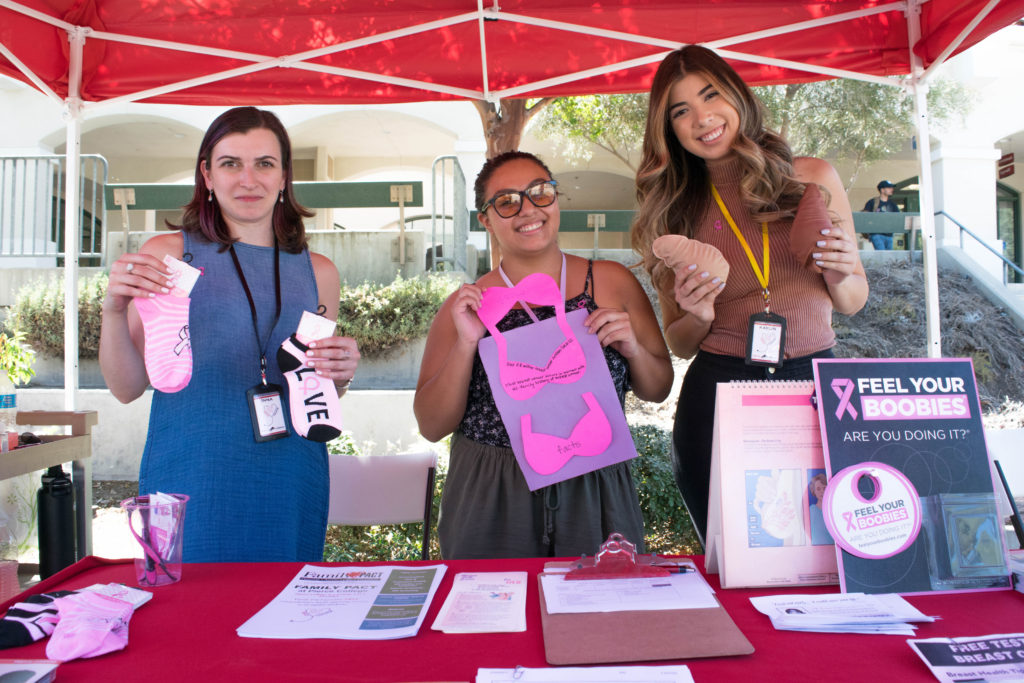 For most of us, October is a month of ghouls, goblins and candy galore, but it's also a month to be aware of lumps.
The Student Health Center was out on the Mall on Monday, Oct. 16, raising awareness about breast cancer.
Kaylin Reyna, a public health major at Cal. State Northridge, interns at the Student Health Center and was assisting at the event, answering questions about breast cancer.
"We're here to give students information, and we have fake boobies that have lumps in them and we're asking students to feel for the lumps so they know what to look for when they're doing their self breast exams," Reyna said. "We have free breast exams, so you can come in and make an appointment at the health center along with a physical exam."
The Student Health Center had a tent set up with information flyers and pamphlets to give out about breast cancer. They also had written facts for students to read. Students who touched and examined the fake breasts and read the facts, were given prizes such as, breast cancer awareness socks, razors and bracelets.
Jade Archer, an engineering and math major, said that she walked to the tent because she was curious to see why there were fake breasts laid out.
"In this society, people get shamed for their bodies, so you don't become familiar with it," Archer said. "Checking it allows you to see what is normal for your body, and if something goes wrong, you can detect it a lot earlier by doing regular exams and things like that."
After speaking with members from the Student Health Center, Archer said she has a better understanding of what lumps to look for when doing self breast exams.  
"As a woman, you have to feel for lumps, but you don't really know exactly what it's supposed to feel like," Archer said. "Now I can know what it's like to feel for one that is actually problematic."
Inna Litvak, an intern at the Student Health Center, said that there are many services at the Student Health Center that are provided for little to no cost.
"For no-cost services, we have psychological and nutrition counseling, family planning, free condoms, over-the-counter medications for first aid and physical exams," Litvak said.
They also provide pregnancy tests, birth control, Plan B, STD testing and HIV screening.
The Student Health Center is on the Mall almost every week to help to students become familiar with the services they have to offer. They have a confidential form that students can fill out to make an appointment, needing only to provide only student ID and phone number.