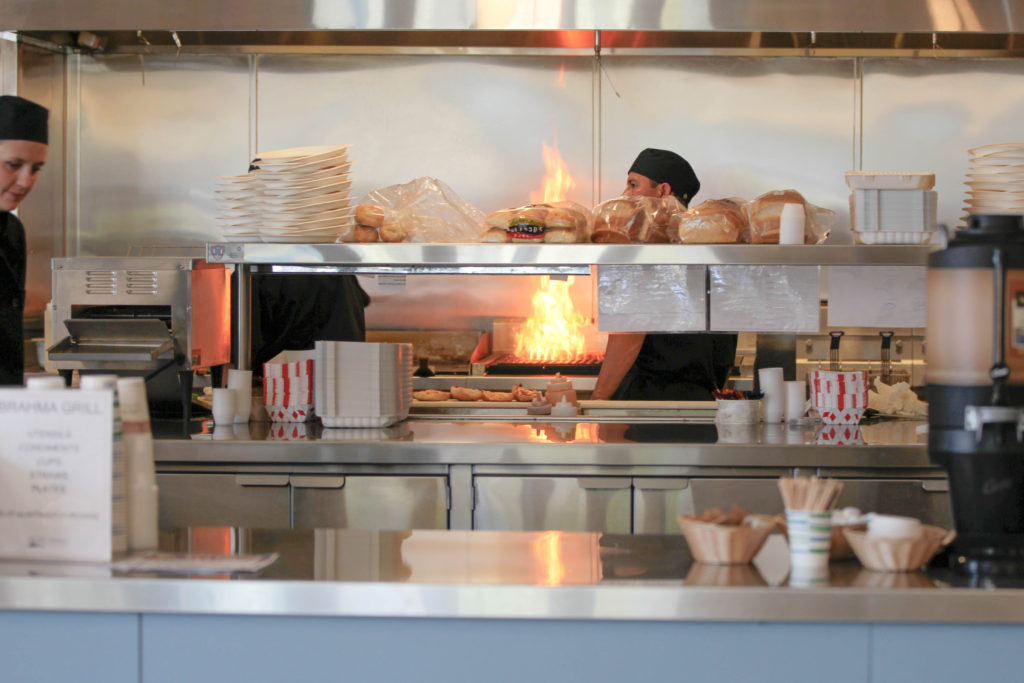 All catering on campus will need to give Pacific Dining and the Brahma Cafe "first right of refusal" when planning events that require food services, due to an agreement between LACCD and the new district-wide food vendor.
Organized groups using college funds must make a bid to Pacific Dining or the Brahma Cafe before venturing out to external vendors to fulfill catering needs.
Dean of Student Engagement Juan Carlos Astorga said LACCD implemented this procedure to provide catering needs on campuses.
"The district was trying to develop a plan to have dining facilities and meal opportunities for students, faculty and staff on each campus. One company would service all nine campuses in the district," Astorga said. "What they did as part of the contract, was identify a requirement that Pacific Dining has a right of first approval."
Astorga said this new procedure might be an opportunity to improve business and lower prices.
"It's my hope that the more business they generate, there will be an opportunity to navigate and negotiate better prices when having events and activities," Astorga said.
Astorga said there are frustrations because some groups that need catering don't remember the procedure or know that there is one.
"It's a different process. I see a lot of different clubs struggling at times to remember that we first have to go through Pacific Dining. Because now, administrative services will not approve a contract or request an restaurant invoice if we have not received that email saying, 'We cannot meet your needs,'" Astorga said.
Program Specialist for LA Regional Pathways Raffi Kahwajian said if the vendor cannot fulfill the request, groups can then explore other food opportunities.
"If, for some reason, they can't come through and deliver, then we can go to other outside sources in their place. But there would have to be some kind of official statement from Pacific Dining saying they can't fulfill the order, and that would give us the green light to find another vendor that can," Kahwajian said.
Astorga said he is optimistic about this change on campus.
"I'm hopeful that it's going to become a better, more mutually beneficial relationship," Astorga said.
Associate Vice President Larry Kraus said he welcomes this procedure to connect the campus community with the services offered.
"This was a procedure that we wanted all along. We have asked that groups participate with our existing food services on campus, and we are just really enforcing this now," Kraus said. "We encourage our college community to participate in their services to strengthen the whole. We are here, we have mechanisms engaged to provide food to the campus, and we need to use those services."
Kraus said groups on campus are allowed to independently fundraise, as long as they check with Pacific Dining first. He suggests submitting a list, getting a price, and seeing if it is consistent with what can be acquired elsewhere.
"The clubs can fundraise, and they can sell food. We just don't want them opening up a private food establishment. But if they can have a club event like a barbeque or something else of that nature," Kraus said. "Certainly, they can fundraise that."
Kahwajian said so far he has been satisfied with the vendor.
"Just recently, there was an event in which I was involved, and the staff for Pacific Dining was very helpful in terms of how we wanted things set up, where and when. They have been responsive and quick to act. It's been a positive experience so far," Kahwajian said.
Kraus said the campus had lacked food service for at least three years.
"We had the cafe, but that was the limit of our food services. Everything was brought on campus through the food truck and food kitchens," Kraus said. "Food services on a two-year campus are very difficult for our providers, and so we need to encourage our providers to be on campus and succeed to be able to stay here."
Kraus said the food trucks do a good job on campus, and provide quick service to students in a rush.
"Students have a very short period of time to get to their next class. On their way, they may have to visit a vending machine, get a quick snack, and go on to their next class. We're talking about ten minutes, and if we can intercept them into the food court, and get them served quickly all the better," Kraus said. "But because the layout of the college is so large, they play a very important role in meeting the nutritional needs of the students."
Kahwajian said he has heard criticisms about using limited vendors as a primary choice. He said that people are concerned that the campus is lacking the "equal opportunity to be able to come in, and compete for the business of people here at Pierce."
"I haven't heard negative feedback, but I will qualify with I haven't heard enthusiastic feedback," Kahwajian said. "Some individuals think it's not fair to limit options."
Kahwajian said he wants to remain neutral despite hearing mixed reviews from colleagues.
"I'm being open to seeing both sides," Kahwajian said. "I'm trying to keep an open mind and then hopefully gather information personally before i can criticize it or be in favor of it."
Pacific Dining Manager Brian Robertson said in an email that Pacific Dining's services have been well received.
"We believe the procedures for getting a quote and placing an order are simple and efficient. As with any new procedures, it takes time for everybody to become comfortable with the process," Robertson said.
Kahwajian said he will have a better idea of whether this change makes sense after a few semesters with the procedure in use.
"As far as impact goes, that remains to be seen. We will have a better idea of what the track record will be for this new company and how satisfied students and staff and faculty are with the services provided," Kahwajian said. "At this point, it is too early to really say what the effects will be. We will find out."
To view a video about Pacific Dining, click here.
***This story has been updated to include a link to a video on Pacific Dining***