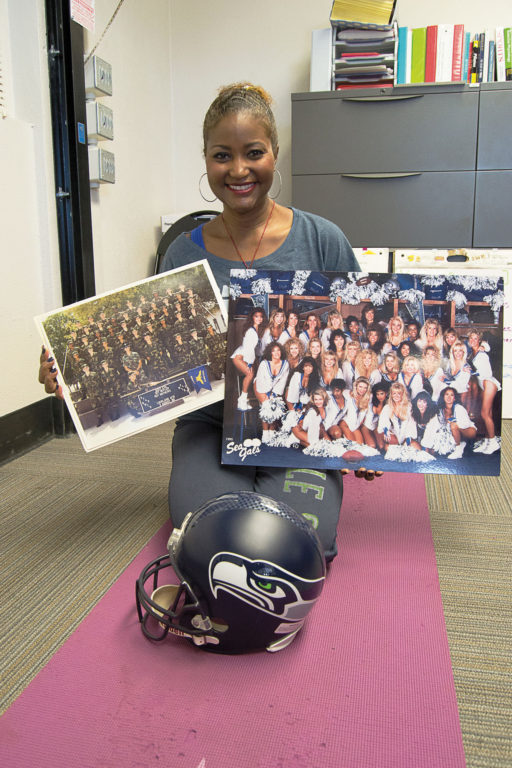 The best teachers are cheerleaders and disciplinarians, but few have the professional experience in the fields that bring about these qualities.   
Kinesiology Department Chair Shilo Nelson is an Air Force veteran, an ex-Seahawks cheerleader, a 500-hour trained yoga instructor, a certified personal trainer and a member of the District Equivalency Committee.
Nelson grew up in Washington and was raised by parents who had joined the Air Force right out of high school.
According to Nelson, the mindset she grew up with was shaped by the military, and that is all she knew.
"It has been since conception, because both my parents were military," Nelson said. "I think that things are black and white, which can get me in trouble, because I have been told that the world is grey, so I'm still learning and growing in that area."
Being in the military for four years taught Nelson to be diligent. She said that she was raised on the philosophy of paying attention, asking questions, and staying until a job is done.
"I have a very strong drive and am able to have boundaries," Nelson said. "That's the only way I can function."
Nelson said that serving in Desert Storm during the war taught her many qualities.
"Everything is orderly. I know where things are," Nelson said. "I believe in systems. It teaches you to pay attention to detail, because if you don't in the military, someone dies."
Nelson started going to the gym while in the military to fill time with her roommate, who was a bodybuilder. Though Nelson said that she wasn't that coordinated, she began to take step aerobics because she found it to be fun.
"They would move forward and I'd move back, they'd move left and I'd move right," Nelson said. "It took me awhile to get it. I was always the person that was all over the place."
Soon, Nelson became determined and made it a mission to attend class daily.
"I stood back, and I watching the whole gymnasium moving in unison," Nelson said. "I thought, it can't be that hard, and if they can do this, I should be able to do this too, so I made it a mission to learn."
Nelson turned to the idea of becoming a trainer so that she would have a clearer understanding of what she was doing.
"I started checking out books from the library, and I took training on how to become an aerobics instructor," Nelson said.
According to Nelson, Michelle Olsen, who lead her aerobics instruction class, is one of her main inspirations and gave Nelson the best training.
"She impressed me so much, that I filed her in the back of my head and said, 'I want to be like her,'" Nelson said.
Once Nelson got out of the military, she went back home and had an encounter with a woman who worked at the health club she was attending, which lead to her figuring out what to do in life.
"I didn't know what this field was called, but in all the books, they said they were doctors of exercise science or biomechanics. I thought, 'What is that?' And she said, 'Oh, you want a degree in exercise science, that's what I got. You want to do what I did,'" Nelson said. "Then she helped me get a job at the health club, so I started teaching at Gold's Gym. It was onward from there."
Nelson received her bachelor's degree from Eastern Washington University. Throughout her time there, she was able to practice what she studied.
"What I do is very practical, so I could study on the job and actually put what I was learning in a textbook to use," Nelson said. "I think that is what made school easy for me, because I was always utilizing what I was learning."
Nelson took a break from school to become a Seattle Seahawks cheerleader.
"I had just got out of the Air Force, and I was working at a department store and my supervisor decided that she wanted me to be in a pageant," Nelson said. "I didn't want to do it, but I didn't want her to bother me about it, so I looked into it and they told me that I was too old. I was 24. She came back a day later and she told me that I should be a Sea Gal. I went to try out, and I made each and every cut. They took only six of us out of the original few hundred. I was quite shocked."
Nelson said the experience was a confidence booster.
"After I did that, I realized that I could do anything," Nelson said. "I have accomplished things that most people would say are out of reach, and I'm not afraid to fail."
Following her time in Washington, Nelson continued to work in gyms, starting to work at 24 Hour Fitness as a group coordinator, which relocated her to Oregon.
Nelson received her master's degree from Cal State, Northridge.
"I wanted to get a job with Nike designing shoes and clothes, but they wouldn't interview me because I didn't have a master's, so that's what brought me to California," Nelson said.
While at CSUN, Nelson said that she had her first experiences with collegiate teaching.
"There, I got hired as a grad associate, so I was teaching the the undergraduates the activity classes and the exercise science labs," Nelson said. "I was a grad student and still teaching aerobics at the gym, and personal training, and after that, I heard that Moorpark needed an adjunct professor teaching pilates."
Pierce student Carmen Flores is enrolled in Nelson's body conditioning class.
"She is very good," Flores said. "She has been teaching for years, so she has more experience with students."
Flores said Nelson incorporates specific exercises, like jumping rope and jumping jacks into the class, which make Flores feel connected with her body.
"It is a very good class to keep in good condition and good strength," Flores said.
Jamie Phillips, an assistant professor of health education, said that Nelson is always finding ways for how the department can improve and provides support to faculty, and as a result, makes students' experiences better.
"Shilo is really good at motivating us, to help our department and get student enrollment up," Phillips said.
According to Phillips, she is always growing as an educator within the department.
"She gives really good constructive feedback and always recognizes the hard work that you have given and thanks you," Phillips said. "If you need a little nudge, she will give you a nice little suggestion of what she thinks you could be doing."
Phillips said Nelson is constantly evolving as an educator of kinesiology, and it's due in part to her forward thinking.
"Myself and our department, as a result, is always growing because she is always thinking what is next, and what we can improve," Phillips said.
Nelson began teaching at Mission College, then saw an opening at Pierce. Nelson attributes the action of continuous growing and learning to inspire her daily.
"I am not doing my students due diligence if I am not learning everyday," Nelson said. "There is always a new diet or new exercise program, and I need to know so I can talk about it and read about it and give my opinion. But sometimes that is not good enough, I need to experience it."