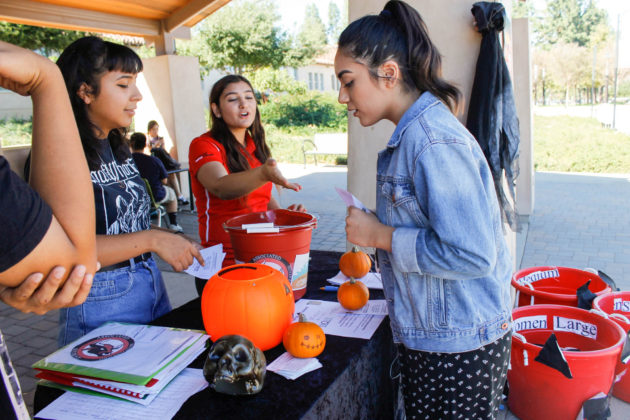 October is the time of the year to play tricks and relish in treats, whether that be hanging out with friends or snacking on sugar candies, however having fun sometimes has to wait because of  problems.
To help students have a spooky time on Halloween, ASO placed bright red buckets throughout campus for students to drop off clothing or costumes and on Tuesdays and Wednesdays from 11 a.m. to 1 p.m. were on the Mall.   
Gisela Tarifa, an ASO senator, said the purpose of these events are to bring knowledge to those students who don't know much about what Pierce has to offer.
"It's not just about me collecting clothing to donate it back to other people, it's also about spreading awareness and information about the resources that Pierce students have available to them," Tarifa said. "Not only are we collecting clothes, we are also talking about resources that Pierce students need."
According to the Los Angeles Times, 1 in 5 of the 230,000 students in the Los Angeles Community College District are homeless, and about two-thirds can't afford a balanced meal.
The costume drive branched out from the Brahma Initiative, which was a resolution passed by the ASO because of the survey the district recently published.  ASO President Efren Lopez said that Tarifa, who is chair of ASO's Community Welfare Committee, pushed for the resolution.
"It's a lot of community service, it's a lot of helping out students, access to food, creating the food pantry, and having community drives," Lopez said.  "In the spirit of Halloween, I think it's important to have the community bonding and the community engagement to run these drives."
The Community Welfare Committee is determined to help students here on campus, Tarifa said.
"This committee really strives to address anything that is occuring within the Pierce student body community or anything that is happening in our local area," Tarifa said.
The goal for the costume drive remains the same, according to Tarifa. Originally, they had planned for only costume donations, however, it was opened up to donations of any type of clothing.  
"The original goal for the costume drive was to redistribute it back to Pierce students that weren't able to afford a costume or didn't have the time to go purchase a new one because of midterms," Tarifa said. "That's still the goal, but if there are leftover clothes from the drive, we're going to donate it to a local shelter, which we are still researching."
Isha Pasricha, the ASO Vice President, hoped that the costume drive would bring happiness to those in need.
"The goal of our event is to provide a little more happiness to people who aren't privileged enough to have costumes," Pasricha said.
Planning these type of events do come with challenges, said Pasricha.
"The challenges would be when we were organizing it, publicizing it, letting people know that we are doing a costume drive, and if they have any costumes that they don't use, that they can donate them to people who are actually in need," Pasricha said.
Pasricha thinks it's important for ASO to have these events because it benefits the students.
"We are the student body government on the campus, it is our job to create an environment on the campus where students want to come and feel welcomed and have somebody who is there advocating for their rights," Pasricha said. "The student body government, we take pride, we take it as our responsibility to help students."  
The drive ended on Oct. 31 with a final event, in which all donated costumes would be available to students at a Peer to Peer social event in the Student Engagement Center room 5100 from 11 a.m. to 1 p.m.