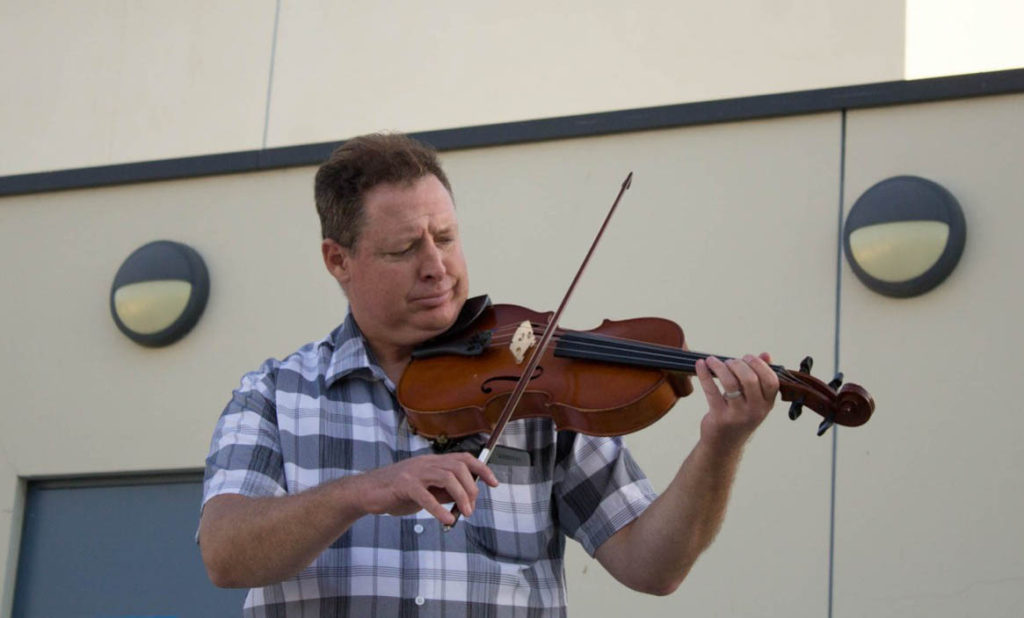 The study of physics explores many theories including sound, however, Lee Loveridge takes it a step further by playing in the San Fernando Valley Symphony Orchestra.
Loveridge, an associate professor of physics and astronomy, is involved in many ways at Pierce College, spends the majority of his time enjoying and teaching the sciences, as well as practicing the arts.
Loveridge knew he wanted to be a physics major when he was a junior in high school. He had previously wanted to be a nuclear engineer until he saw a particular physics demonstration.
"When I saw it, I was so amazed that I knew I had to do that for a living," Loveridge said.
He attended the University of California, Berkeley, where he received his master's degree, and he continued to do research based on physics. However, that wasn't the only passion he had.
Loveridge has played the viola with the Pierce Orchestra for about two years.
"I feel like I make a contribution that makes the music richer," Loveridge said.
Loveridge began to play string instruments because his older sister, who he idolized, was playing them. But he was also inspired by his television hero.
One day, Loveridge was watching an episode of "Mr. Rogers' Neighborhood," and Mr. Rogers brought out the four-stringed instruments: the violin, viola, cello and the stringed bass. Viola was the only instrument that he was unfamiliar with.
After obtaining his doctorate at Berkeley, and because a number of things were not going well in his life, he took a break from school and taught high school for two years. However, he wanted to go back to school and finish his doctorate.
He continued his education for another four years and earned his Ph.D. in physics at UCLA. However, he also focused on particle astrophysics.
Loveridge was looking for ways to understand fundamental particles better and focused on what kinds of insight he could get from recent discoveries in astronomical physics.
"My short answer to what it took to get my Ph.D. is 9 years, two children and a marriage," Loveridge said.
While Loveridge was teaching high school, he was introduced to constructivist theory, the idea that students don't simply absorb what you tell them. According to Loveridge, students have to construct their understanding based on previous experience, new experiences and what they are told.
He loved this idea, and he worked hard while he was teaching high school to include the constructivist theory while teachings.
Later, when he was searching for a new full-time job, he saw that an opportunity was available at Pierce.
"I was interviewing, and I talked all about how constructivism was important to me. That matched up very nicely with the ideals of the school because that is something they put a lot of effort into," Loveridge said. "It turned out to be a very good match,"
Loveridge has been working at Pierce since spring 2009.
He saw that positions were open to teach astronomy, and he was interested in applying the active learning techniques he was using to teach physics. However, he said it is not working out as well as he had hoped.
"It's a different student population, and learning exactly how to work with them is still something I struggle with, but I feel like we are making progress all the time," Loveridge said.
Loveridge said that he enjoys physics, and he thinks it is amazing to see that, with a few basic principles, predictions can be made about the world.
According to Loveridge, in physics, you are looking for the simplest description that is accurate and precise and gets right to the fundamentals.
"There is an underlying beauty and simplicity to the mathematics," Loveridge said. "Each science is beautiful and amazing in its own way. I happen to like the simplicity and fundamentalness of physics."
Physics instructor Margaret Wessling said that the Physics Department works closely and has regular meetings to discuss teaching techniques and whether or not they want to make changes.
According to Wessling, the department is interested in physics education research, and she said Loveridge is a good addition to that group.
"There is a group of people in physics that are focused on how people learn physics," Wessling said. "There is a lot of curriculum and techniques that come out of that. We are all very interested in applying those in our classes and see if we can contribute to how well they work. He has definitely been involved in that a lot."
Wessling said she can see how much Loveridge enjoys physics. He often visits her office to show her the latest demo he's been working on.
Wessling said that the few classes Loveridge teaches, have no prerequisites and can be hard to teach because students sign up for the class and are nervous due to being unfamiliar with the subject.
"You have to somehow draw them in, and I think he has done a really great job with that," Wessling said. "He is really excited about physics, and he is able to make that come through."
Loveridge first picked up the viola when he was in fifth grade, and then he played it all through high school, however, he stopped playing the viola for about 25 years, until he picked it up again at Pierce.
Loveridge wanted play again, and he wanted to see if he could fit that in with his class schedule.
He borrowed a viola from his sister, and he picked up a book called "I Used to Play Viola," which helps people who used to play get back into the habit.
When he attended his first rehearsal at Pierce, the orchestra was playing with the San Fernando Valley Symphony Orchestra, and he sat with them and joined.
"I have a hard time going to a symphony just to sit through it and listen to it. But to be a part of it and to see how the music develops, it is a much richer and interesting process to be in the middle of it," Loveridge said.
Loveridge said he enjoys being a part of the music community he lost contact with so many years ago.
"You have a lot of the same hard work you would have in a sport without the competitive edge. I like the collaboration, and I like working together with people," Loveridge said. "It is a lot of work, but it is a lot of fun."
James Domine, the Director of the San Fernando Valley Symphony Orchestra and music instructor at Pierce, said that it is a pleasure to have Loveridge be a part of the orchestra.
"Students certainly look up to him, and it is a pleasure for them to have someone of his accomplishments in the orchestra with them to make them feel like it is a worthy enterprise," Domine said.
According to Domine, Loveridge is a positive team player who is willing to learn and grow as a musician.
"You sort of have to be to be a musician," Domine said. "If you're the negative type, it makes it hard to participate in a music program. Performers, in general, have an attitude that is upbeat in an almost competitive way."
Domine said that having high standards, discipline and perseverance is necessary to play at a high level. According to Domine, there is a clear distinction between playing in a symphony orchestra and taking a music class.  
"Lee plays at a high enough level to perform in a symphony orchestra," Domine said.
"My personality is to say, if something is a little different, that's what I want to learn about. That's what I want to do. That's why I chose viola," Loveridge said.