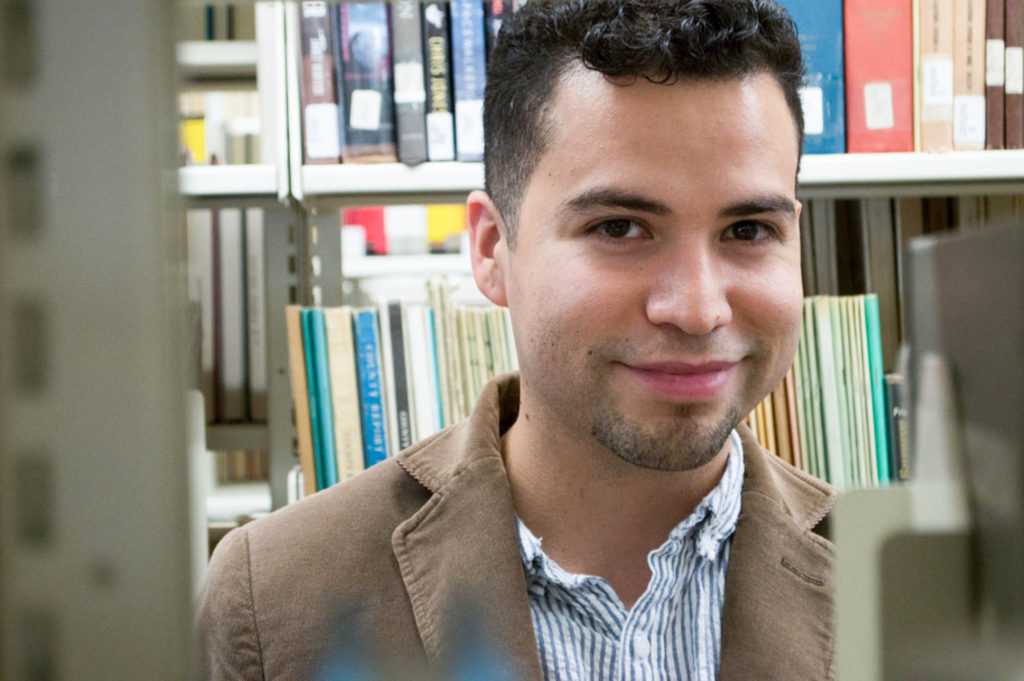 Mario Macias is not undocumented, but he could've been. His father was able to make him a citizen as a child, but that does not stop Macias from standing in solidarity with those who risk being deported.
Macias, a Pierce College librarian, demonstrated his support for immigrants by participating in the DACA march in Pershing Square on Tuesday, Sept. 12. He became aware of the march through a flyer from the Pierce College Democrats.
"I felt like I needed to show my face and show my presence," Macias said. "I wanted to support the students, the community. Not just the dreamers that might be here at Pierce or students that are under the DACA program, but the undocumented community in general."
Son Huynh has worked at the library with Macias for more than a year and said that he has always supported and helped Pierce students.
"He's very nice and very helpful to students," Huynh said. "Students know who he is. He has a great attitude."
Macias said he immigrated from Mexico to Los Angeles when he was 10 years old.
"It just so happened that my dad was a citizen and he managed to get me and my siblings papers before we turned 18," Macias said.
Macias said that he has friends that are undocumented and who are dreamers. Growing up in East Los Angeles, Macias said he knows from a personal perspective the struggles that dreamers and undocumented people face in this country.
"Dreamers, like most immigrants, tried very hard to succeed in this country," Macias said. "We tried to elevate ourselves and our families, financially and in other ways. We came to this country to work and to succeed and to prosper as immigrants."
Attorney General Jeff Sessions announced the rescission of DACA on Tuesday, Sept. 5. These words may have disheartened DACA recipients, but that was not the case for Macias.  "It wasn't a surprise because you kind of saw it coming," Macias said. "The media kept the suspense that Trump was going to address the DACA issue."
By attending the DACA march, Macias showed care and support for DACA recipients.
"I've learned that to support and give substance to an event like that, you've got to visually see people caring about this things," Macias said.
Technology Librarian Clay Gediman said that he has seen Macias care for and help students.
"He works with students well," Gediman said. "He's very passionate about working with them. He's certainly encouraging toward it."
Macias' passion to help students made him step out of the library and march to show his support for DACA.
"Dreamers are willing to put in the work to obtain an American education and get a good job and a good career and help their families," Macias said. "It's a simple goal. You're just trying to achieve the American dream just like everyone else. They just have more obstacles."
According to Macias, attending the DACA march was an empowering experience. This was the first DACA march Macias attended, and by marching, he saw unity in the community.
"There weren't just students there," Macias said. "There was a variety, a diverse profile of students, but there were also faculty members who showed up, people from the Pierce Community. It's good to know that people are willing to stand up for others."
According to Macias, he has seen a lot of DACA support movements online, including posts of people writing "undocumented and unafraid."
"It's very impressive when you can uphold such courage in the face of all these obstacles," Macias said.
Macias said that the courage and bravery of DACA recipients and undocumented people has inspired him personally and as a faculty member.
"I've heard my undocumented friend say, 'Before DACA, we were still thriving, and we were still feeding our families. We survived without DACA, and we will survive without it,'" Macias said. "I'm always surprised and inspired by how much strength they kindle within themselves."
Mario said that he plans to keep supporting and helping DACA recipients at Pierce College.
"What do undocumented students need right now? I don't know, but we have to ask them," Macias said.