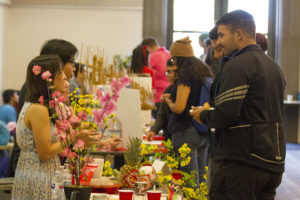 Jules Verne took readers around the world in 80 days in 1873. On Monday, Pierce students had the opportunity to experience it in about 80 minutes.
The International Students Club hosted Cultural and Diversity Day in the Great Hall at Pierce College on Monday to promote international education and diversity on campus.   
"It prepares American students for a global environment, and it appreciates our diverse and international students here at Pierce College," President of International Student Club Saman Karimi said. "I think it is the difference that makes us beautiful. If we are all united together, then we would have the power to unite the world to be better."  
Karimi said that at the event they presented passports, stamps and foods so that students would feel as though they were visiting countries.  
"We want them to learn something at our tables. To get the stamps, we are hoping they will learn the information and really remember and like it," Karimi said. "We are also making them familiar with the food culture."  
Vice President of the International Students Club Viet Le said the event promotes diversity and helps foreign students who might feel lonely.  
"Pierce is not just American. We have a lot of people from all over the world, and we want to celebrate and share their culture," Le said. "We know how lonely it is for a foreign student, and this will help them and promote their uniqueness."
Le said that he hopes students at the event will be engaged so they can understand how others think.  
"I hope the students will not just be standing and waiting, but approach and be engaged by asking questions and being curious," Le said. "You can only truly understand somebody when you learn their culture and understand how they think and see things."
ASO Social and Cultural Committee member Maryam Yahyaei said we should learn to understand each other and not base others on stereotypes.  
"We want people to learn that they are so different from each other and have certain needs they need to consider," Yahyaei said. "It's good for people to understand there are differences, but we should all learn to understand and accept each other. Don't treat each other based on stereotypes. Although we are celebrating differences, we are actually becoming one."