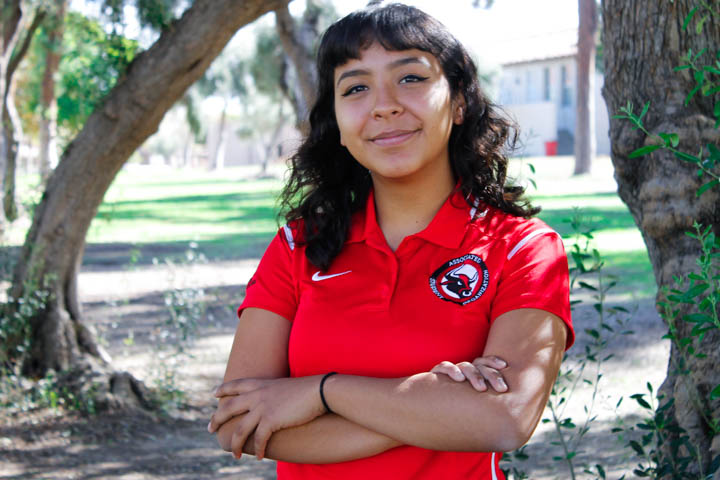 A dancer and theater lover, Gisela Tarifa, grew up performing and experiencing the relationship between culture and art. That relationship taught her the importance of community and leadership, a lesson she would someday use to make the world around her better.
Tarifa is an ASO senator, co-chair of the ASO Community Welfare Committee and the author of the Brahma Initiative.
Tarifa, a Bolivian-Nicaraguan American, grew up in a large family, leading her to become very family-oriented.
She was born and raised in Pacoima, and she lives in Northridge. She said she visited her grandparents there, who played an influential role in her life.
Her grandfather Tomas Tarifa was the original leader and organizer of a Bolivian folklore group called Bolivia Andina, which was created to raise awareness in Los Angeles about the Bolivian people and culture.
"I got a role model by my grandfather to be a community leader and essentially help people to present a perspective of a community that other people don't realize or see," Tarifa said.
As Tarifa grew older, she said she realized that she was fortunate. She had parents who had always worked hard to keep her sheltered, fed and clothed.
She grew up in a community that embraced and helped others, and this is when she began to notice that there were people who may not be as fortunate.
"I want to give back whatever time, energy, motivation that I can so they have the same things I have," Tarifa said. "I believe that everybody deserves that. It's just like a human right. You shouldn't be left out just because you can't afford it."
Understanding the importance of what her grandfather did for the Bolivian community, made Tarifa passionate about spreading awareness to highlight the food and housing insecurity in the community and show how to help those in need.
After taking a political science class at Pierce, Tarifa began to look for ways to reach out and help the community. She began volunteering with the Los Angeles Homeless Services Authority, and was informed that the homeless population was on the rise. Tarifa said that this knowledge strengthened her resolve to make a difference.
She became the homeless liaison for the Northridge West Neighborhood Council, a position in which she researches about services, programs and events that benefit the homeless population of her neighborhood.
A study by LACCD stated that 1-in-5 students have food and housing insecurities. Tarifa made a plan to resolve these issues at Pierce College.
With ASO President Efren Lopez, Tarifa co-created the Brahma Initiative to focus on the food and housing insecurities at Pierce College and spread awareness to work on minimizing these problems for students.
"It's to make sure that the students have resources or have something attainable that they need that helps them be successful in their academic careers," Tarifa said.
Lopez said that the initiative was an extension of Tarifa and her personality, and that he sees her need to help others.
"She's committed to what she believes in, and what she believes in is being generous, bringing an approach of help to those who are not as privileged," Lopez said. "She extends her personality into her work and how passionate she is."
ASO Club Council President Kosar Afsari said that Tarifa is determined to succeed, and she is proud of what she is doing for the school.
"I'll sound like a mother, but when I look at her, I am proud," Afsari said. "We have new senators, but she's the one that really stands out. She's the one that has passion, she goes for it, she makes things happen, she doesn't let things get her down."
Tarifa said that her future is full of plans to continue helping others, and it's full of hopes to better the campus community and the neighborhoods and communities that surround the school. She said she hopes to learn more as she helps.
"I'm just someone that's learning. I want to know of more ways I can help and more ways to benefit the community. If anyone knows something that I don't know, please let me know, and we'll work on this issue together," Tarifa said. "It's not just me that can solve this issue, it's about everybody."