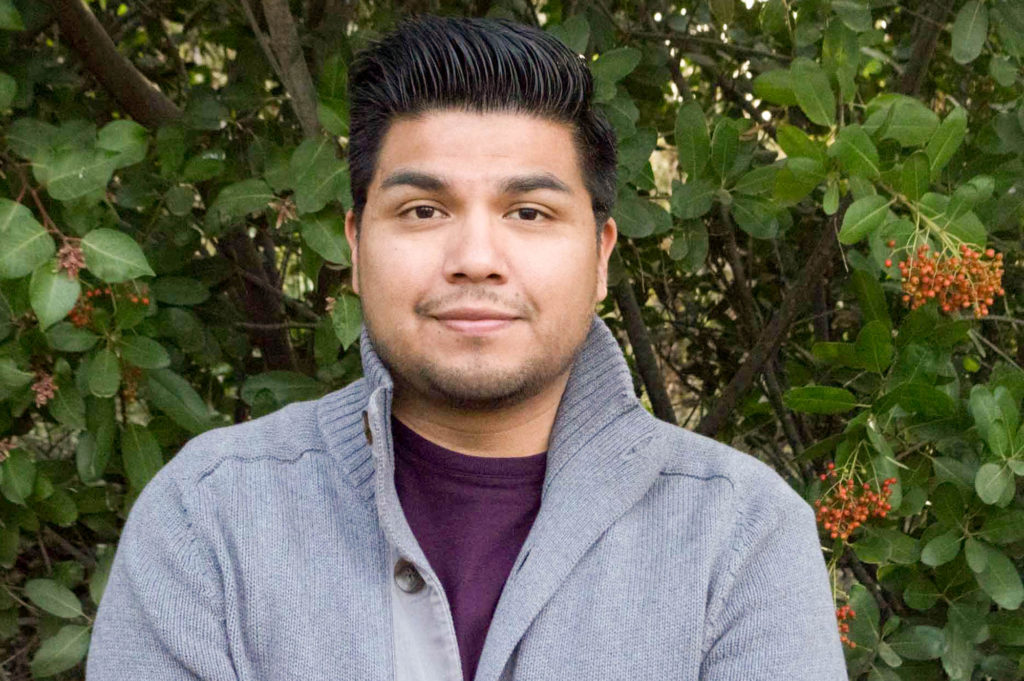 Helping those in pursuit of a higher education reach the goals they set for themselves is the dream job for this Pierce alumnus.
Axel Cortes is a Career Guidance Counselor Assistant at Pierce College, working to help students along their educational paths and representing the college through outreach, workshops and events.
Cortes, a Pierce alumni and former Deferred Action for Childhood Arrivals (DACA) recipient, first emigrated to the United States from Mexico when he was under a year old, before returning to Mexico for a time. He came back to the United States when he was 7.
He said that his motivation to help students is a continuation of his outlook during his time as a student.
"A lot of research shows that DACA students have a huge sense of optimism," Cortes said. "I'm definitely a part of that. Even though it would look like every door was closed sometimes, I knew I would be able to achieve my educational goals. I want to bring that feeling back here and impart it to students."
Cortes was able to attend Pierce from high school with the help of California's AB 540 law. However, he said that the law didn't offer him many opportunities beyond school.
"Before DACA, I didn't really have that many options available," Cortes said. "But I knew I wanted to help people, so I went in to study sociology."
Cortes said that he transferred from Pierce to Cal State Northridge and received DACA support during his last semester there. This allowed him to find work in the mental health field as a housing specialist.
In 2016, Cortes appeared in the Los Angeles Times for his efforts to find housing for one particular homeless individual. However, despite the noteworthiness of the case, Cortes said that it illustrated to him just how straining the work in the mental health field can be.
"I just realized how stressful it was and how overwhelming the processes and policies were to get people housed," Cortes said. "I was always meeting clients when they were at the absolute worst stages of their lives. It was really difficult to go home on a Friday night and know that the people you were trying to help were out sleeping on the streets somewhere."
Cortes said he wanted a change from the environment that came with working as a housing specialist, but he still wanted to help people. He sought advice and guidance from others, who encouraged him to pursue college counseling.
"It just kept coming up, and the experiences I've had with college counselors have always been very positive," Cortes said. "It seemed like the next logical step for me."
Cortes said that his decision to transition from the mental health field to counseling complemented the high value he puts into education, which he attributes to his experience as a DACA student.
"It really was a natural progression for me, and it feels great to be in an environment of education and see a lot of students out there trying to succeed," Cortes said.
Following his decision to pursue a career in college counseling, Cortes enrolled at California Lutheran University (CLU) to earn his master's degree in counseling. He is in his second year of studies, and he aims to graduate in spring 2018.
Cortes said that, after graduation, he hopes to establish a career as a counselor at a community college.
Cortes said he was interested in returning to Pierce after graduating from CLU to fill a counseling position. He said that he appreciates the work environment offered by Pierce, especially when compared to his previous work as a housing specialist.
"In that field, there was a lot of red tape and closed doors that prevented you from helping people," Cortes said. "But here, there are a lot of opportunities we can give to students. I feel that I'm in a much better position to make a difference here."
Program specialist Raffi Kahwajian said that Cortes is driven by a personal investment with those he helps.
"He has a genuine care for people and gets a real sense of reward from helping students," Kahwajian said. "This college counseling world is perfectly suited for his skill set and his interests."
David Turcotte, a career and technical educational counselor, said that Cortes excels in one-on-one interactions with students.
"He's got one of the biggest hearts you'll ever know, and I think the students he talks to feel that," Turcotte said. "The difficulties and struggles he's experienced have given him a great base of empathy to work from and some very special insights that serve our students well."
According to Kahwajian, Cortes has exhibited tremendous growth in his time as Career Guidance Counselor Assistant.
"There's all these areas that he's developed invaluable skills in, and it's all because he takes every chance he gets to help out," Kahwajian said.
Cortes said that, no matter where he finds himself, it will be his goal to help students succeed in their educational careers.
"I remember the feeling when I got accepted to CSUN. I want to help students experience the same type of excitement and success. That's the dream job," Cortes said.