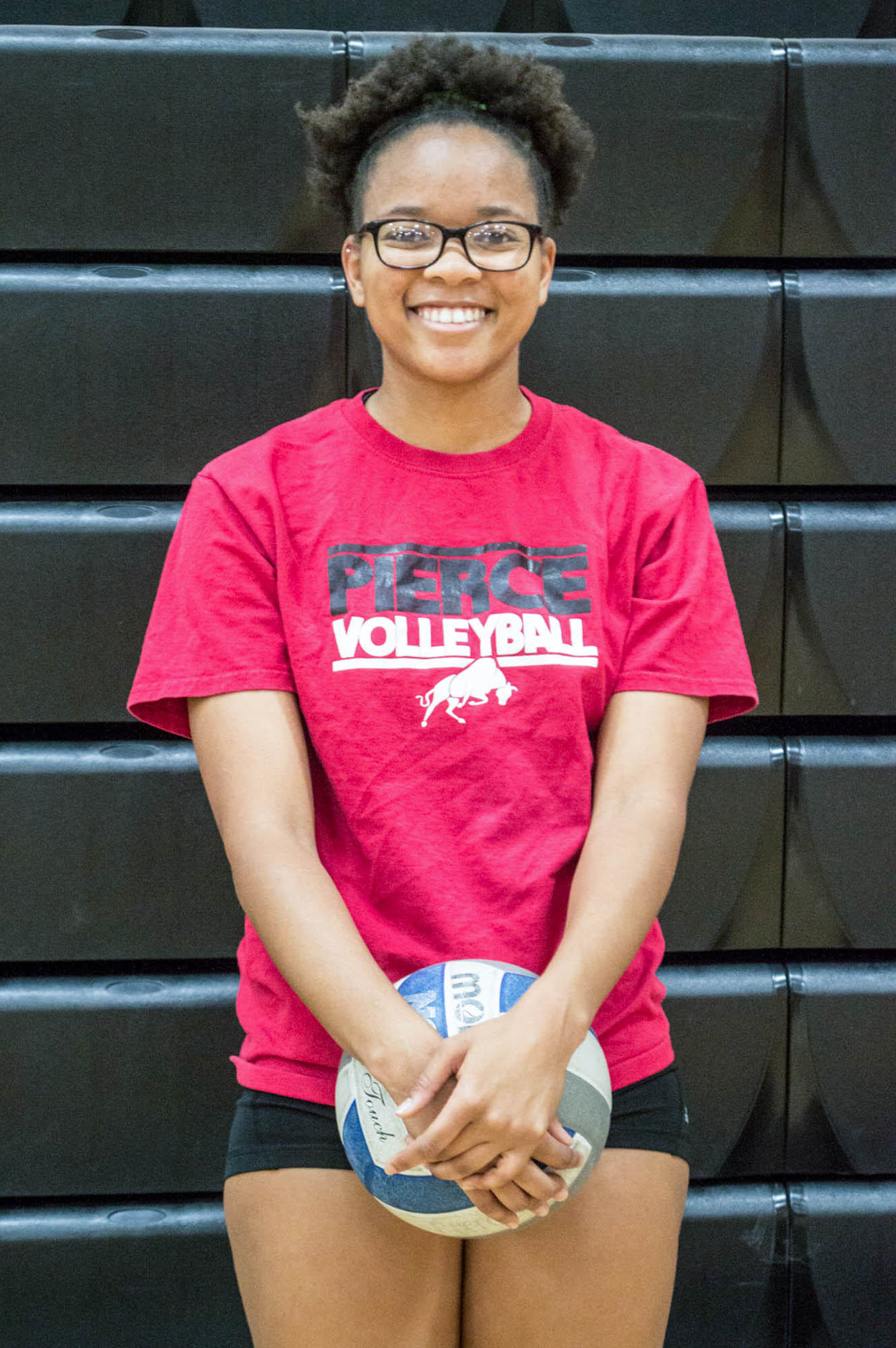 Every team has that one person that keeps them in spirit and ready to fight for the win.
Women's volleyball middle blocker Cairo Harrell is on the court and unafraid to make the loudest noise and calls to pump up her team and keep them aware of plays.
But her cheerful team spirit developed after an injury in her freshman year.
It was not the best year for Harrell. She sprained her ankle, making her unable to train with her team and play.
"I sprained my ankle really really bad, so that kinda knocked it down, and was like, 'No!'" Harrell said. "I had to sit out a season."
Playing volleyball for Pierce was something Harrell looked forward to, but because of her injury, she had to be on the sidelines, cheering on her teammates. She said things weren't aligned for her to play just yet.
"It was okay, in a way, because I felt like it was a sign," Harrell said. "It just wasn't my time."
However, Harrell decided to not let her injury derail her from her goals and hold her back. She used it as leverage to train harder than before to prove in the following season that she belonged.
"It was either sit out a year and redshirt, just relax, just be a bench player, or waste a year," Harrell said. "I decided that it was okay. I can just sit out this year and support them from the bench, but not waste a year."
Supporting her team while she was injured became her main focus.
"As a bench player, there's so much more you can do to encourage and cheer on your teammates. Sitting there and believing in them, that they can do it even while practicing. That was my job, to make the team better so they can accomplish more," Harrell said.
Harrell realized that unity among her team was an essential key to their success, so she took it upon herself to be a pivotal support system for them.
"At the same time, we're all winning the state championship. It's not just the six or seven people on the court, it's everyone," Harrell said. "Everybody is a winner, everybody was in that game. It's me having good energy and supporting the people that I'm next to, even though I am not playing, that's what really mattered."
Harrell had this mindset, and it stuck for the next two seasons.
Assistant coach Veronika Ban said Harrell is a big role in the energy of the team.
"If you have a seen a game, you'll probably notice she brings a lot of energy. At times, she is the loudest person on the court ,especially when calling," Ban said.
Ban said that Harrell is a team player that you cannot overlook on the court.
"We focus a lot on communication, so she calls the ball very loud, so you cannot miss her,'' Ban said.
Head coach Nabil Mardini said that Harell brings value to the team and her attitude is positive.
"Her personality, very positive, very coachable. She is a pleasure to have on the team," Mardini said. "She brings value to the team, and if someone can bring value to the team, I have highest regard for them."
Ban thinks Harrell has something special that gets the team going.
"She provides that spark. As soon she gets a good kill or a good block, the team fires up," Ban said.
Harrell is a junior on her way to transfer. Whatever step comes next for Harrell, Ban said he knows she will be fine with the path she chooses.
"She's a very hard worker. She will succeed on and off the court. I foresee her going to a D1 or D2 school and being a big part of their program, so she will be successful in whatever she does," Ban said.
Harrell said she is ready to move on to the next level in her life, but isn't too sure if she will continue volleyball. She said she is also considering beach volleyball, but she is uncertain. However, she said she is letting faith guide her in her footsteps and keep her grounded during the process.