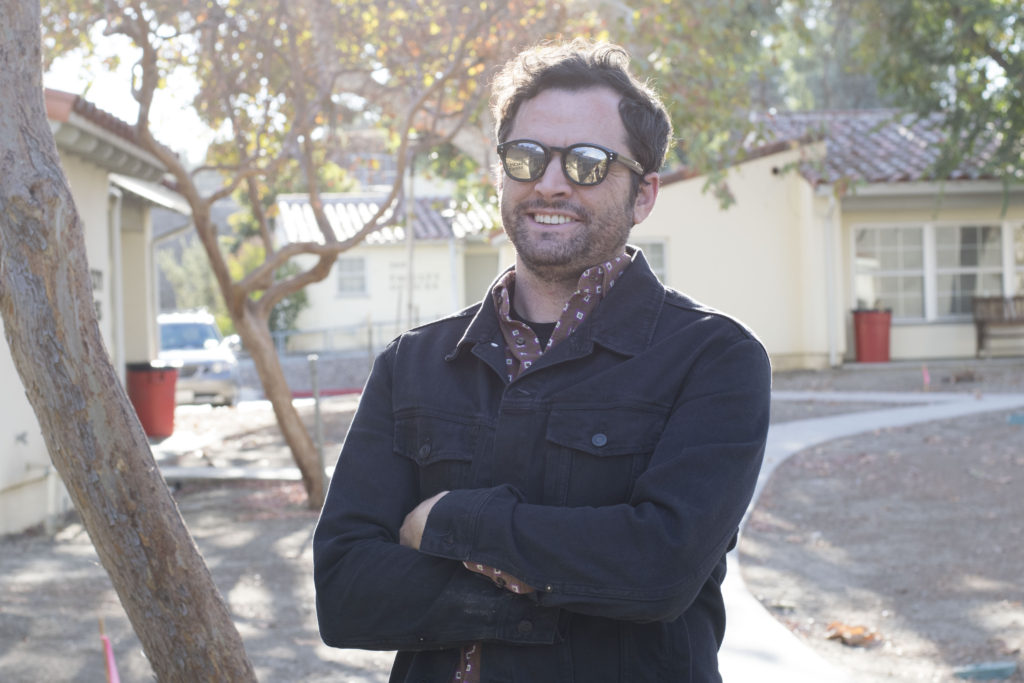 The arts are often used as an escape. English instructor Dustin Lehren found that incorporating literature in juvenile halls allowed at-risk youth a creative outlet.
Now he's bringing that creativity to Pierce as a creative writing instructor.
Throughout his high school and community college experience, Lehren was not a fan of English classes and did not excel in them. It took one teacher in community college to show him the subject in a different light, making Lehren realize a latent passion.
Once he transferred to CSUN, he joined a film program that led him to discover that he really wanted to write and create films.
When he took a creative writing course at the university, there was a part of the curriculum that taught playwriting. Through this, he discovered his passion for playwriting.
With the help of a professor at CSUN, a course was created that used playwriting to work with at-risk young men on probation. Lehren said his goal was to incorporate something he was passionate about to help others.
Lehren said his first job after attending CSUN was teaching playwriting in prisons.
He worked in the juvenile halls Camp Glenn Rockey in San Dimas, Camp David Gonzalez in Malibu and a correctional facility in Chino, where he taught young men ages 15 to 25.
Lehren said he worked with a theater company called The Unusual Suspects. He said this company mostly worked with at-risk youth.
They collaborated with Lehren to have him be the first teacher to go into these prisons to teach creative writing.
Lehren said there were other coaches who helped with directing, teaching and acting, but he was in charge of the writing aspect and getting students to produce a story.
His job was to facilitate the writing and have his students write plays to perform.
"I never viewed myself as a teacher until after that experience," Lehren said.
"The Hustler's Epiphany" was the first play the young prisoners wrote and performed.
The three times Lehren did this, he said he noticed a pattern in the story lines. He said many were about someone who needed redemption and had an epiphany about their life and turned it around.
Lehren said his role was to teach those young men how to write creatively.
"It was the best feeling ever," Lehren said. "It was much more rewarding than writing my own play and getting accolades for that."
After this experience, Lehren said this is when he started seriously thinking about teaching.
Lehren earned a bachelor's degree in English with an emphasis in creative writing and a master's degree in creative writing with an emphasis in playwriting from CSUN. This is his first semester teaching creative writing at Pierce, whereas before fall 2017, he primarily taught English classes.
Department Chair of English Donna Accardo said that Lehren does his best to help students understand the creative process of writing and really cares about student success.
"What stood out to me about him was you hear his passion for teaching as soon as you hear him talk about teaching," Accardo said.
She said Lehren is committed to success and his love for literature and writing is obvious.
First-year psychology major Arche Gososo said he was pleasantly surprised with how fun English can be after enrolling in Lehren's creative writing class.
Gososo said that Lehren's style of teaching allows students to feel more comfortable with creating answers to thought provoking questions, and he encourages students to create original ideas.
Gososo said that in high school, it is said that once you get to college, instructors don't care about you and are only there to teach you and give you a grade.
"Taking professors like Professor Lehren really destroys those misconceptions," Gososo said. "He has an attitude where if you show up to class and you show a drive and a desire to learn, he will help you and support you through the process."
Lehren wants to create a literary magazine at Pierce and act as a facilitator for a student-driven project, which showcases the creative writing pieces from people at Pierce.
Pierce previously had a publication called "Direction," which he wants to bring back, so he created the class English 32 to do just that.
Lehren said the class has not been offered for about two years and wants to see students be creative, so he hopes it is a successful project that can benefit the campus.
"There's just a real hunger for students to write creatively and work on a craft," Lehren said. "There is this idea that sharing my passion could be transforming to other people, and that is an amazing feeling. I get to see that regularly here at Pierce."
[Updated on Wed. Nov. 29, 2017]