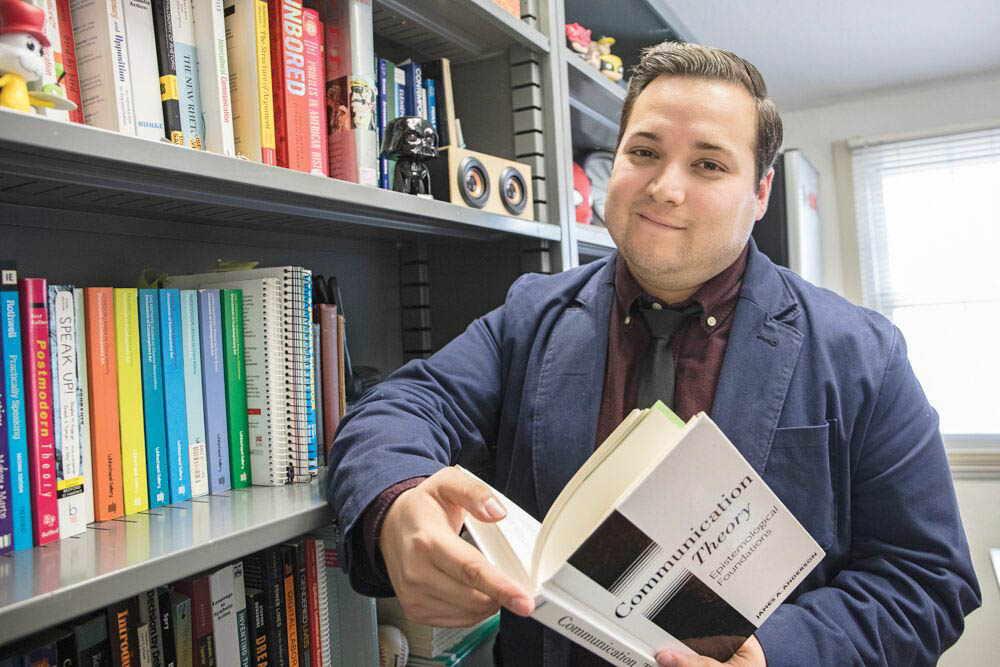 When arriving on campus, most people worry about finding a good parking spot or a potentially having a busy day.
But this is not the case for Robert Loy. He gets chills as he drives on campus to get to his office, passing the Equestrian Center and driving down the Avenue of Champions in anticipation of experiencing another day at a job that he loves.
Loy, an assistant professor of communication studies, has been working at Pierce College as a part-time faculty member for approximately three years. Loy began his first semester as a full-time faculty member in fall 2017.
"I am very happy with where I work," Loy said. "I am happy with my life because of what this position provided me. This is my first semester as a full-time faculty, but since I've stepped foot on campus, it's been an unbelievable experience."
He was unhappy with some educators he had in high school and used that as inspiration to become a good professor.
"As an educator, I get to try and become a better teacher," Loy said. "I try to be a better version of myself when I am up there talking about communications, and hopefully, getting students to learn something."
Loy said that at the end of his graduate studies program, there is an award ceremony and the first year he thought he was going to be acknowledged for something, but he wasn't and he wondered why.
He said that the big moment he knew that he wanted to continue teaching was at the end of his final year as a graduate student, when he won the Outstanding Teaching Associate of the Year Award.
"When I won the award, it was great because I got to win in front of my parents and be acknowledged by mentors and professors. It was great to know that they saw something in me," Loy said.
Loy said he wanted to pursue a full-time position at Pierce because the Communications Studies Department treated him like he was a part of the community. He said that, as a part-timer, he appreciated feeling like he had a home.
"I really wanted to become a full-time professor because I wanted to belong somewhere, and I feel like Pierce College gives me that belonging," Loy said.
Department Chair of Communication Studies Yeprem P. Davoodian was involved with the hiring of Loy and said that, aside from meeting the qualifications, Loy's vision for the department and programs stood out.
"He brings this ease of connection. He is down to earth, likes to be involved with people and is very sincere," Davoodian said. "He is the ideal faculty member."
One of his goals is to create a speech and debate team at Pierce and build that community on campus.
Loy said he doesn't think himself to be the best debater in the world, but he won a few first place trophies. He said this gave him confidence to teach and help people.
"We try our best to provide events where students feel more comfortable and at home with what communication is and how to be an effective communicator," Loy said.
Rachel Razon is a communications major and is taking small group communications with Loy. She said he is a good instructor, and taking his class has been an eye-opener for her in the communications world.
"His teaching style is very modern compared to a regular professor, which is really great because it creates a relatable experience and allows him to connect with the students," Razon said.
Razon said her goal is to transfer to CSUN, and Loy's knowledge of the communications community at that school made him a great source of advice and inspiration.
Razon said he is an inspiration and a young professor. She said for him to start teaching so early, it shows a lot of drive and passion for the subject.
During his free time, Loy enjoys going to Dodger games and staying connected in the fan community. In addition to going to about fifteen games a season, he plays a lot of fantasy sports, mainly baseball.
During graduate school, Loy said it was difficult to make it to Dodger games. His dad gave him one of his first bobbleheads of Dodger's Hall-of-Fame broadcaster Vin Scully, and told him to keep it in his office in the future.
"I didn't have an office at the time, but once I got one, Vin Scully was one of the first things on my desk," Loy said.
Loy said his family struggled financially and had to downsize their home, and had to go without a car throughout some of his schooling. However, he said that, among other things, he had one great success, his wife.
"This is going to sound really cheesy, but i think my biggest success was finding the love of my life," Loy said. "When you meet someone that connects with you, they give you confidence and the drive to succeed."