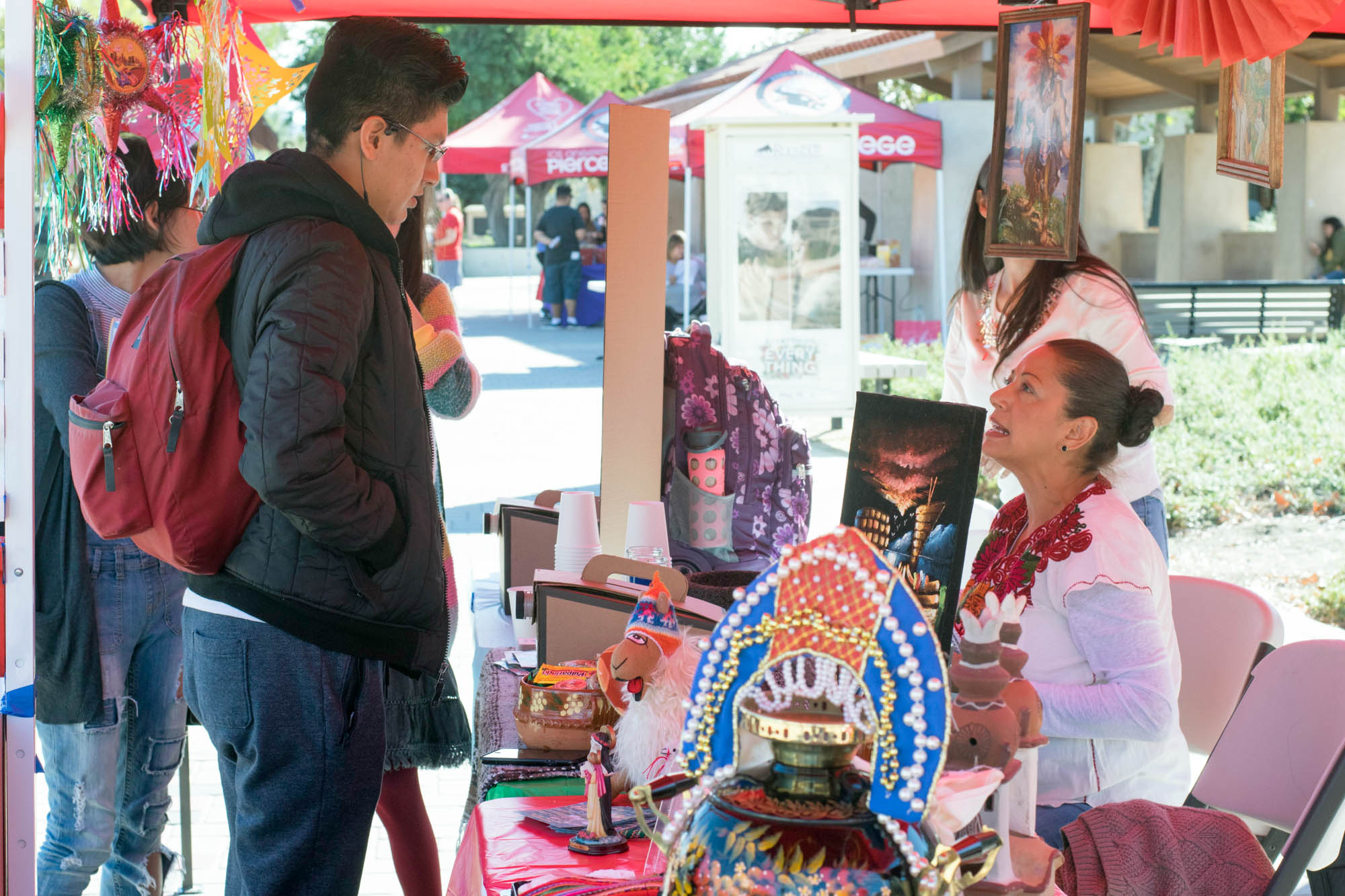 The world is big, diverse, and expensive to experience the unique cultures spread throughout.  
But on a breezy Thursday afternoon, sounds of Spanish music traveled down the Mall captivating on goers toward a booth showcasing a taste of different countries such as Russia, Mexico and Guatemala.  
The Uniting Latin America club hosted a Diversity Day where they encouraged students to stop by their booth to enjoy sweets, learn about their origins and ask questions about artifacts on display.
Ariana Gil, the president of the Uniting Latin American, said they wanted to bring awareness about the different cultures, archaeology and food.  Members of the Communication Association volunteered and helped ULA with their event.
"I know there's a lot of people who don't know Dia De Los Muertos in Mexico and Semana Santa in Guatemala," Gil said. "We're just trying to bring knowledge to people, trying to educate people."
Gil said they couldn't cook or bake anything at home; they had to purchase their food from a restaurant.
Gil said they've been planning the event to be at the Free Speech Zone because the Great Hall was already booked.
"We were planning for about a month," Gil said. "We were inviting other classes, whoever wanted to join us, to make this bigger, but I guess we're at finals, and a lot of people are applying to universities, so I guess they're very busy. We didn't get to get a lot of people involved, but we did what we could."
Gil said it's important for students to understand different cultures before judging.
"We're going through an era where we have a lot of racism, and sometimes, people need to understand other cultures so they can not just judge people because the way they look or the way they talk," Gil said. "Bringing cultural awareness to people is very important, especially now."
Gil said they want to print a magazine next semester. They're collecting artwork or drawings for the magazine.
Secretary of ULA Crystal Sanchez brought salsa and chips to the event. Sanchez said she could have easily made it at home, but due to the new rules, she had to purchase it from a restaurant.
"We're just trying to let people know about our traditions, culture, what we do on holidays and what we do for our country," Sanchez said. "We brought mexican candy, games like Loteria. We also brought some candles used for when a family member dies; we light those."
Sanchez said, to share our traditions with other people.
"At the end, we are all the same, and we share our cultures, which is the most important thing," Sanchez said. "We have our beliefs, but when we come together as friends, we're family. We are able to share our traditions with other people."
Diana Portillo is in a communications class and helped set up for Diversity Day.
"You tend to stay in your bubble," Portillo said. "Just be aware of other cultures and learn more about them, not just individually."
Club council member, Paola Carpio-Cayo said it's important for clubs to participate in events out of the classroom.
"I think it will be good for other clubs to participate because, for one, to get exposure and get more people to join their clubs, but also if we have more countries, we can learn more about cultures," Carpio-Cayo said. "We're living a hard time right now. People are labeling people, and this takes off the labels and make us see what other cultures are about"
Student Oxana Govorun represented her Russian culture and brought food from her country for students to enjoy.
"We're just part of the world. Every little part of the world has its own identity, and I think each of these elements brings out the identity of each of the countries," Carpio-Cayo said.