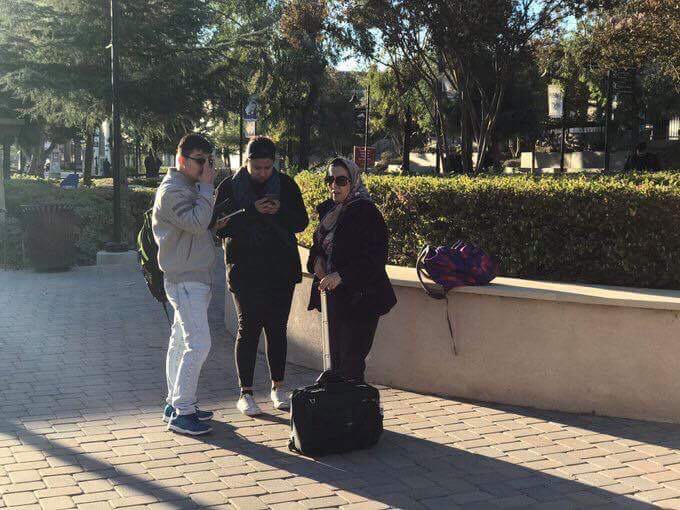 Pierce College students, faculty and staff received conflicting notifications regarding the closure of campus due to the surrounding wildfires.
Los Angeles Pierce College is officially closed today. All classes are cancelled.
Pierce sent an email notification this morning that said campus is closed. However, some students received a text alert at about the same time that said campus would remain open.
The mass email sent out at 7:48 a.m., stated that high Santa Ana winds, continued fire danger and smoke, and traffic conditions caused administration to decide to close campus today.
Students, staff and faculty should not come to campus, the email stated.
This notification was sent this morning after Pierce sent an email last night at about 6:45 p.m., stating
that campus would be open today because the air quality in the area was rated "moderate." Another email would be sent if the circumstances changed.
An email was sent, but some students were displeased about receiving the notification minutes before class began.
Rosemary Oliva, an animal science major, said she took the bus from Chinatown to Pierce to pick up rats for her project, not knowing that campus would be closed today.
"They emailed us a few minutes before 8 a.m. and my class starts at 8 a.m., so I was so mad," Olivia said.
Other students were confused about receiving a text alert that said campus was open and classes would resume normally.
"Why would they send this," Andrew Zlatkin asked in the Pierce Community College Group Facebook page.
He posted a screenshot of the text alert he received, the same message emailed to the Pierce community the night before that said the campus wouldn't be closed.
Sheriff's Deputy Lazaro Sanchez said that deputies were informed about the campus closure at 7 a.m. today.
"We sent people at every gate and told people that the campus is closed," Sanchez said. "We have been telling people that school is closed on our PA system, and whoever else that we come across."
Associate Vice President Larry Kraus said he does not have enough information to explain why the campus closure notification was sent with such short notice.
"I don't know enough about it. The chancellor and the president are in charge of making those decisions," Kraus said.
Students, staff, faculty and administrators arrived on campus, unaware that campus would be closed.
"I just arrived to work. I've been driving, and I got the notification about the closure. I have as much information as you have," Kraus said.
Gates have been closed at Pierce College, and sheriff's deputies have confirmed that there will be no class today.
Some instructors sent emails and notifications alerting their students, but an official email wasn't received until 10 minutes before 8 a.m. classes were about to begin.
"Things change by the hour, depending on air quality," Sanchez said. "The Sheriff's Department doesn't make the call to shut down the campus, that's made by the school officials."
Some students, confused about the contradicting notifications, are still on campus, as deputies try to establish clarity about the situation.
"Campus is closed for the remainder of the day. I can't speak for tomorrow, that's up to the school to determine if classes can resume then," Sanchez said. "Even if the school is closed, we [deputies] are still here."
Nikole Sanchez, a biology major, sat outside the Winnetka / Victory entrance this morning, informing passing students that campus was closed for the day.
"They closed the college because the wind direction is changing and the air quality will be really bad," Nikole Sanchez said. "That air will start coming to Pierce College and a lot of students have asthma."
Pierce administration is monitoring the event and will send email updates as necessary, the email states.
Officer Tida Lambert said that deputies will continue to conduct sweeps on campus, closing gates and notifying students and faculty about the closure.
Campus activities have been put on hold until further notice.
Pierce College Theatre Manager Michael Sande said in an email that no decision has been made to determine whether "Arabian Nights" performances will be cancelled this weekend.
"The college has not decided yet to close or reopen on Friday. Until we have the official word on that, we cannot make a decision," Sande said in the email. "We will inform everyone should we need to cancel any upcoming performances."
The West Valley Occupational Center across the street from Pierce is also closed.
**Update 2:37 p.m.**
Pierce College President Kathleen Burke said that it has not been decided whether Pierce will be open tomorrow.
Burke made the decision to close Pierce this morning. She said it was being discussed by administration at 6 a.m. before the campus' regular hours of operation.
Burke said the notification was sent later than expected because administration was gathering information to determine if the campus should be closed.
"It wasn't strictly an air quality issue, because as you can see, the air is actually pretty clear," Burke said. "It was more than just that issue."
Burke said the final decision to close campus for today was based on many factors.
"All of the surrounding schools are closed. The fires are still expanding, the winds are still blowing, and there's an impact on the traffic," Burke said.
Burke said she is aware that some students may have received a contradictory text notification this morning that said campus was open. She said it was due to a problem with the system.
"Something happened when we tried to sent out the alert. It resent the alert we had sent out yesterday. It was just an error," Burke said.