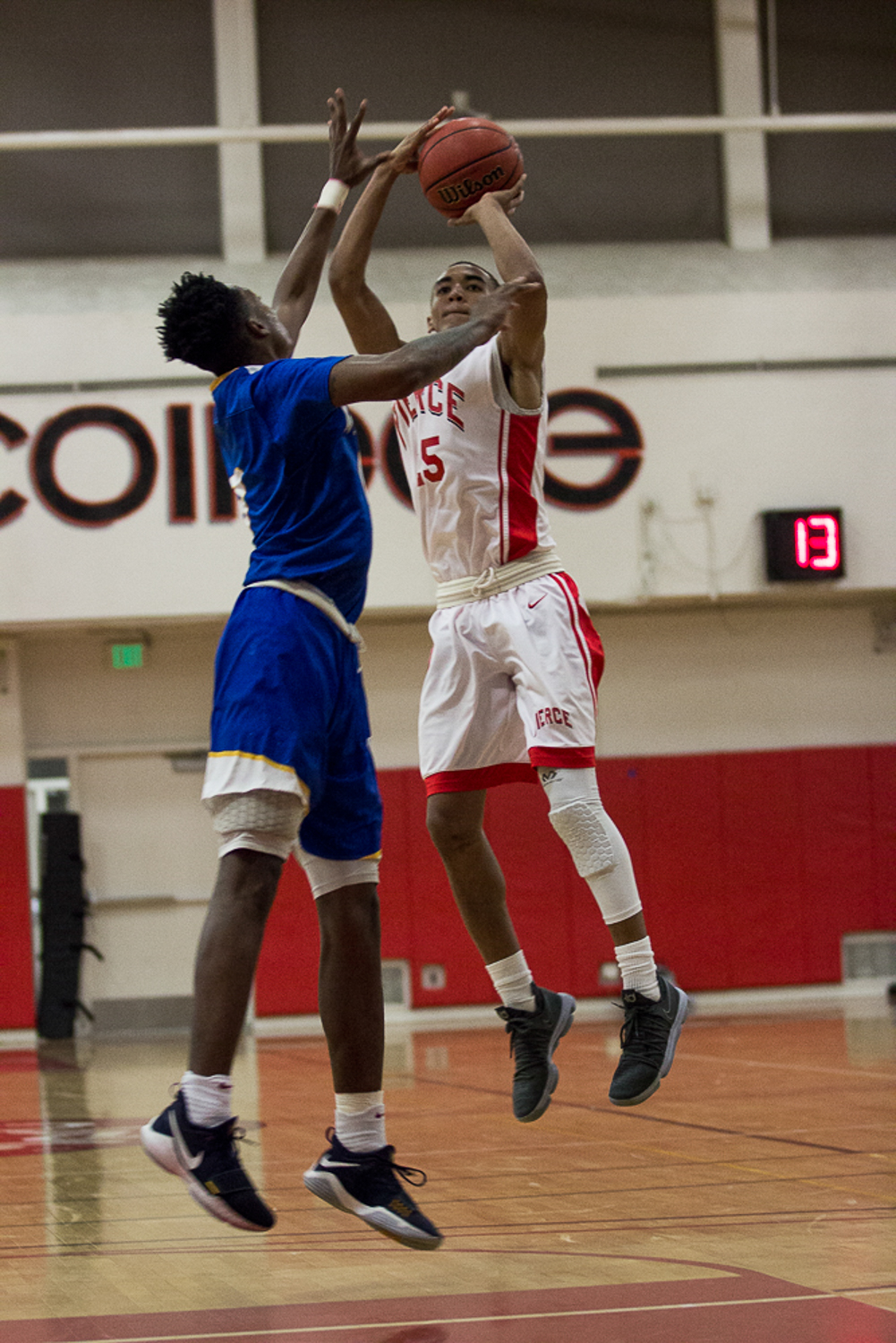 Tempers flared in the last home game as men's basketball fell short after losing 88-83 against West Los Angeles College, resulting in a scuffle between the Brahmas and the Wildcats.
Before the tip-off, the Brahmas celebrated Sophomore Night as they honored their six sophomores by giving them a small plaque and flowers.
Soon after, the game started, and right out the gate, West LA played with aggression. Although Pierce hustled their way up and down the court, West LA quickly took the lead for the majority of the night.
Midway through the game, the Brahmas began to pick up their momentum with the help of freshman point guard, Ruben Gonzalez. But, while the Brahmas did work hard and made a good effort all night long, it wasn't enough to take the win.
The Wildcats took the match with a final score of 88-83.
However, what seemed to be an amicable end to a game well-played soon turned upside when a player from West LA College pushed another player from Pierce while they were shaking hands.
The commotion amongst the players escalated as pushing and shoving was seen between the two teams. The coaches and two security guards that were present at the game separated the teams and put an end to the conflict.
Point guard and captain Jordan Newt said he wasn't sure what occured because everything happened so quick.
"I'm not sure. I wasn't really in it. Two players started exchanging words, but everything is okay now," Newt said.
Gonzalez also said he didn't know what was happening until he saw his teammate being pushed by another West LA player.
Assistant Coach Terrance Taylor said defense and lack of shots seemed to be the problem for the Brahams during the game.
"The guys played an exciting game against West LA but we just couldn't keep up. We missed a lot of our shots," Taylor said. "I think we only made around 25 shots, and that's something we need to improve on. At the end of the day, the other team is going to point scores regardless but we do need to limit how many easy buckets they get."
Gonzalez said that, even though they lost, the team kept their spirits high.
"My teammates and I know that basketball is an uphill game. Sometimes you're high and other times you're low, but we know how to keep each other's spirits high," Gonzalez said.
Newt said that the team was cohesive despite falling short. Newt noted that they worked hard and stayed together and focused throughout the game.
Gonzalez mentioned that a lot of his teammates are returning back next season, so they're taking opportunities to learn from this season's mistakes and will make sure they have the right plays next time around.
The Brahmas last game of the season will be at Santa Monica College on Sat. Feb.17 at 3 p.m.