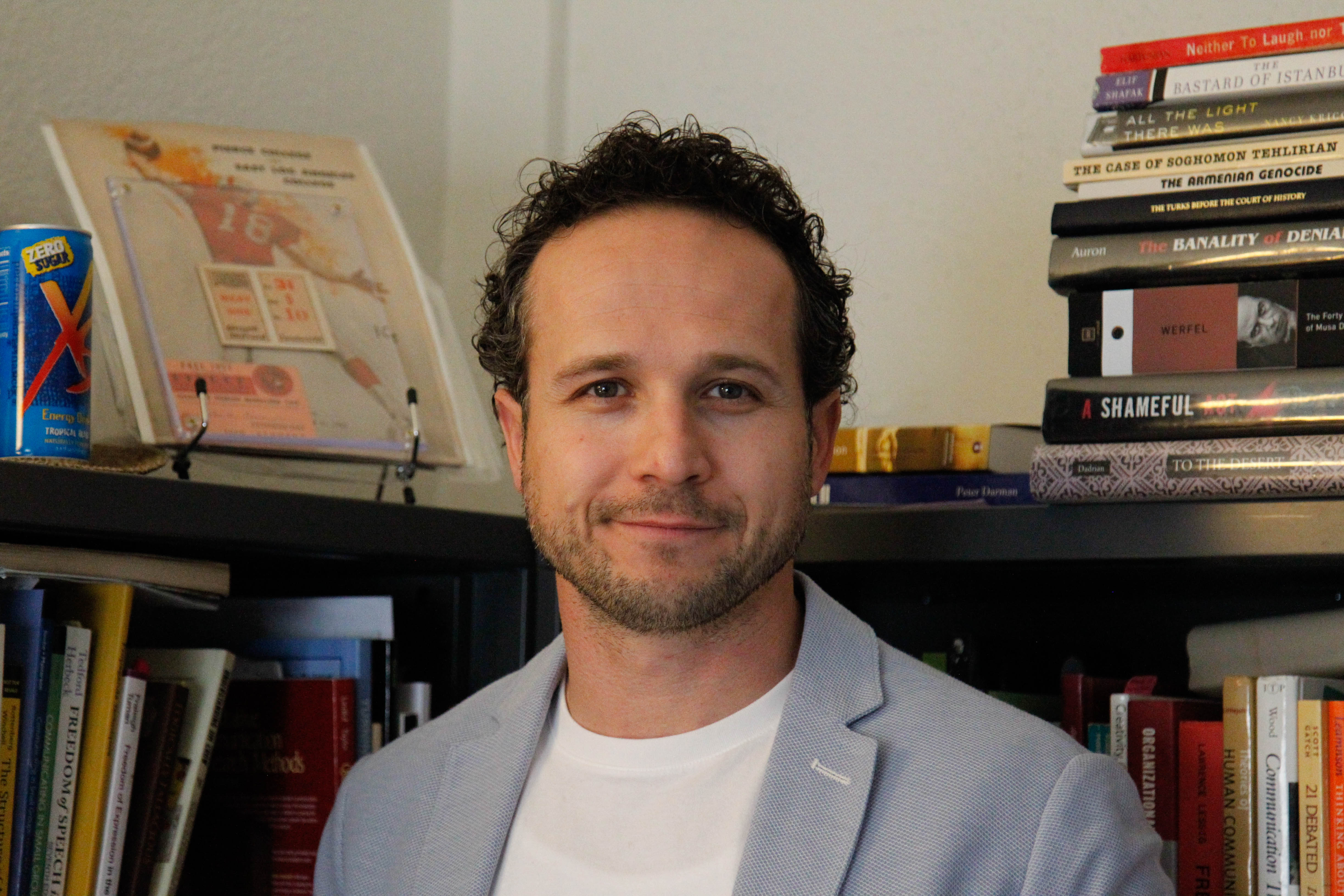 The path through life is rarely direct. But, for one faculty member, its twist and turns has led to a comfortable and gratifying position at Pierce.
Communication Studies Department Chair Yeprem Davoodian said he's at a point in his life where things are comfortable, and he has solid foundations surrounding him that helped him get to that point.
"If I were to die tomorrow, I would be content," Davoodian said with a knock on wood. "I can say it with 110 percent assurance, it's a dream job for me. The money is great and whatever, but everyday you're making a change."
Davoodian said that being a faculty member may not sound pleasing to everyone, but it's perfect for him. He said the joy of helping his class realize something that they hadn't before is gratifying to him.
"You make accomplishments everyday, so when you see your student struggling academically, or even a student that has disabilities and they're there and paying attention to you, you cant put money on that and I know that sounds cliche," Davoodian said.
But he didn't always have a heart for communication, he said his interests lied elsewhere.
"I grew up watching Saved By the Bell, and for me as a first generation, I looked up to certain things I saw on television," Davoodian said. "Growing up I was very much attracted to tv and film. So when I graduated high school, my girlfriend at the time said 'are you going to go to school."
Although his family is Armenian, they relocated to Iran and when he was 4 years old, he moved to the U.S.
Davoodian said that he barely completed high school, but that did stop him from pursuing a career in television and film while taking a few classes in college. The problem, he said, was that when you are good at something, but don't have background knowledge, it can backfire on you.
"You kind of get cast as the amazing production assistant that can do everything for $75 a day," Davoodian said.
Davoodian decided to switch gears and enrolled at Cal State Northridge to study a new interest. He tried his hand at history for a year, but didn't enjoy it and leaned into communication studies instead.
He took a few communication studies classes with Sally Kassamanian, assistant professor of communication studies, who also began working at Pierce around the same time.
Kassamanian and Davoodian both share an Armenian background, which led them and other faculty members on campus to work together on a project to commemorate the Armenian genocide for this semester.
"I'm part Armenian, part Lebanese. And the Armenian part of my family, I can say are survivors, my great grandparents survived the genocide, which is why I am here today," Kassamanian said. "It's a part of me, it's in my bones, I can feel it in my bones and it's just a great thing to be a part of."
When Davoodian first began teaching at Pierce in 2007, it was a little unexpected for him.
"Pierce was the first school that offered me a teaching position right out of graduate school. Right when I finished, one of my faculty over there saw me walking in the hallway and says 'Hey you want a job?' and I said 'yes'," Davoodian said. "He says 'contact Barbara Anderson.' so I picked up the phone, she interviewed me and she said 'You're starting in a couple of weeks."
Anderson was the department chair of communication studies at the time, and said Davoodian seemed to meet all the qualifications and had a good personality.
"I really appreciate that, when he first came to campus as a full time professor, he brought great energy to the classroom and the department," Anderson said. "He brought with him a background in student engagement. All that he brought with him is wonderful."
Davoodian said that, growing up, he didn't always see this as his path. But, after learning more about his background, culture and himself, he came to love it. He teaches interpersonal communications, group study and argumentation, the latter of which he said isn't exactly his favorite because of its confrontational nature.
"Growing up, I've always had to stand up for myself and my brother. I was 'that' younger brother; if there was a fight, I'd be the first one to step up and say 'let's go, let's do this'," Davoodian said. "I've realized I'm not a confrontational person, but I will put up a fight."
As he learned more about his culture and background through books, he began to root himself more into his community and want to do more to educate others.
"When you read something and it's powerful, it brings out all your emotions-—your anger, your sorrow, your pity and fear. I think it's important because it doesn't matter who you are," Davoodian said.
He and other members of faculty have reestablished the Armenian Students Association and hope to help them educate others in the community about the genocide and other areas of their background.
"I personally now have a viewpoint of we have to embrace who we are. We can't be the same, that's the point. We all have our individual flavors," Davoodian said. "You mix in the flavors. Have some fun. Show who I am. Taste a little bit of this, taste a little bit of that, but retain it because I think that is America."