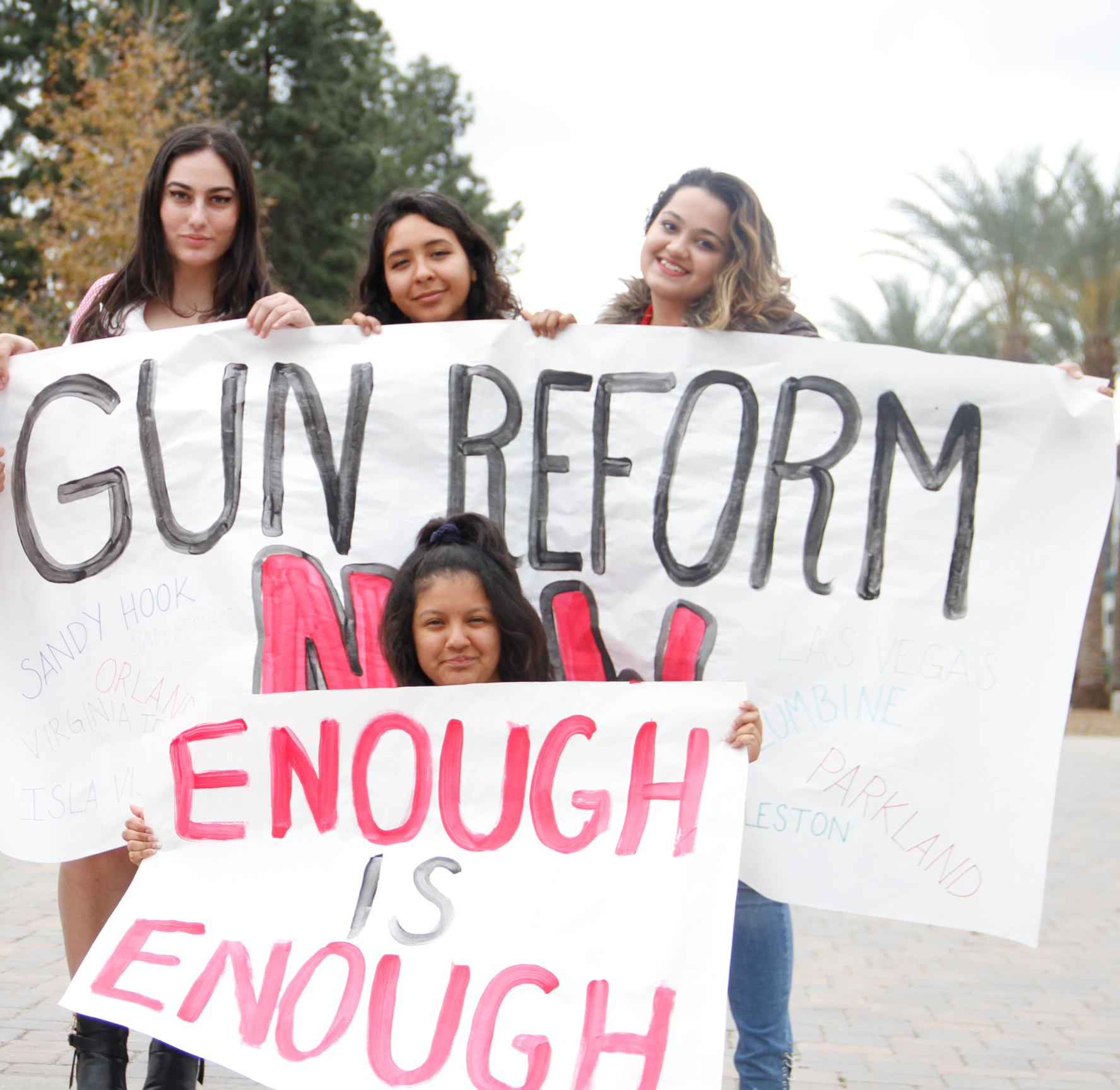 One month after the Florida school shooting, and days following the "credible threat" to Los Angeles Pierce College, students, staff and faculty will stand in solidarity with the victims during the nationwide walkout.
The Resist Club, the Pierce College Democrats, the Associated Students Organization and others invite students to participate in the #ENOUGH walkout today, March 14, to protest against gun violence. Students will walk out of their classes and meet in front of the Great Hall at 10 a.m. for a 17-minute moment of silence, commemorating the 17 victims killed in the Parkland shooting.
The recent school shootings can bring fear to many students and educators nationwide.The walkout is a call for action to improve gun regulation.
According to the Gun Violence Archive, there have been 34 mass shootings in the United States since Jan. 1, all of which resulted in multiple injuries and/or deaths.
Shootings on a school campus made up 13 of the 34.
Co-President of the Pierce College Democrats Bella Aguilar-Rosil said a walkout can help educate and inform people about the present state of gun control.
"Knowing that we're making a conscious effort to try to stop this, to try to create more regulations and restrictions to obtain guns, just instills a sense of security in some people," Aguilar-Rosil said.
Aguilar-Basil said the hashtag #ENOUGH will be used on signs during the march. It has been placed on flyers and will be used in social media to create awareness that not enough regulations have been made, and people are tired of not seeing a change.
Resist Club member Xochitl Medina said Pierce isn't the only local college participating in the walkout.
Medina said Valley College and Mission College are also interested in joining the walkout. She said that for the walkout to be effective, they will need a large amount of participants.
Medina said she expects students to join the protest to fight for their future safety on campus.
"I hope. I really hope there will be a lot of students coming out, walking out of class because this is really important," Medina said. "I know this is not affecting us right now, but you never know. This is a campus, and you never know what will happen."
Last Wednesday, a "credible threat" against Pierce was reported, and the campus was evacuated while police searched for the suspect. A man was arrested and the investigation is ongoing.
ASO president Efren Lopez said he was shocked that there was a threat of a shooting at Pierce.
"A lot of people don't realize that it might happen to them, until we get this kind of evacuation order. It feels like a fantasy when it actually starts happening," Lopez said.
Lopez said the walkout is necessary to make a difference.
"We shouldn't even have to go through these kind of drills or evacuations," Lopez said. "It shouldn't be a thing to begin with. We shouldn't have to be afraid or even be thinking about a mass shooting happening in our colleges."
Aguilar-Basil said her club reached out to local high schools such as Taft, which confirmed that it will also participate in the walkout.
Medina and Lopez said there will be speakers and another demonstration at the Van Nuys Civic Center from approximately noon to 2 p.m. It will be a joint rally with other San Fernando Valley schools.