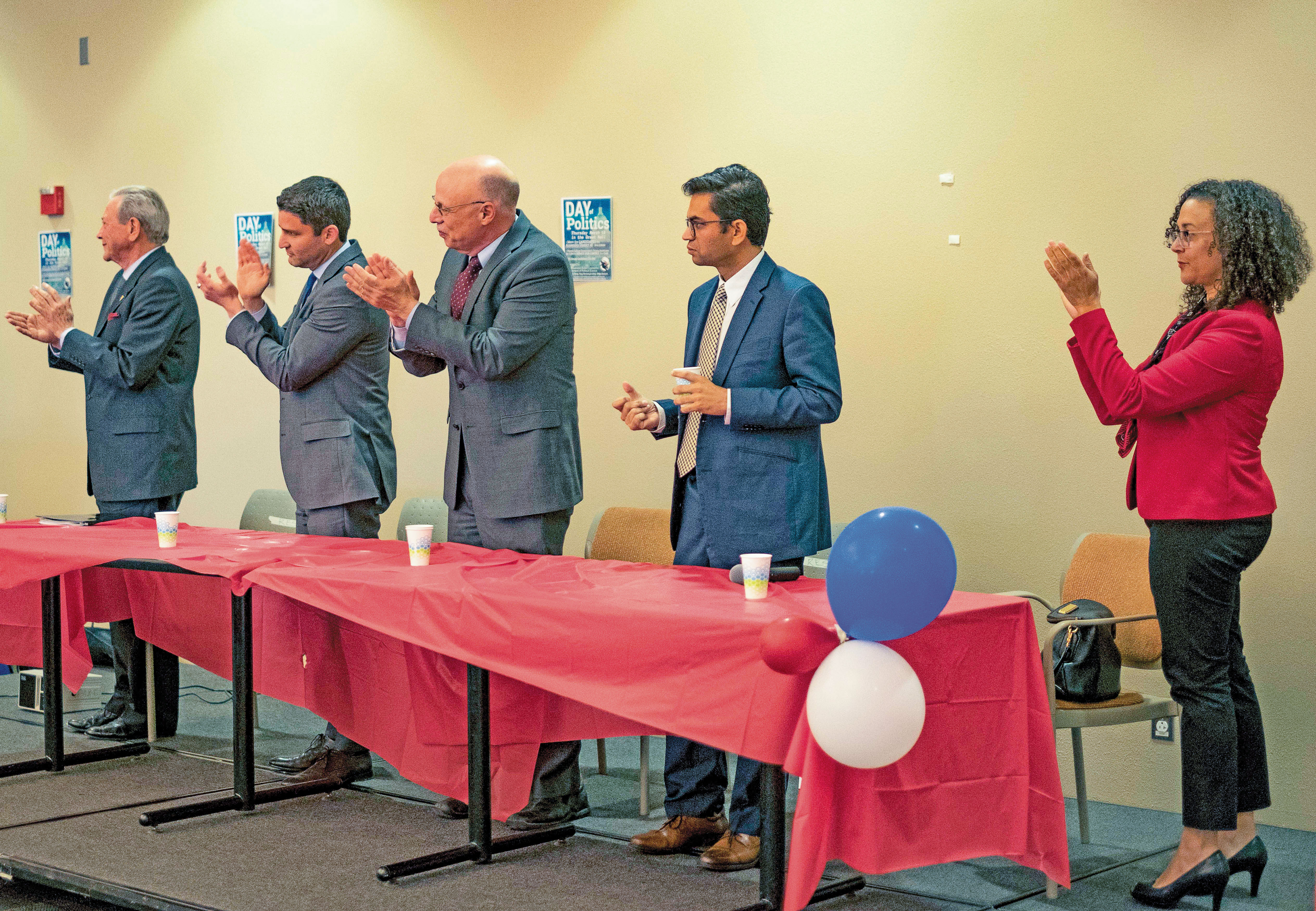 Pierce alumni are running to represent the Woodland Hills district and are encouraging students to become more involved in politics by voting and through social movements.
Candidates for Assembly 45 Jesse Gabriel, Tricia Robbins Kasson and Ankur Patel communicate and engage with the community in the Great Hall for Pierce's biannual Day of Politics on Thursday, March 15.
Assembly 45 and the U.S. Senate candidates presented their platforms to community members. Pierce students opened the event with two debates: gun regulation and sanctuary cities.
Other issues debated were: health care, DACA and the environment. Political science professor Denise Robb, the lead organizer for Day of Politics, said that students have the opportunity to receive liberal and conservative sides of a political issue during the event.
"We have invited all the candidates from all different political parties. However, the Republican candidates don't always come," Robb said. "The reason why Republicans don't always come is because they think the voter registration is all Democrat, but they are welcome to come."
Candidates presented their political platforms in two-minute turns. Students were encouraged to ask questions about topics they wanted the speakers to address.
Co-president of the Pierce College Democrats Melody Niv said the purpose of the event is to help increase the number of young voters by informing them about the political issues affecting the country.
"A lot of us are not aware of these issues, and this presents these issues in a really accessible, compact format. I think it's amazing that everyone is becoming so engaged in politics because this is what affects us and will affect us forever," Niv said.
Co-president of the Pierce College Democrats Bella Aguilar-Basil said that the student debates inform students about unfamiliar issues.
Former Pierce student Tricia Robbins Kasson is the only female candidate running for Assembly 45.
She said she started voting soon after she turned 18, but the lack of diversity on the ballot motivated her to run for the position.
"When I opened up that ballot the last time, I took a look at it, and realized there was nobody who reflected who I thought should be there. I started to get ready to complain, and I cut myself off mid-sentence because I thought to myself, 'Now, how can I expect anybody else to run if I'm not willing to do it myself?'" Robbins Kasson said.
Candidate and former Pierce student Jesse Gabriel said he wants to encourage young people to participate in politics because there are issues, such as student loan debts, that directly affect them.
"We have a lot at stake in this election, so we need young people to get involved and vote. I want to be in Sacramento to be a voice for our generation," Gabriel said.
The third part of the event consisted of three U.S. Senate candidates informing students how they would each represent California in D.C.
U.S. Senate candidate Pat Harris said the activism shown by the youth is amazing.
"Young people have to be involved in politics because you are facing what is going to be the next 20 to 30 years, the ultimate direction of this country," Harris said. "We are either going to continue down the path we are going, which is disastrous, or we're going to see a progressive vision, which is nothing like this country has ever seen. We're going to see an explosion of ideas and innovation. Young people have to lead that."
Libertarian Derrick Michael Reid said the country's youth has to be aware of the political issues that might affect them.
"We're talking about your future, and young students should get involved and try to understand the issues because they got a personal stake in it," Reid said. "It's their future and it's a government that's going to be overseeing their existence."
ASO President Efren Lopez said Day of Politics helps students learn about the political candidates running for office and encourages students to become informed so that they vote for the choice that best suits their interests.