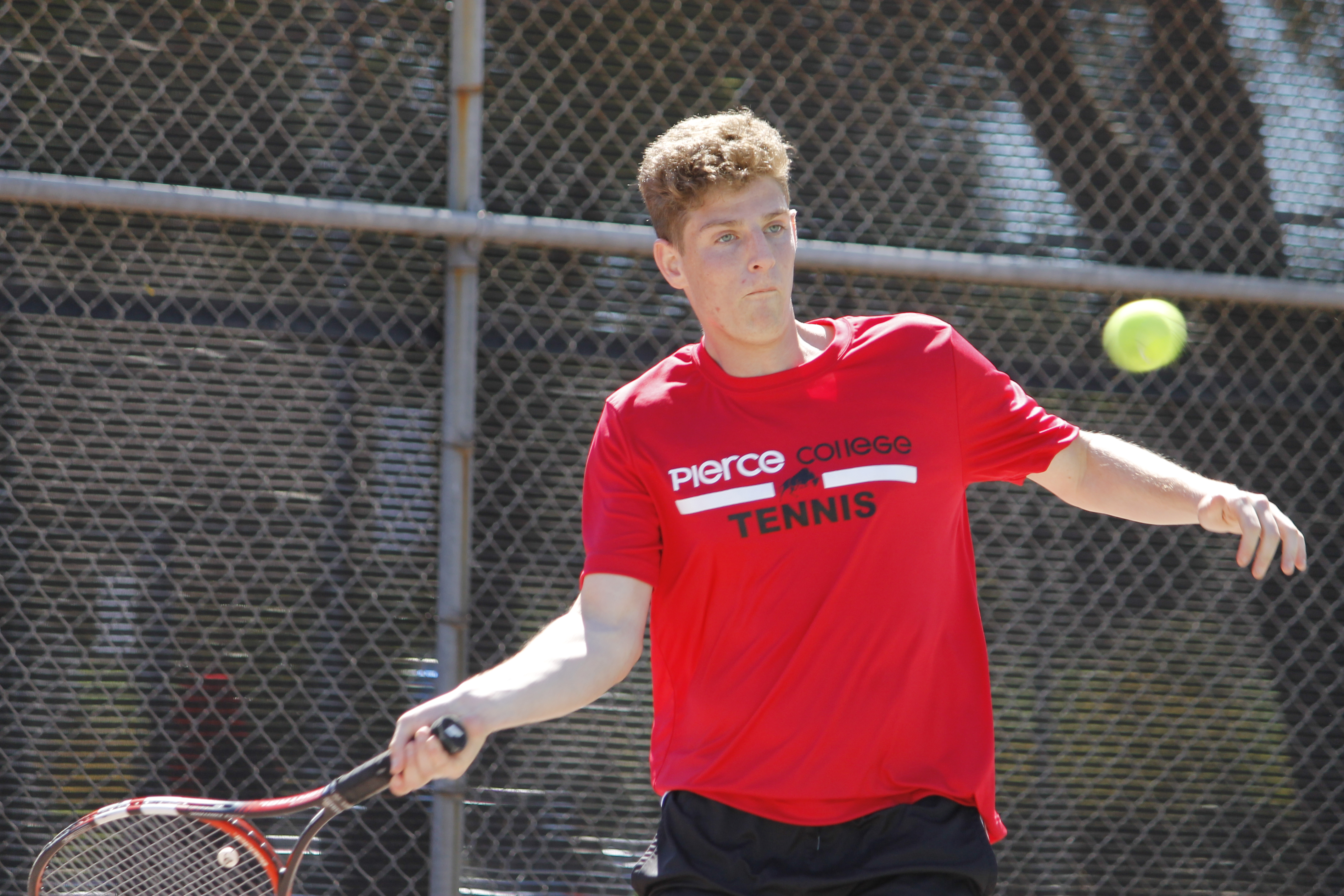 Tennis secured second seed in conference when they defeated the Glendale College Vaqueros 7-2.
This is the first time they have been in a tournament since 2016. 
In singles action, Brahmas' Daniel Vinterfeld beat Glendale's Daniel Garcia 6-3 and 6-3. Gavin Dail got the win over Glendales' David Preciado 6-2 and 6-4.
Vinterfeld felt great about his performance and hopes to continue it in the Western State Conference Tournament.
"I thought it was good. I was out a couple of days. Hopefully we continue this way and move forward as a team," Vinterfeld said.
Gavin Dail said he did better this time since the Brahmas' last home game against Santa Barbara City College.
"Last time I was down three sets and too many points," Gavin Dail said. "This time I won with more points and I think that helped me feel better."
In other singles action, Pierce's Darvel Lossangoye got the win over Kevin Orellana by scores of 6-2 and 6-3.
Siraj Dail beat Natsaki Abe 6-3 and 6-0. Alex Clarke had it tough in his singles match when he beat Eric Minassian dropping the first set 6-3, but winning the other two 6-2 and 6-4.
Siraj Dail is looking forward to the conference tournament and said that is every man for himself.
"The tournament is coming up," Siraj Dail said. "It's singles eliminations, so all of us are playing for ourselves."    
The only Brahma to not win his singles game was Andrew Kimelman lost to Samvel Azaryan 6-2, 2-6 and 6-4.                                                                                          
Head Coach Long Dao said his team played pretty well and was happy that they got rest before the doubles games.
"We are really happy that we got to end the regular season with a win," Dao said. "I'm pretty happy and I'm pretty confident  that we will do well in the tournament."
The Brahmas next game is Friday, April 6  in the Western State Conference Tournament in Ventura, Calif.
The eight players on the team will participate. If any Brahma does well in their individual match, they have the opportunity to advance to the state tournament in Ojai, Calif.,  beginning April 26.