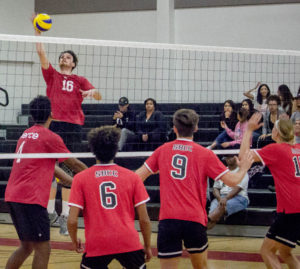 Men's volleyball clinched the Western State North Conference title Wednesday night in the final home game of the regular season against the Santa Barbara City College Vaqueros.
The No. 6 Brahmas dispatched of the No. 7 Vaqueros in straight sets (25-16, 25-21, 25-22) to remain unbeaten in conference play at 5-0.
Outside hitter Morgan Wadlow had the winning kill in the final set of the match. He said the team as a whole was ready to take on SBCC.
"It went exactly as we planned. We prepared really well for this team. The first time we played them, we weren't well prepared, but this time we felt more confident," Wadlow said.
Wadlow had 11 kills in the game, followed by Cole Chea with 10. Max Petuhov had three service aces in the game, and the kill that gave the Brahmas the first set 25-16.
Jake Kessler, opposite hitter, said he credits the team's success this season due to their eagerness to stay ahead of the competition.
"I felt it went really well, they definitely fought. Thats a really good team we just played against, but I think we definitely wanted it more," Kessler said. "The reason we win these close games is because we want to be there, we want to be in the final match, we want to be in the finals."
Kessler and Chea came together for the double block that secured the second set for the Brahmas, 25-21.
Head coach Lance Walker expressed pride in the team following their performance.
"The second time we play a team is always a little bit tougher, because they know a little bit about us and hopefully we learned something from them," Walker said.  "The guys are doing a great job right now. We're playing the best volleyball when it counts. I can't be prouder of the journey we've been on."
Team captain Bernardo Roese said the game may have been the best the Brahmas have ever played. He added that he's looking forward to the same success in the playoffs.
"I'm proud of my team. I'm proud to be a part of this team. Let's see what happens next," Roese said.
The Brahmas are on the road for the final regular season game when they face Antelope Valley College on Friday, Apr. 13 at 6 p.m.