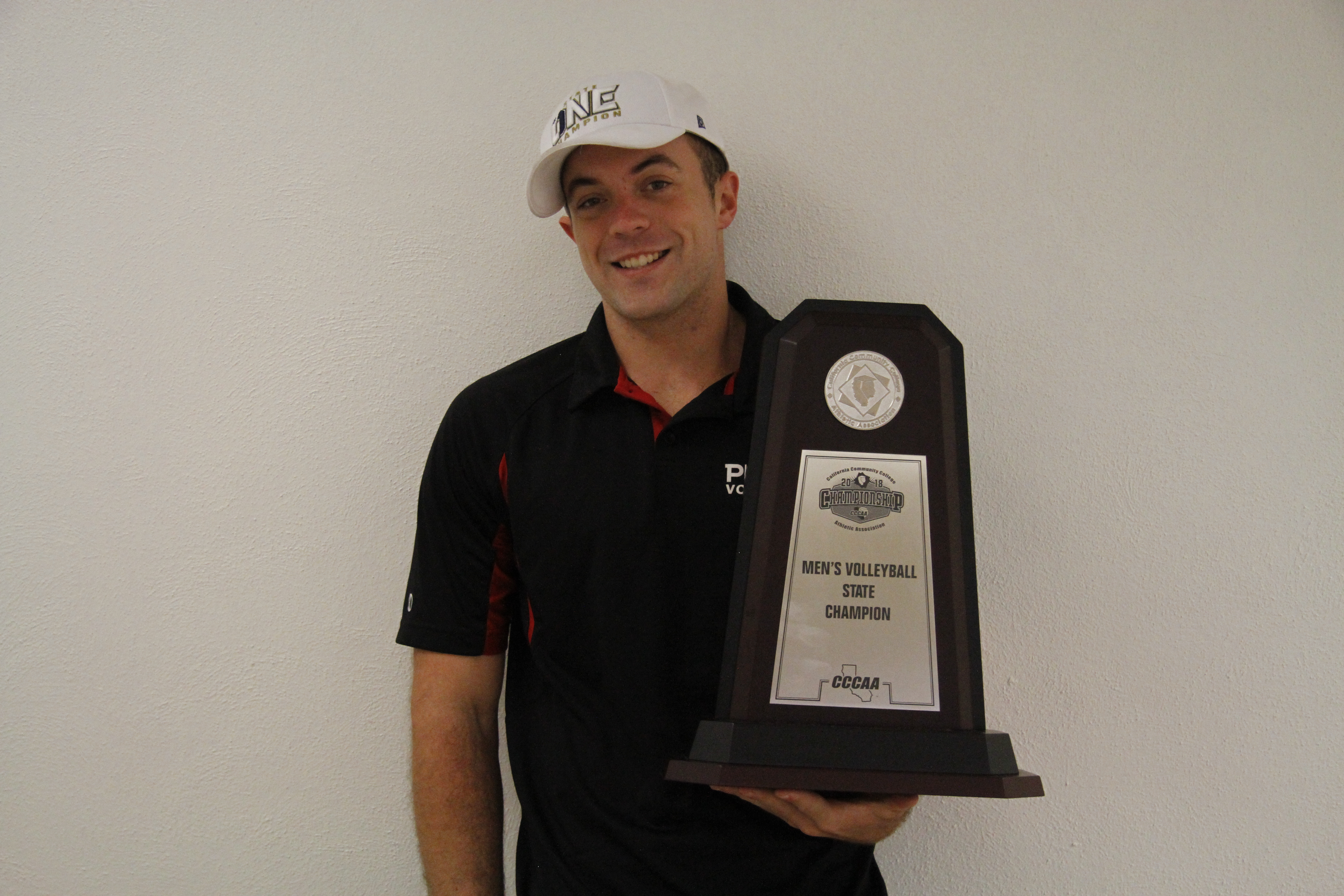 It takes a certain level of commitment to walk one of your student athletes to class and then sit through the entire lecture by their side.
But that's just what Teddy Niemira, assistant coach to the men's volleyball team, did.
Head Coach  Lance Walker said he recounts the time Niemira went to great lengths for one of their student athletes. One of their players was having attendance issues in an English class and Niemira took it upon himself to execute a solution.
Niemira said after he walked the player to their class, he heard from another student that within five minutes of being walked to class the player left the classroom.
"I walked into his next class with a pair of handcuffs and said to him if I hear about you leaving class again I will handcuff you to this desk and I will leave you here, then I left," Niemira said.
After hearing that class will be studying a book Niemira enjoyed, he decided to join the class for a couple of weeks to ensure the player was regularly attending classes, which he did.
Niemira's willingness to go the extra mile for players is something that Walker said he was impressed at.
"That is something we discussed as a possible solution, I didn't think he would actually go through with it and do it," said Walker. "But Teddy would sit in class with a player to make sure he passes his class."
This anecdote is just one way Niemira has demonstrated his dedication to the team.
By working as a mentor as well as a coach, this is one of the reasons Niemira was made Coach of the Year.
Although Walker was initially nominated for the award, he decided there was someone more deserving  this year.
"I said I really appreciate the nomination, but I really feel that with all the hard work that has been put in this year, Teddy should be Coach of the Year because a lot of the success we had this year is really because of him," Walker said.
Through Niemira's devotion, the team has strived to be successful in all aspects.
Players on the team have said Niemira's readiness to help them throughout their college career is what sets Niemira apart from other faculty members.
"Every subject that I've had in the last two years he's told me oh I can help you with that," said
Blake Omartian, left back . "He's not just somebody I want to have on the court with me, he's someone I can utilize off the court as well."
Along with extending extra academic help to players when needed, Niemira also provides students with his time.
As a coach, Niemira works to strengthen the players' skills through training. However, Niemira does not stick to the allotted time of team practices in the gym.
"If you ask him that you want to practice at 4 a.m. he's going to be here to help you," said Bernardo Roese, team captain. "He's been here every day 100 percent, he never gives less than that."
Leading by example, Niemira continuously shows his devotion to the program.
Niemira not only motivates the team with words of encouragement, but with math.
"A big thing I did at the very beginning, 280 days ago, is I said 'If you could just be one percent better every day, you will double four times,'" Niemira said. "At one percent increase, you'll double every 70 iterations. So, I said 'Just every day be one percent better at whatever you're trying to do.'"
Niemira said the heart of Niemira's message is that of perseverance and endurance. To continually keep working towards a goal is what Niemira tries to instill in the team.
This partnership has led the team to winning the state championship beating the defending champions in four sets.
Walker attributes a lot of the team's success to Niemira and players agree that Niemira's commitment to the team has helped bring them to the level of achievement they are at now.
"I truly think that any challenge that's thrown as me, physically especially, I would be able to overcome it with the mental mindset that I developed with Teddy by my side for this year," said Grant DeGrasse, libero. "He cares so much and it's inevitable to see the success that we are."
Niemira puts effort into the individual relationships he fosters with the players.
Walker said he has seen a lot of growth in Niemira in the past year.
"Teddy made some really big changes of this year from last year of personality traits, work ethic, just some major things, mentoring. On so many different levels he made a lot of changes that I'm really proud of him," Walker said.
Walker said one of the reasons Niemira and him work well together.
"Teddy's a pretty factual coach, and I'm a very emotional coach," Walker said. "Teddy, I think grounds me very well. We talk about strengths and weaknesses and he's the Ying to my Yang."