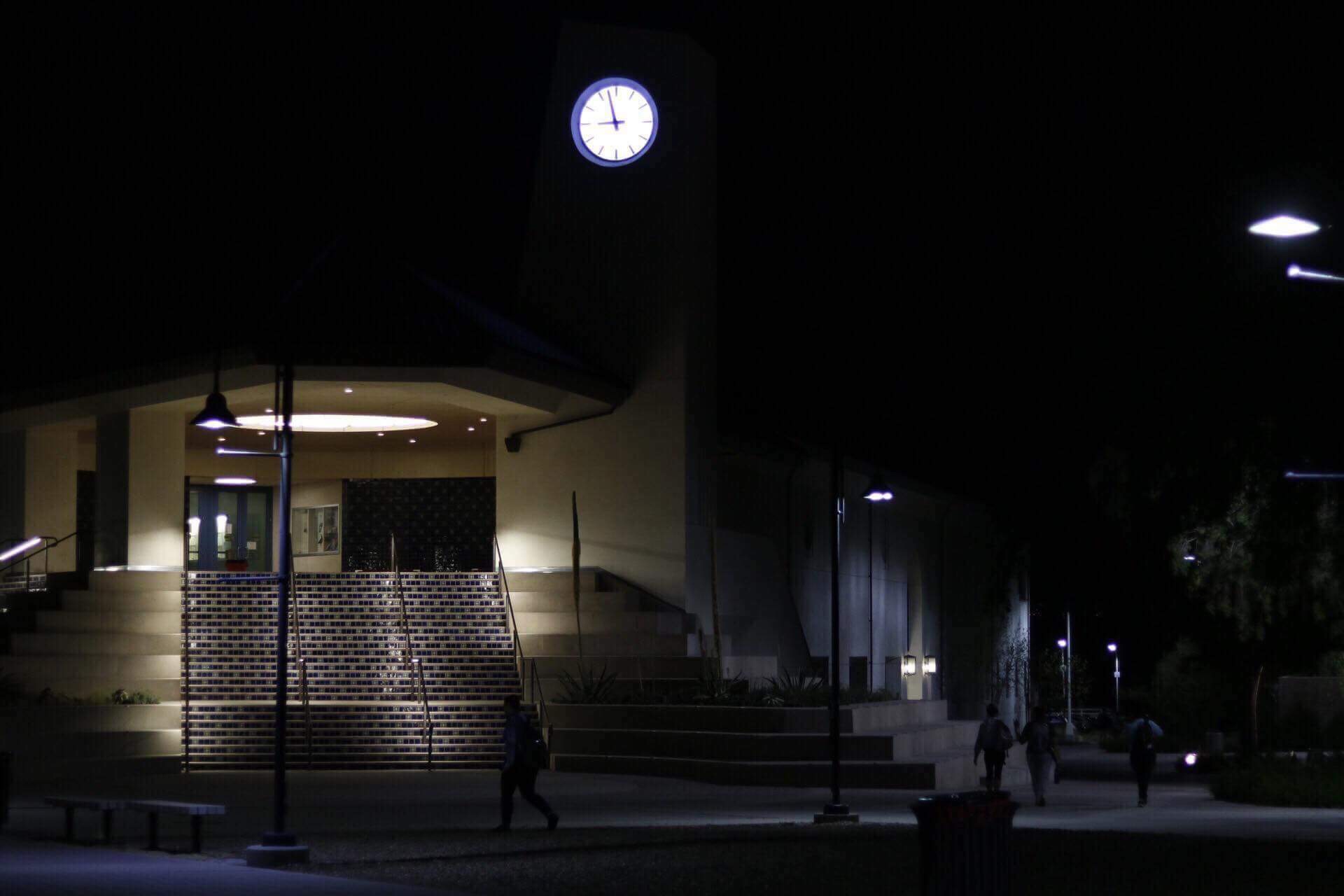 It's two hours before the campus closes for the day, and some students are still in class. They got off work not too long ago and managed to make time for their education during the 7-10:10 p.m. late-night classes slot.
But some students who are taking these classes are not getting their money's worth.
Though some classes end early, administration says that's not in accordance to their policy. 
"I am not aware that Professor X is letting their class out early," Vice President of Academic Affairs Sheri Berger said. "Faculty, regardless of when their class is scheduled, should be in their classroom for the duration of the class."
A 20-minute break is in included in multi-hour classes. That break should not be occurring at the beginning or end of class, Berger said. It should either be two ten-minute breaks or a break in between.
Administration becomes aware of these occurrences through the faculty evaluation process. If students complain to department chairs, they try to take action from their end, Berger said. If it's ongoing and pervasive, the dean of that area will take disciplinary action.
Instructor of Life Sciences Hasmik Agadjanian teaches night classes and said she almost never lets them out early because the material is intense, and less class time might affect student grades.
She said the class lost three hours this semester due to the campus evacuation.
"Now those hours are haunting us. Students are having their labs before they have the lecture," Agadjanian said. "It's harder for them to follow those lab instructions, so we are already behind. That's why I don't want to create anymore situations that would cause us to fall behind anymore."
Christina Ramirez is a business major at Pierce and has only taken a night class due to necessity.
"It was a question of: Do I take a really late night class? Or do I leave school early in the day, but take a few more semesters to graduate," Ramirez said.
Ramirez said the earliest her class let out was 20 minutes before 10 p.m. She said she would gladly take an early dismissal.
"It's hard to stay awake in class, especially when you have classes throughout the day," Ramirez said. "I'd like to be let out early so I can enjoy my night, hang out with whoever, have a decent meal."
Pierce student Neil Juarez said that his engineer lab class is mostly autonomous, and unless there is a project, the class is let out early. He said he usually doesn't mind.
"If it's a class that I'm particularly enjoying, I'd be a little ticked off," Juarez said. "As long as it's not a recurring event, because I think it's always a fun surprise when the professor lets you out early."
Agadjanian said that she thinks teachers who dismiss class early have reason to do so.
"Sometimes things happen. Maybe the professor isn't feeling good, or maybe they assign students work that they can do at home so they compensate for the lack of time in class," Agadjanian said. "I don't want to think that teachers just don't want to teach."
Classes are offered different times throughout the day to reach and convenience many kinds of students.
Berger said students who work full time and take classes in the early hours of the morning are like the students who take late-night classes: both kinds are trying to fit school into the most convenient time.
"Clearly there are some people who are morning people, I am not one of them, but there are morning people who would benefit from being here early," Berger said. "They might not be night people, so taking a class from 7-10 p.m. might not be on their prime list. They might think, 'Who wants to take a class that late at night?' Everybody is different, so we are trying to meet the needs of our students."
Agadjanian said night classes provide opportunities to a wider pool of students.
"Night classes are so important because many students work during the day time," Agadjanian  said. "If we don't offer these classes, we are restricting their options, so these classes open up opportunities for them."
Agadjanian said that night classes also provide opportunities for teachers. She said she worked conducting research during the day and would come to Pierce and teach at night.
Berger has also taught a three-hour late night class and said she knows it can be difficult to keep the class engaged.
"I always kept my class. It was hard, yes, because people get tired," Berger said. "I would hope that teachers plan accordingly, and that students would enroll in classes and understand that they are signing up and making a commitment to that class as much as the teacher who accepted the assignment."