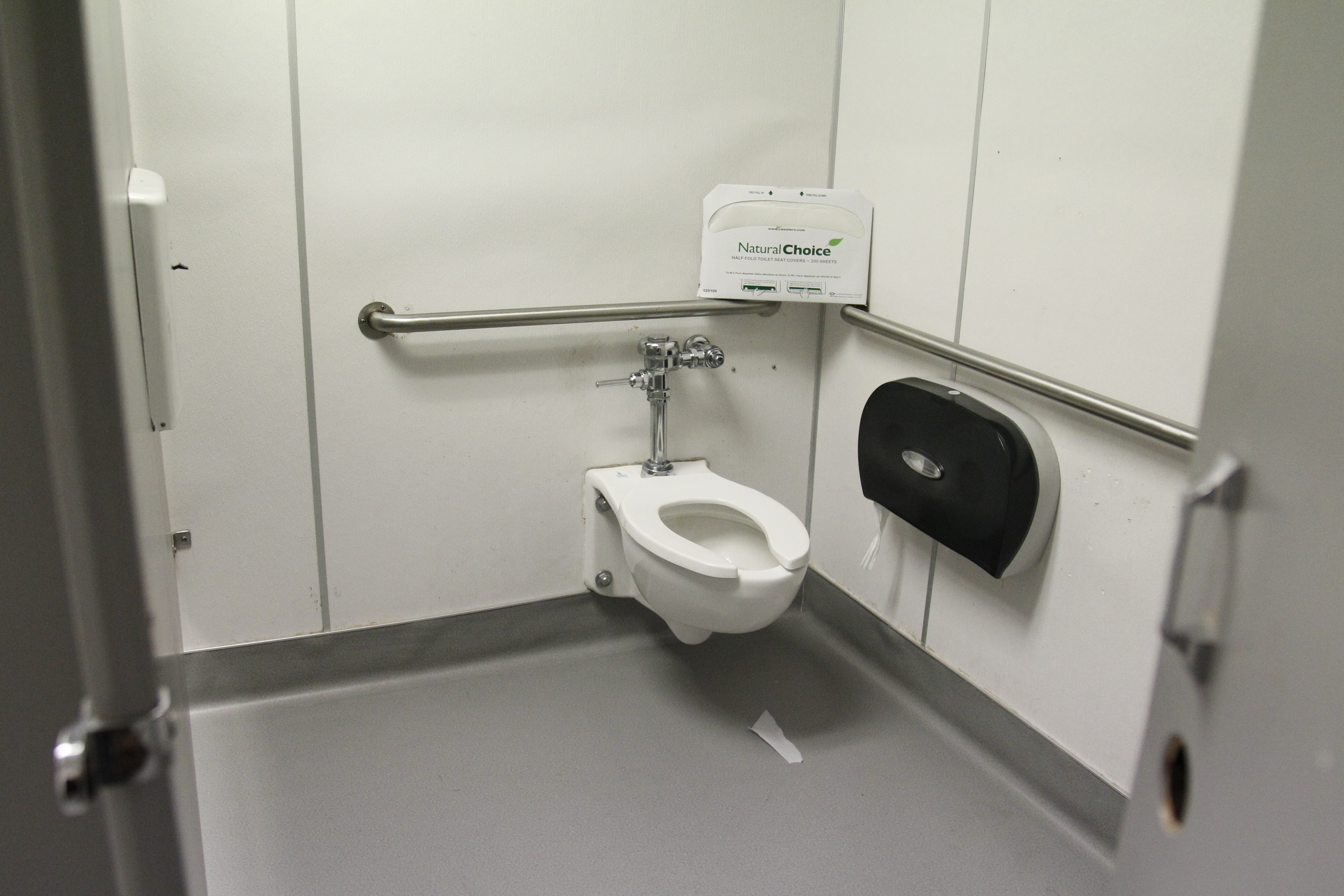 Some of Pierce College's bathrooms on campus have recently seen improvements in the new North Mall buildings and Library Learning Center. These renovated restrooms come equipped with multiple stalls, paper towel dispensers and new, eco-friendly hand dryers.
The restrooms seem to have what they need to perform the services necessary, although most of them are lacking a particularly important service which is sanitary napkin (feminine pads, tampons, etc) disposals. 
The restrooms in the Library Learning Center do have OSHA complaint sanitary napkin disposals, and could set a proper example for other restrooms on campus without them.
Some of the restrooms on campus, like the women's facilities in Elm Building, do not have sanitary napkin disposal baskets in the stalls approved by Occupational Health and Safety Administration (OSHA). Instead some of the restroom stalls come with open wastebaskets besides the toilet that often become full during the day which may leave unpleasant odor and potentially harmful bacteria behind.
Dr. Charles Gerba, University of Arizona Microbiology Department, said in an article published online by Cleaning and Maintenance Management "…The No. 1 bacterial hot zone in a female restroom is the sanitary napkin disposal unit."
Some facilities on campus have open sanitary napkin receptacles which means it is a "bacterial hot zone" as Gerba described which could potentially spread diseases like Hepatitis throughout the school if not handled and sanitized properly.
"The hepatitis C virus may survive on environmental surfaces at room temperature for up to four days," reported cmmonline.com. "Since it is impossible to identify infected individuals before they use the restrooms, it must be assumed that any and all soiled feminine care products may contain bloodborne pathogens."
Installing and maintaining OSHA compliant sanitary napkin receptacles in all restrooms on campus could help prevent a breakout in the community.
Cmmonline.com also wrote, "OSHA guidelines simply dictate that feminine care products be discarded in waste containers that are properly lined with plastic or waxed paper bags to protect the cleaning crew from coming into direct contact with them."
The health and safety of all students, staff and faculty should be prioritized, and Pierce can acquire the resources they need to install OSHA compliant receptacles in all women's restrooms on campus.
Pierce can apply for a government program provided by the education department to improve their facilities on campus which covers most of the costs of remodeling.
Pierce can benefit from this program because they would be able to improve their restroom facilities, such as adding OSHA compliant sanitary napkin disposal bins in women's restrooms without fronting the full cost of construction.