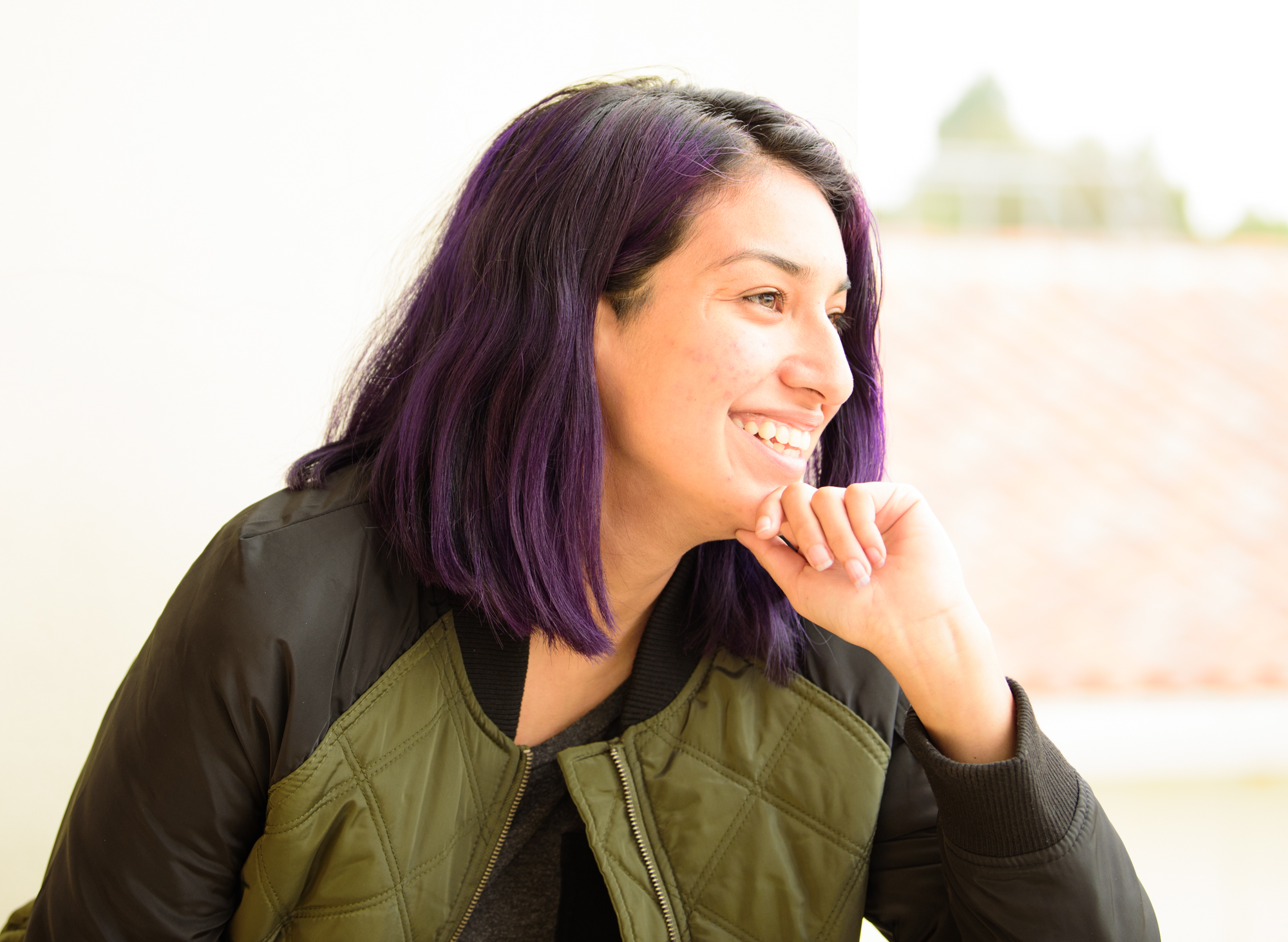 A young girl alongside her father, helps him change door knobs, fix plumbing and lay down flooring to earn the wages that pay the family bills. However, it is on the job that she realized her contributions were only a band-aid applied to a bigger issue.
To secure a brighter future—one where she could help to make a difference in her family's lives and in the lives of others—Emily Andrade knew she would have to make time for herself and her education.
Now, after having dedicated herself to college and study, Andrade is the commencement speaker for the spring 2018 graduation at Pierce, and is poised to continue bettering herself and her position in the world as she faces the future.
"At the end of the day, my family might not be there when I've graduated, and I might lose friends along the way, but I'm going to be okay. I'm going to be in a much better spot than I am now," Andrade said.
Andrade is the daughter of two hard working undocumented parents that emigrated from Mexico. With both parents working hard labor jobs, her mother a housekeeper and father a handyman, she helped out where she could, often assisting her dad.
Andrade said she and her siblings were introduced to work life early on.
"From a very young age, I had to start learning my dad's trade. I was doing flooring, plumbing and little construction stuff. And when you would look at me, you would see I was small. But when you are faced with not being able to make rent or pay the bills, you kind of look past your physical limitation," Andrade said.
Andrade said that as she got older, the responsibilities began to pile up.
"By the time high school came around, the weekends weren't weekends for me. It was time for me to go to work," Andrade said. "I probably took on more responsibility than I should have."
Andrade said that when her grades started to suffer, she considered taking a step back from school.
"I was doing high school, college courses and working for my dad. I was exhausted all the time," Andrade said. "My high school grades started taking an impact, and that's when I was like, 'Maybe I wasn't meant to go to high school. Maybe I should just focus on work,' because I didn't have the straight As or Bs I used to have."
But when Andrade started courses at Pierce in 2016, she said her studies became her main priority. She said she could no longer work until 2 a.m. while having 8 a.m. classes at the same time.
She said confronting her dad was a turning point in her educational career.
"He lost a worker in a sense, and felt like I was pulling away from the family," Andrade said. "But what I am doing in the long run is better than sacrificing my education to pay today's bills."
Andrade was chosen to be the spring 2018 commencement speaker, and she said her speech was inspired by her parents. However, before Andrade was chosen to be the commencement speaker this semester, she wasn't sure she fit her perception of the position.
"When you hear 'valedictorian speaker,' you kind of think 4.0 grade point average and someone with a lot of extracurriculars," Andrade said. "I never saw myself in that light, but it just started setting in that I'm probably doing a lot more than I realize, and I'm not giving myself credit for it."
James McKeever, associate professor of sociology and chair of the history, humanities, philosophy and sociology department, said he serves as a mentor to Andrade.
McKeever said he is proud of Andrade, and looks forward to her commencement address.
"Emily comes from a working class background with undocumented parents, so this hasn't been an easy journey for her," McKeever said. "I think that her commencement speech is going to be inspiring to a lot of people out there, particularly in a day in time when a lot of undocumented folks are feeling under attack."
Andrade said that, when her parents are older, she wants to help them live more comfortably financially so that they take a step back from their hard labor jobs.
"I'm going farther than anyone else has, and I am the first one in my family to go to a four-year  university," Andrade said. "We've been fine up until now, and we will be fine and better off when I am done with my education."
Andrade said that, despite her accomplishments, some people don't expect her to go very far because she started at the community college level.
"Anything I do, I try to do it better than the last time I did it. Even if I fail, at least I tried. I tried and I'll try again, because I'm not going to let other people tell me I'm not good enough after all I've struggled through. I've put effort into this, and people are like, 'You just went to community college.' But just getting here was a struggle for me," Andrade said.
McKeever said Andrade's determination roots from her upbringing.
"Emily recognizes the biases and prejudices that undocumented folks go through and the fear they have to live under. And she is not going to stand for it,"  McKeever said. "I think she feels like there's something that she needs to do in her professional life to speak for these groups of people who work so hard and make this country what it is today."
Dean of Student Engagement Juan Carlos Astorga explained why Andrade was chosen to be the spring 2018 commencement speaker.
"We were impressed by her passion and her eloquence, and I really believe she has a story of resiliency," Astorga said. "She has an incredible story to tell about immigrant parents."
Andrade said having a strong family tie helps to cope with the current atmosphere surrounding immigration.
"When one person in your family is undocumented, it is a whole experience for the family. You are all in it together," Andrade said. "With the current administration, its kind like you are fighting something you can't really fight against. You feel so helpless and you just have each other to rely on."
Andrade said potential deportation can be debilitating for some undocumented people.
"It's always a looming threat, you turn off all the news. You just don't want to think about it. You don't want to hear it, but at the same time you have to be informed," Andrade said. "Don't let the fear take over you, because then you are not informed and you are not aware of how to take care of yourself and your family."
Andrade said she plans to transfer to University of California, Santa Barbara and earn a doctorate in sociology. She said she would like to give back to Pierce by coming back to the college to teach and make students aware that they do not have to face difficulties by themselves.
"I'm going to come back to Pierce and be a professor," Andrade said. "I just want to have the ability to meet someone that came from same or similar background, disadvantaged students and let them know they are not alone in their struggle."