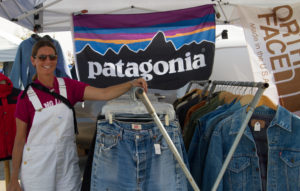 The last Sunday of every month brings hidden treasures to the table tops.
From intricate jewelry to shabby chic furniture, the Topanga Vintage Market at Pierce College has it all.  
Vintage clothing, art, antiques, food trucks and live music is just the tip of the iceberg, having over 180 vendors in the small market selling a plethora of unique items.
Vendors Bob Backus and Leilani McDaniel have been coming to the vintage market for five years. The pair commutes from Palmdale and sells vintage items ranging from classic cars to handcrafted stone necklaces.
"I come to sell, she [McDaniel] comes to buy," Backus said. "She collects antique dishes. I look for stuff too, but most of the time I just sell."
McDaniel said she used to live in Topanga and transferred from Pierce to California State University, Northridge. She said she was familiar with the area when the vintage market migrated to Pierce.
"We come here because we knew about it before when it was at the Promenade, then we were coming here and decided to sell because we have so much stuff," McDaniel said.
Backus said he tumbles crystals, which is a technique used to polish rocks, to sell and his favorite aspect of the market is finding old boat models.
"Oh, if I could find an old model because like I said I love to build model boats," Backus said.
Theo Strehlo has been working at the vintage market for two and a half years. He said he helps set up fences and canopies for the event each month.
"There's always a lot of cool stuff here and it kind of changes every time," Strehlo said. "You never know what you're going to run into."
Strehlo said the diversity and action is what led him to work at the vintage market instead of any other job.
"I realized I could work here, make a little extra money on the side and make this whole thing happen," Strehlo said.
Working at the vintage market is worthwhile but poses some challenges, according to Strehlo.
"The hardest part about working here is that setup starts at 4 a.m.," Strehlo said.
Tony Suarez is a general contractor and crystal miner who carefully extracts and crafts unique stones for leisure. He started mining precious stones from countries like Mexico and Brazil six months ago and decided to make the most of his hobby by displaying his crystals for sale at vintage markets.
"This one is galena, white quartz and pyrite," Suarez said. "This combination is so powerful. The pyrite is for good luck, the galena is a grounding stone and the white quartz is for the energy."
Suarez said he has been coming to the vintage market for a year from Northridge to live out his passion.
"I like this vintage market because it's not that big and I get a really good reaction from it," Suarez said.
He said the biggest interaction he receives is from children.
"Thirty percent of my clients are children," Suarez said. "Some of those children love crystals and when I started selling and sharing my crystals I never thought that thirty percent of my clients were going to be children."
Setting up can take time and energy from carrying heavy stones that weigh up to one ton, according to Suarez.
"They help me, but all the heavy lifting I do by myself so that way nobody gets hurt," Suarez said. "I've been doing this construction and heavy loads since I was 19 years old."
Despite the heavy weights in the way and long hours of stocking the booth, Suarez said he enjoys every minute of the hobby.
"I don't feel the tiredness because it's the things that you do for fun," Suarez said.
Laurie Loredo has been a shopper and collector at the vintage market for about a year and visits from Ventura County. She said the vintage hats she buys from the market give her confidence..
"If you're going to stand head and shoulders above the crowd you might as well have a well-dressed head," Loredo said.
Loredo said her favorite score of the day was a twenty-dollar vintage pink kimono.
"I usually shop for vintage clothes and some of the brand-new boutique clothing," Loredo said. "It could be whatever. Vintage jewelry, sometimes the plants."
Sharon Burr comes to the vintage market from Ventura with her emotional support dog, Cupcake. She said she has come to the flea market many times and was previously a student at Pierce.
"It's just fun interacting with the people and with the sales people," Burr said. "They're nice, and it's just fun to get a bargain."
The Topanga Vintage Market will be back Nov. 25 from 8 a.m. to 3 p.m. at the Mason Entrance.