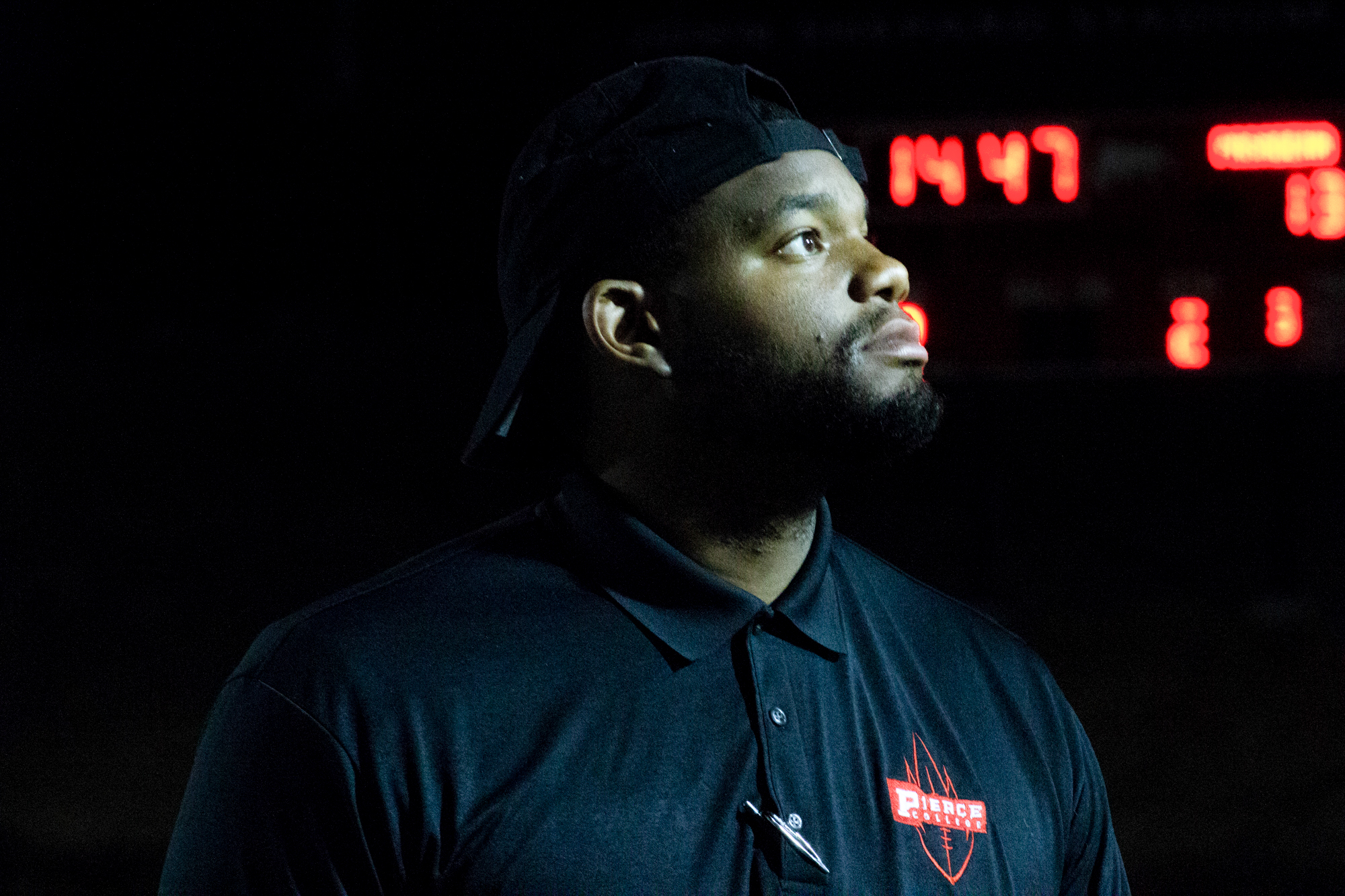 There are no ESPN NFL stats pages for Tavon Rooks and Gerald Bowman. After stellar careers playing Friday nights in high school and Saturdays in college, they narrowly missed the football dream—to play on Sundays.
Coming a bit short of that goal doesn't mean they are through with football. Instead, they have turned to coaching, and they have brought their knowledge of all levels of the sport to Pierce.
Rooks is the offensive line coach and the running game coordinator and Bowman coaches the defensive backs and coordinates the passing game.
Tavon Rooks was the 202 overall pick of the 2014 National Football League draft as he was drafted by the New Orleans Saints.
"It was an amazing moment," Rooks said. "I didn't really see it happening, but God allowed it to happen. It was a blessing. I wish everybody can experience the opportunity to feel that. I wish I can do it all over again."
Rooks started his football career in the ninth grade. He went to College of the Canyons and Navarro Junior College before transferring to Kansas State University.
Rooks is now the offensive line coach and running game coordinator for the Pierce football team.
While he was in the NFL, Rooks spent parts of two seasons with the New Orleans Saints, Arizona Cardinals and the Kansas City Chiefs.
"It was a grind, but I enjoyed it," Rooks said. "I wish I was there a little bit longer, but no, God had other plans. But my time in the NFL was wonderful. I got to meet some great people and some great players as well."
While Rooks was a member of the Chiefs in 2015, he had a heart attack during training camp.
"The effect that had on me [was] just thinking about my future," Rooks said. "I got a little girl and just thinking about her. The what's next question always come to mind. Am I going to keep on playing football or am I destined to be somewhere else?"
A year later, Rooks started his coaching career as a volunteer with a high school team. He missed being around the game and wanted to help other players reach their goals.
"I always wanted to give back," Rooks said. "I feel my job here on this Earth is to help guys get to where I've been. A lot of guys at the junior college level need that guidance. So that's what got me into coaching. I'm just here for the guidance and helping kids reach their potential to where they want to be at in life."
The number one thing he learned in the NFL that he tries to pass along to his players is discipline.
"If you want to be able to succeed in this world, you gotta be able to be disciplined and it goes so far, along way from football," Rooks said. "It's just life in general. If you're not disciplined in life then your life is going to be hard."
Rooks wants to continue to move up in the coaching world with the hopes of coaching at a division one school.
Rooks said he wants to stay at the college level, but coaching in the NFL is an opportunity he would like to have.
"I don't see myself going up that type of level, but if it happens it happens," Rooks said. "I'd rather be more on the college level because that's where I can relate now."
Signed by the Baltimore Ravens as an undrafted free agent in 2015, Gerald Bowman journey to the NFL was filled with challenges.
"When I first got there, it was just like, I can't believe it, I'm here," Bowman said. "I put myself in this position, no matter what battles and no matter what obstacles I had to overcome. It wasn't easy, It was tough, but the fact that I had that opportunity to be out there, in an NFL locker room with the Ravens, and my name on my jersey, it just meant the world."
Bowman started playing football when he was nine years old. He began his college career at Pierce before transfering to the University of Southern California.
He is now working as the defensive backs coach and passing game coordinator for the Brahmas.
Bowman said playing in the NFL was a challenge but it was also a blessing that gave him hope and motivation.
"I've been hearing it since I've been playing, each level will just get harder with bigger, stronger, and faster guys, it's the same thing," Bowman said. "It was tough work to say the least, but that pretty much was the difference. But it was a great experience."
Bowman has brought that knowledge and work ethic to his coaching style.
"I just learned and I apply it to what I do now," Bowman said. "I know what coaches want, I know what they expect out of a player just from my experience. I try to coach them to those high standards, give them the knowledge and information that they need so that they can play and be successful in the field on Saturday."
Coaching was not always in the plans for Bowman, but the opportunity was right for him to start.
"A lot of people always asked me if I would do it and for some reason I was like, nah, I don't really want to," Bowman said. "But I don't know, it's just something special about Pierce. I came up here and the opportunity came. I thought about it and I just was like, why not try to help these kids go somewhere and do some stuff that we did and accomplished?"
Bowman said would be happy to continue his playing career, but at the same time he would like to continue coaching.
"I'm still young, I still feel like I can play, I feel like I can coach," Bowman said. "Whatever opportunity comes my way. If it's meant for me to be here, I'll be here. If that's meant for me to play, I'll play. If that's meant for me to coach somewhere else, I'll coach somewhere else. It's all up to the big man upstairs."
Head Coach Carlos Woods said the team is very fortunate to have both of them on their staff and talked about what makes them good coaches.
"They're effective communicators. The players responded to them well because they've been in their position before and they've experienced success at its highest level. So they get a little bit more out of the players," Woods said.