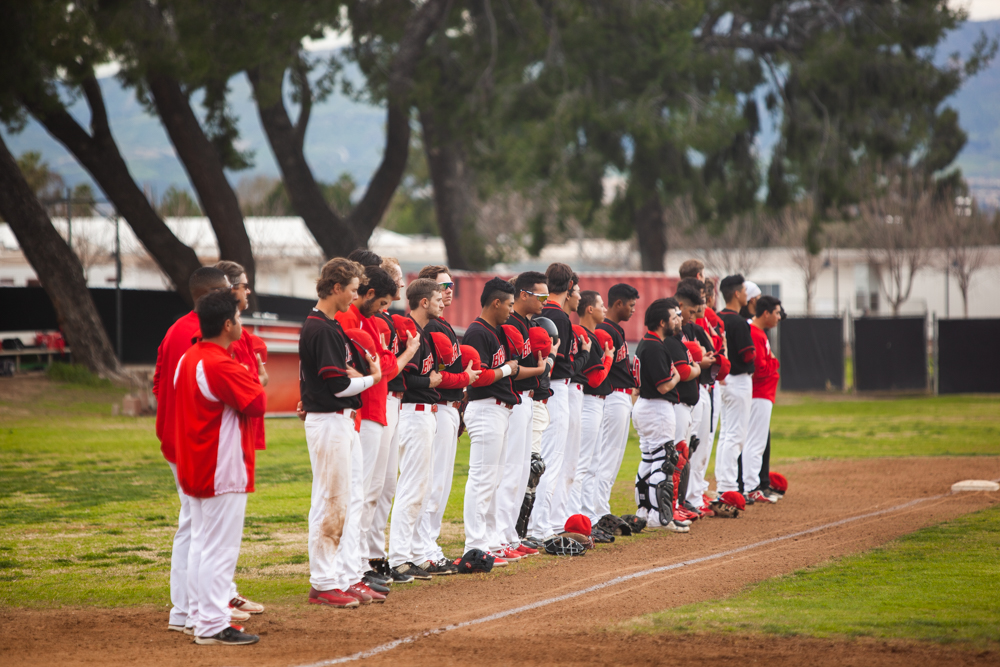 Baseball season is underway for the Brahmas with eight games already in the books resulting in a 4-4 record for the team, which is an improvement from last season's start of 2-6.

The schedule has been inconsistent for the team, with multiple games getting postponed due to rain and even one that was postponed in the ninth inning because due to visibility issues.

Their Brahmas first three games of the season came against Hancock College with the first two on the road. They dropped the first game on Jan. 25 by a score of 8-7, but came back the next day to win 4-3.

Their first home game came on Jan. 29 when they hosted Hancock College. The Brahmas lost by a score of 8-3.

With so many games in such a short stretch, head coach Bill Picketts said he used that game as an opportunity to get some experience for some of the new players.

The next day, the Brahmas faced last season's top-ranked team, San Joaquin Delta, and picked up an 8-1 win.

Pitchers Elan Filous and Johnathan Kennedy combined to pitch all nine innings for the Brahmas. After the game, Picketts credited the pitching for the difference in outcomes of the first two home games.

"Filous is a guy that I think is going to be pretty good for us and it showed. He competed, he threw strikes, and that's a good team right there," Picketts said. "He held them in check and then Kennedy coming in and doing what he does, that's all the difference in the world compared to yesterday."

The Brahmas next game came the following day on Jan. 31 in Long Beach. They lost that game 12-0.

Following that game, the Brahmas had a week off because two games were postponed due to rain.

On Feb. 7 and 8, they hosted Santa Barbara City College. They picked up the win in the opener by a score of 4-2.

Filous started for the Brahmas once again and threw five scoreless innings for the team before being removed for precautionary reasons with muscle tightness.

After the game, Filous said he was ready to keep pitching if the team needed him.

"My fastball, my changeup was really good today, it had a lot of movement, my curveball had some good movement, good drop," Filous said. "I was feeling myself and I was honestly ready to go two more."

Picketts credited Filous for bringing energy to the team when he starts.

"We keep playing well when Filous is pitching," Picketts said. "I talked to the guys about it and it seems as if his intensity is contagious and we all kind of pick it up a notch."

The next day, the two teams went into the ninth inning tied at five but the game was postponed because the umpires decided it was too dark out.

After the game, Picketts said he was not happy with the Brahmas performance in the game.

"I was actually kind of disappointed in the way we're going about our business as a whole," Picketts said. "The dugout wasn't involved. I thought when we came out, we weren't ready. Our pregame was terrible and it showed throughout the whole game."

Their game was scheduled to be completed on Feb. 9 in Santa Barbara before their next scheduled game but the field was too wet to play on so they were both postponed.

The Brahmas did respond on Feb. 12 with a 4-0 win over Oxnard College.

The story of that game was the pitching. Johnathan Lavallee started the game and threw seven shutout innings with eleven strikeouts.

Kennedy was called upon to finish the game but after getting the first five outs, Picketts went to his bullpen and brought in Barrett Vonderau to get the final out.

"Obviously you can't say enough about Lavallee and the way he threw," Picketts said. "I was hoping to actually let him finish it. His pitch count was pretty darn good after six innings and then he struggled in the seventh, which got him up to around 105 pitches."

Lavallee credited his success to his preparation before the game.

"I was dialed in. I could feel myself focus on, not just throwing to the glove, but through it," Lavallee said. "Through it is the key because if you just throw to it, it's gonna run all over the place."

The Brahmas offense broke out to score three runs in the second inning, which was enough to get them the win.

"It seems like every game is like that," Picketts said. "I mean we get hot for one inning and we do our thing for one inning and it's been enough for the number of games that we've won. So opportunistic, I guess is what you can call it."

The Brahmas next two games were also postponed.

On Feb. 18, the Brahmas faced Cypress College in a game that was rescheduled from one of their postponed games. They lost 6-1 with Nolan Bodeau providing all the offense with a solo homerun.

The Brahmas are scheduled to play at home again on Feb. 21 against Ventura College at 2 p.m.