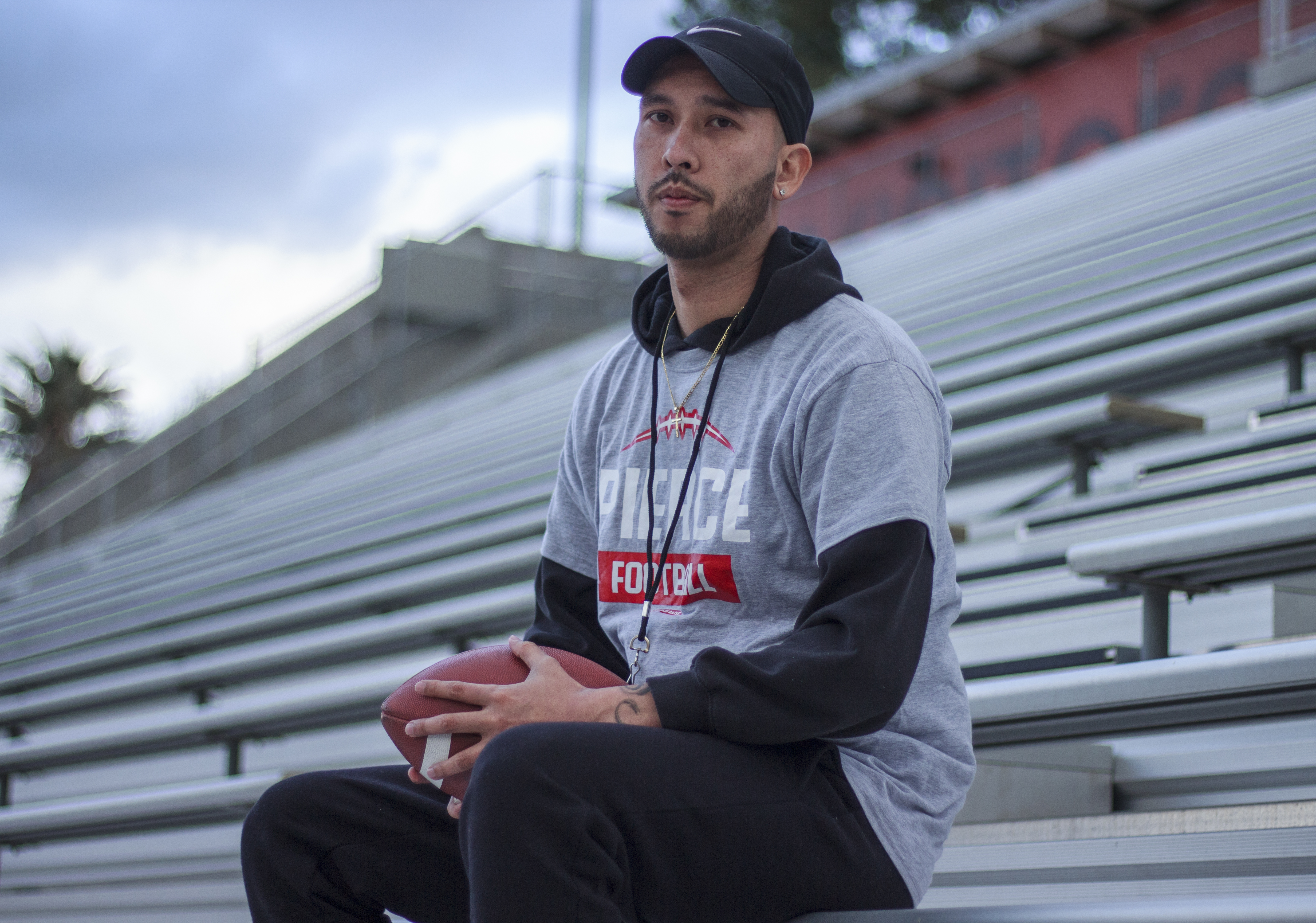 College football programs are bringing reinforcements whether it be players or coaches.
At Pierce it is no exception as Richard Dax Sanchies comes in as the new quarterbacks coach and recruiting coordinator.
Sanchies comes to the program having been the head coach at Hawkins High School in 2017 and Ribet Academy last year.
Sanchies said that he learned a lot being in those two programs.
"I took the adversity that came from a rebuilding program and it taught me how to be patient and having goals," Sanchies said. "Going through the different ups-and-downs with both programs it pushed to be a lot better as a coach."
Sanchies feels ecstatic to be one of the coaches at Pierce next season.
"I was really excited because [Carlos] Woods definitely is a great coach. He has a lot of experience. I had a meeting with him, we talked and he allowed me to be on the coaching staff," Sanchies said. "I feel that it is a good opportunity for me to learn more and to continue coaching at the next level."
Woods listed several traits of the new hire.
"He is an effective communicator," Woods said. "He possesses great leadership and has been a head coach at the high school level. He has been in the fire in the sense that he has taken over programs, going through adversity and he was able to sustain those programs back to success."
Woods said that Sanchies will be a great addition to the team.
"He is really on top of some of the guys and maximizes their talent and it is a great plus to bring him on our staff to get to where we want to be," Woods said.
Woods said Sanchies will be a huge help in bringing in the local players since he lives close to Pierce and knows the area well.
Sanchies knew that he wanted to play football early on. He played quarterback for Nogales High School in La Puente, before going to Pasadena City College.
He would transfer briefly to Florida Agricultural & Mechanical University before graduating from California State University, Northridge.
Sanchies said his coaches taught him many lessons as a player that he still holds on to today.
"Opportunity does not have a time window. It can come at any moment and you have to be ready for it," Sanchies said.
Sanchies said that anyone that comes to Pierce must be willing to work from the moment they commit to the school.
"When I look at players, first I see their character. Will they get along with the team, the coaching staff? I look for someone who is not going to get in trouble," Sanchies said. "Getting guys that fit the program and
players who understand that positions are not given to them."
Sanchies said players who performed well at other schools sometimes don't fit-in at the next level. He said that everyone that signs up has to compete for places and high school accomplishments don't matter at the next level.
Sanchies said the coaching staff has great chemistry working together.
"They are very embracing," Sanchies said. "We have a group chat going on. We talk about the different players coming in and we come with different ideas on how we can help the team for next season."
Cameron Perry, quarterback, will be on the team next year. He said he looks forward to working with Sanchies.
"He's impressive. He knows a lot about the game. I feel that he could teach me and improve my game. I just hope he does great and helps us succeed next season," Perry said. "I know he is going to give his all so I must do the same as well."