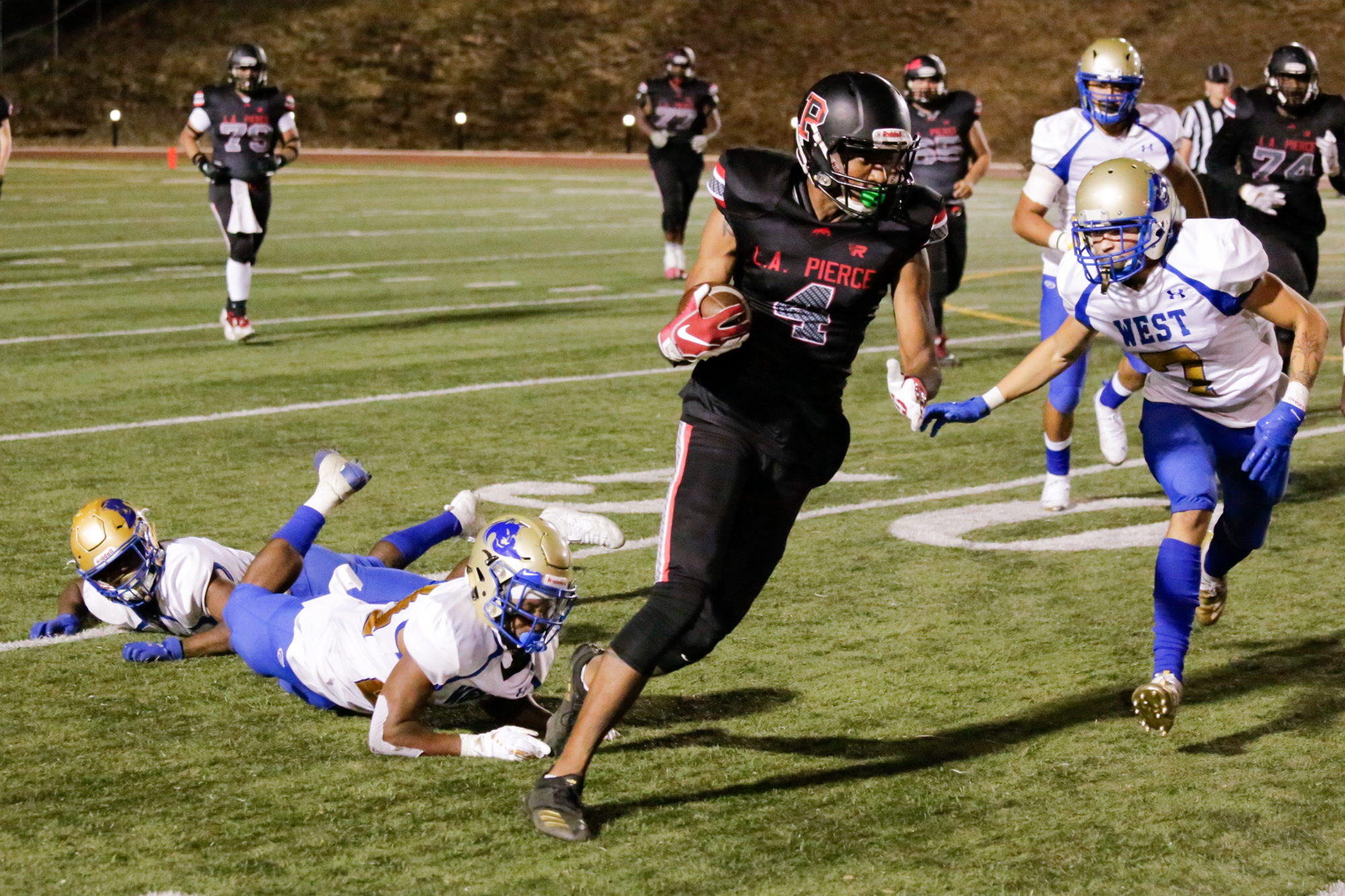 Last season, wide receiver Kareem Miles was fighting for the Victory Bell as a player with Los Angeles Valley College. Now, Miles is looking to win the Victory Bell for the second straight season, but this time it's with Pierce.
Every year, the Brahmas and Monarchs participate in a rivalry game dubbed the Victory Bell, where the winner gets to take the bell home until the following year. Valley College has held onto the bell for the past four years, but the football team is hoping it makes its way to Pierce.
Miles is doing everything he can to ensure that the bell does come back to Shepard Stadium.
"I just go hard at practice," Miles said. "Just building chemistry with my team and letting them know how important this is."
Although he's a transfer student, Miles isn't an unknown face to the team or the coaching staff. Earning 828 yards and 10 TDs last season, Miles caught the eye of John Austin, the wide receivers coach.
Austin has been coaching at Pierce since 2014, and he sees a lot of potential in Miles.
"He's a freak of nature, has great speed, great hands. He is a big playmaker for us," Austin said. "He's gifted, has a lot of talent, and has so much room to grow."
Austin explained how when Miles is on the field, he's all about business. He said Miles is a quiet guy who keeps to himself. It could be tough to get words out of him, but he said it could be a good thing for him, as it potentially limits distractions.
Jeremy Boyle, special teams coach, had similar high regard for the esteemed wideout.
"He's a great guy, not one problem with him, he's getting good grades," Boyle said. "He drives 2 hours to get here so he is dedicated."
Miles recently got an offer from Southern Miss. Whie Miles has only played one season of college football, there are people out there who are keeping a close eye on him.
Miles said he is thinking about signing with Southern Miss, but his focus is on this season.
Coming off a tough loss against West LA on Sept. 14, Miles was in high spirits and seemed hopeful as he prepares for the big game.
When he isn't running past defenses, Miles does whatever he can to help his team win, showing his unselfish nature. After a catch, Miles often fights for extra yards, often making something out of nothing.
The Baldwin Hills native has been playing the game his whole life. And he knows exactly what he plays for.
"My family," Miles said, "I want to see them in better situations, and I want to be the one to put them there.
After graduating from University High School, Miles saw the game of football as an opportunity to be successful. 
"School is important to me," Miles said. "Can't play football without school, can't transfer without school, so school is definitely a top priority for me."
It is a way for him to be able to provide for his family, and according to his coaches, the sky is the limit.
"He could get paid on Sundays," Austin said, "If he kills it from here on out, he can dominate the game."
With one offer on the line already, Miles is already making a name for himself.
"He does it all, he can jump, he's fast. He will be in Division-I next year," Boyle said.
Miles is set to play his old team Saturday, Sept. 28. It is there where he will fight to repeat as the Victory Bell champion with his new team.
"Just focus on my job, do my assignment and run hard," Miles said, "As coach tells me, 'get your money.' Basically get everything you can out of what you're doing."