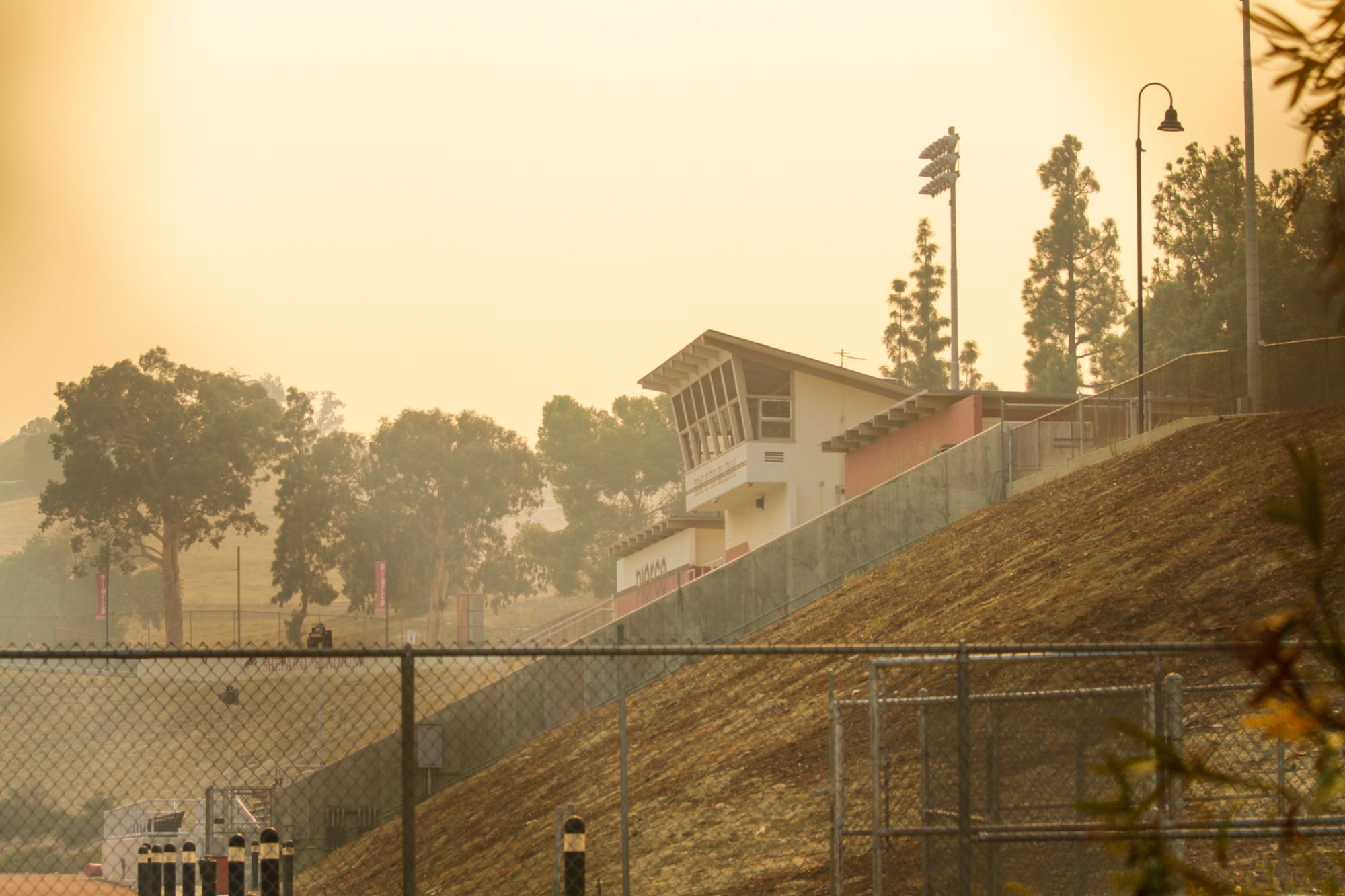 Friday, when the Saddle Ridge Fire started, thousands of people were affected, including Pierce student athletes.
Soccer and women's volleyball were scheduled to be on the road, but saw their games against Santa Barbara City College and Ventura postponed. 
 Men's basketball's event, Intersquad Madness, had to be moved as well due to the school being closed.
Counselor Joe Roberson said that he was fortunate to not evacuate.
"I'm totally blessed that I didn't have to move. Other students let me know they had to move because they were on mandatory evacuation or the smoke was close to where they were," Roberson said.
Roberson was proud of the decision that the administration took because the players deserve to be safe and not exposed under those circumstances.
Head soccer coach Adolfo Perez said that the postponement changed their plans.
"I learned about the decision on the day of, which is a bummer. It changes everything because we are playing Cuesta who is having the best year ever," Perez said. "Santa Barbara is a powerhouse and in 28 games they only have lost two."
Perez said that the game has been rescheduled to Thursday night at 7 p.m. He also said that one of his players Sofia Caparelli had to evacuate.
The administration was involved in making the change. The team were also unable to get their uniforms since school was closed Friday and Saturday. 
"This changes our landscape because now we are going into three straight tough games," Perez said. That is not an excuse but we have to prep well physically for what is coming."
Caparelli said that this was the first time she had to evacuate from a fire. 
"So I found out on Saturday morning since the smoke was getting closer to where I lived and I got a text saying we had to move," Caparelli said. It was scary because I had never gone through a situation like that. Thankfully nothing had happened to the apartment when we went back."
Caparelli said despite having to play multiple games, if they are able to manage them well, they can get good results.
Women's volleyball outside hitter Gianna Ros said she got notified through her phone.
"I was sleeping and it kept vibrating. We were getting messages since we have a group chat. I also got an email notifying me that the campus was going to be closed," Ros said.
Ros said the team took the situation well and that their health is a priority. She is happy that the game is going to be rescheduled.
"When we go on the road, we will be more than prepared to face them," Ros said. 
Head basketball coach Charles White who works with the Los Angeles Unified School District said they left early because of the fires. 
"You know that left us in a bad spot. The officials were going to give a clinic to the players about the new rules this season," White said. "Hopefully we are able to have the event this Saturday. I will talk to Genice [Sarcedo-Magruder] about it and see what she says."