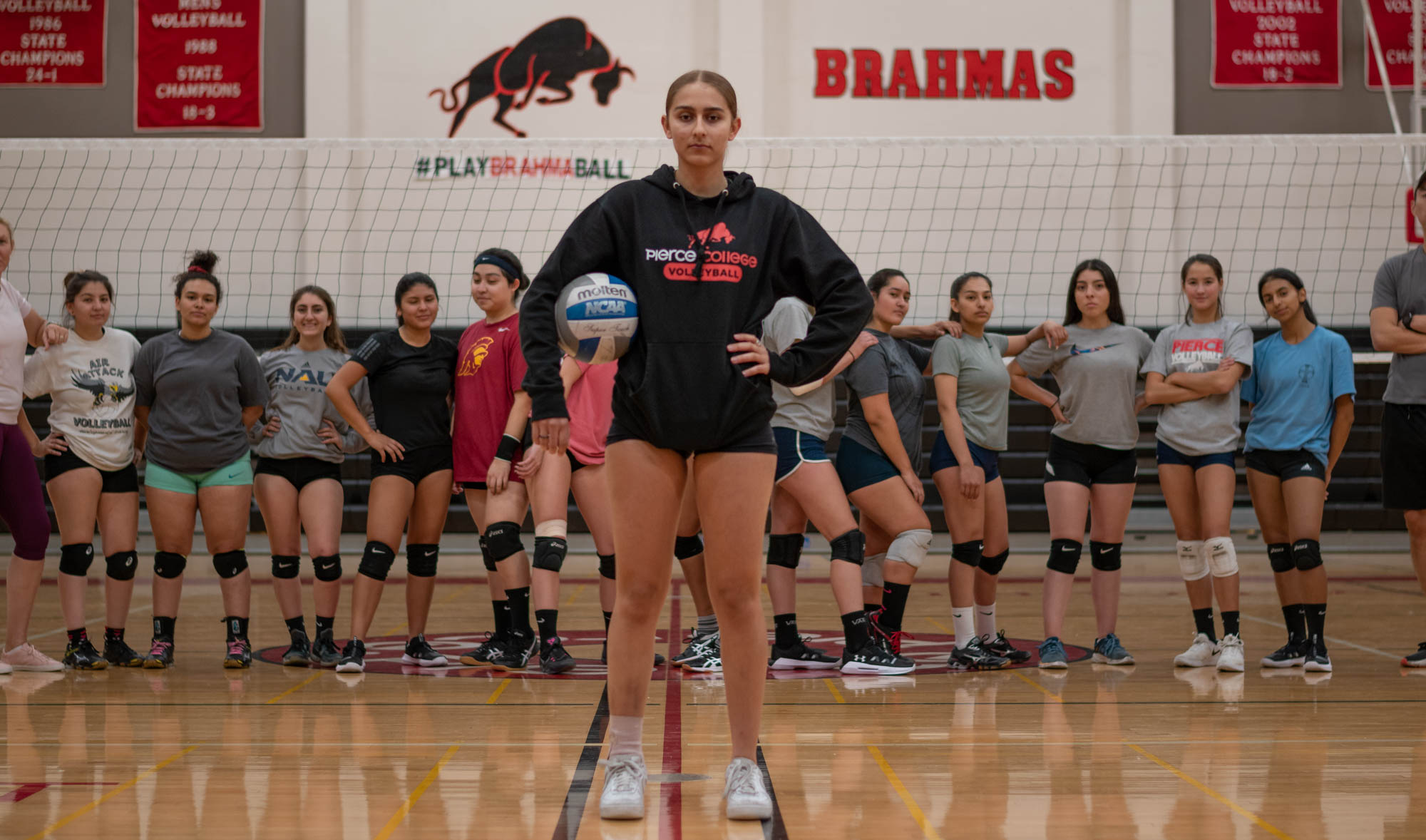 After seeing her grandfather get sick, Gianna Ros decided to study nursing to help people in need, and now carries this compassion onto the volleyball court. 
Ros, one of the women's volleyball captains at Pierce College, tries her best to support and help her loved ones at home, as well as her family on the team.
"My abuelo got sick to where he almost died, and it scared me to think of losing him. So I thought a caretaker goes into being able to help everyone and it makes me feel good to help people. With the team, if something is going on with one of the girls I'll take the extra time to ask, 'are you okay? What's going on?' I'm always there for them," Ros said. 
 Her coaches and teammates appreciate her kindness and recognize how it helps the team. 
Aniya Cleavland,who plays outside hitter, knew  Ros was a good player and teammate the first time they met. 
 "She's so motivational. When everyone's down, she's always trying to bring us back up. If she sees someone fall, she says, `you got it next time, you can do it. Don't give up. Never give up.' That's what makes her a great captain," Cleavland said. 
Ros's compassion became second nature to her over time. 
"I've always been that kind of person you can lean on. I've had a lot of things happen in my life with my family and other people. But I like being there for everyone else. I know I would want that as a teammate, so I want to be that for them as a captain," Ros said. 
  Her encouraging words and strong mindset about winning and losing motivates her teammates to play their best.
While many athletes define a win as scoring more points than the opposing team, Ros believes it's all about how the team plays together. 
She emphasizes the importance of good sportsmanship by trying your best.
"As long as we play as hard as we can, that's how we know we won. It's not defined by the score, it's defined by how we think we did," Ros said.
Ros pushes herself beyond her limits, and beyond the coach's expectations both during practice and on the court. 
Carrie Wright, the assistant volleyball coach, recalls her first encounter with Ros.
"We were at practice and everyone was jogging but she was running. I noted what a great athlete she was and she always pushed herself without us ever having to say anything," Wright said. 
Not only is Ros known by her coaches and teammates for her hard work and caring nature, she is also recognized for her serves and kills. 
"We were at Cuesta and she was going on a service round and serving really strong. She just flies in the air and hits the ball quickly," Wright said. 
Cleavland recalls the first few games in which she was watching Ros from the sidelines and cheering her on. 
"I was yelling, 'go Gianna!' and when she would get a kill, I started jumping up and down," Cleavland said. 
Cleavland even gave her a nickname in honor of her skills. 
"I call her a machine. She's a really good player and has really good kills, and always hitting the ball down, so I call her a machine" Cleavland said. 
  During practice, her coaches and teammates comment on her consistency and effort and her position as a team captain.  
"Who she is as an athlete is exceptional and everybody gets along with her and looks up to her, so it's a natural role," Wright explains. 
  Ros didn't expect to be a captain, and didn't even know about it until the first game of the season. 
"Right before the game, Coach Edison [Zhou] tapped my shoulder and said, 'this is our new captain.' My mouth dropped and I was like 'what?! No way.' Everyone was really happy," Ros said. Being a captain now, I have to be there for my team, and I'm really honored to do that."