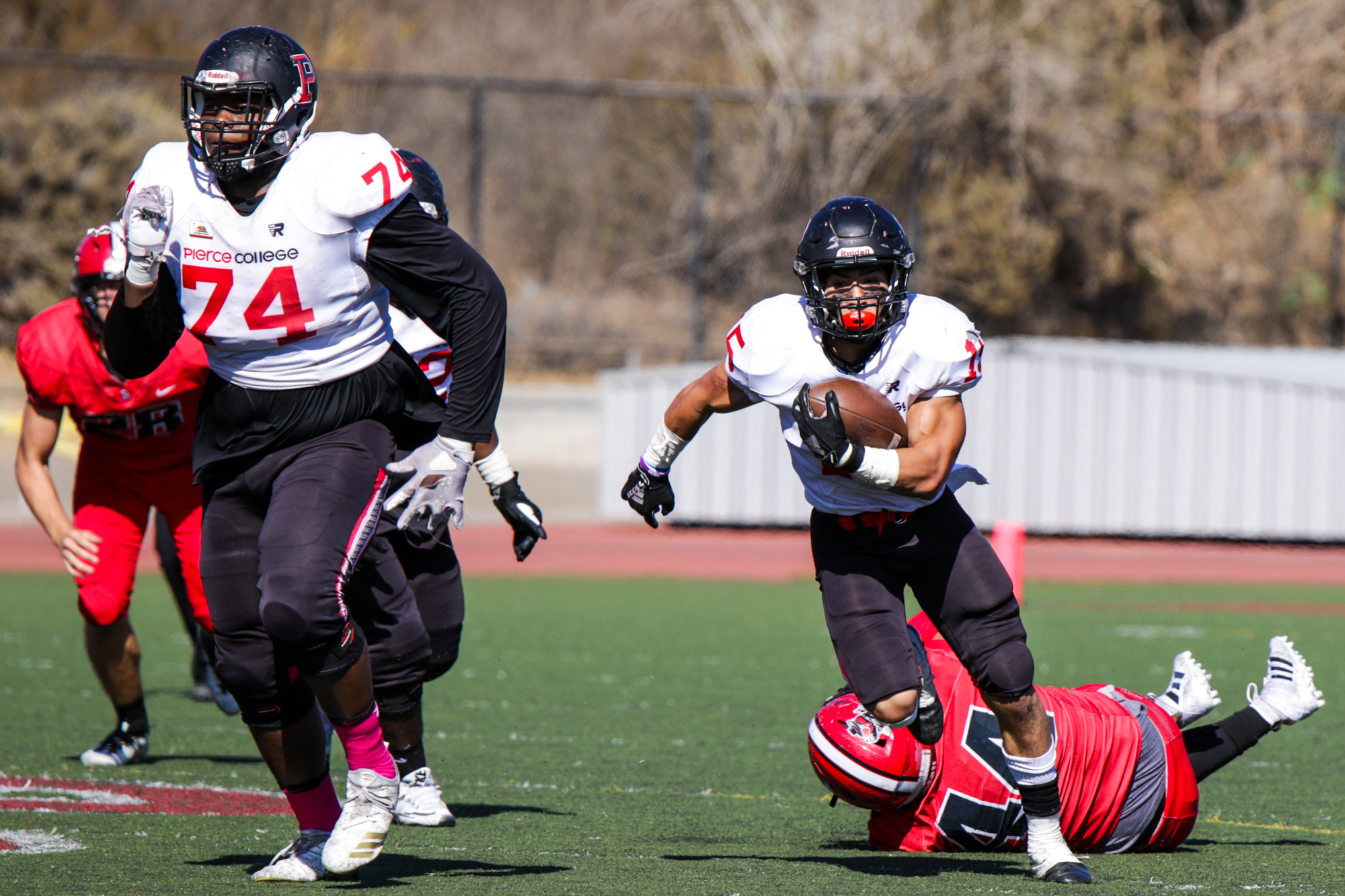 In the first game under acting head coach Anthony Harris, football went on the road to face the Santa Barbara City College Vaqueros.
Even though they took the lead, SBCC's offense stepped up to beat the Brahmas 35-16.
Harris was pleased with he saw and said that the team has potential.
"We just need to work on our structure and organization. Tighten up some little things and we can be more competitive. I am really positive with what I saw and I'm looking forward to the rest of the season," Harris said. 
Harris said they won't try to change a lot, but acknowledged the players are upbeat and are open to changes. 
Both teams started the game with constant turnovers and there was no score. Towards the end of the first quarter it was the Brahmas to take the lead. Quarterback David McCullum scored his first of two touchdowns on a 13-yard run.
However the Brahmas weren't able to maintain the lead as Jahmal Cornwell immediately tied the game for the Vaqueros on a 58-yard pass from Bradley Kleven.
In the second quarter, Kleven connected another long pass this time for 42 yards  to Will Bayonne. The drive lasted six plays for 82 yards.
The Brahmas were close to keeping the game at 14-7, however with 20 seconds left in the half Cyrus Wallace scored to give Vaqueros a 21-7 lead.
Things turned worse for Pierce at the start of the second half when Jacob Schultz recovered a fumble and ran it back for 70 yards.
Towards the end of the third, Brahmas got a safety that added two points to the scoreboard. 
In the opening seconds of the last quarter, Kleven continued his great performance completing a 72-yard pass to Sammy Ortiz.
With 6:14 left in the game, McCullum scored his second TD of the game running for five yards. 
McCullum finished the game with 11 completed passes for 163 yards and was intercepted twice. 
With the result, Vaqueros improve their record to 2-4, while the Brahmas drop to 1-5.
Harris would look to turn things around for the team Saturday when they face the Pasadena City College Lancers. Kickoff is scheduled for 6 p.m.