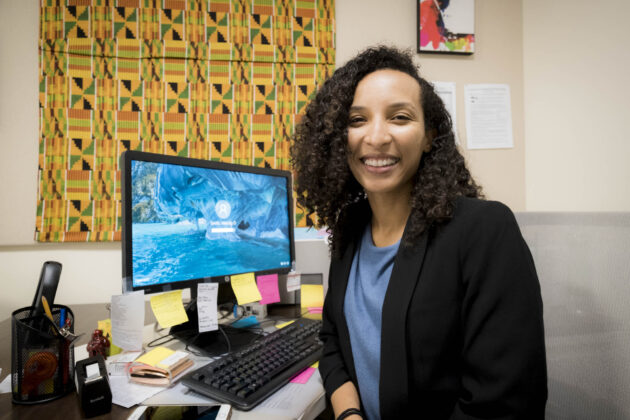 Umoja is a word that originates from Kiswahili meaning "unity," and during Black History Month the program hosted various events to share information on African American history.
For this year's first pop-up, a booth was set up at The Mall for students to hear about the importance of Umoja and learn about major African American figures on Feb. 18. 
(transition)Student worker Janeeh Ford "We are American history, this country was built off of our backs,
"Regardless of the brutal history, I believe that this country was built off of the backs of people who started off as Africans. It's important to bring the greatness of the culture, not just slavery," Ford said.
Cultural figures remembered included Spike Lee, who received his first Academy Award for Best Original Screenplay in 2019 for "BlacKkKlansman," and Matthew Henson, the first African American to reach the North Pole.
Ford said the purpose of all Umoja events is to educate on African American culture in the U.S. 
"We're giving people influential African American figures so that they can learn, and fill out flags on why these people inspire them. We're trying to bring awareness to influential figures and to people's lives,"  Ford said.
While Black History Month is an important time to remember the historical milestones, it takes place during the shortest month on the calendar. 
"Black History Month is the shortest month of the year. Some people only have a week or a day, but to give us the shortest month is a little bit of a jab," Ford said.
Student worker Salma Ubwa gave a brief history of the month-long celebration. 
"Did you know that Black History Month started off as Black History Week? It used to be from February 1st to the 7th," Ubwa said. 
Ubwa followed with why it's important to pay respect to black people. She said key historical locations were built by black people.
"D.C. in itself was built on the backs of Black people, you wouldn't have the White House, you wouldn't have all these amazing places without black people who built them," Ubwa said.
Ford believes Umoja gives Pierce students a welcoming environment to have these imperative discussions.
The uniqueness of the program promotes resourcefulness.
"We have a space where people can feel safe on campus, and we're a big community where people feel like they have that space to talk to others," Ford said.
Professor Christopher Strickland is responsible for teaching the only two classes on African American history at Pierce. 
He said Black History Month is extremely important so that people recognize and learn about the various struggles and contributions of African Americans in this nation and throughout the world. 
"It's important here at Pierce for the same reason why it is important all throughout the world: to increase knowledge. Knowledge is power, and the more we know, the more we all grow, " Strickland said.