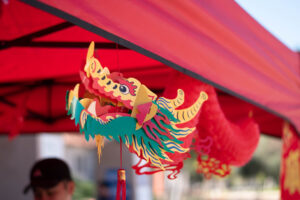 In Chinese culture, rats symbolize wealth and surplus to celebrate the year of the rat. The Chinese Club hosted a street food event at the Mall on Feb. 26 and 27.
The Spanish Club and the Japanese Club attended the fundraising events by selling cultural food and snacks to students.
Each booth was decorated with red Chinese lanterns for the food festival. The Spanish Club had their very own colorful piñata while the Chinese Club had a traditional paper dragon hanging from the top of their booth with calligraphy written on red drapes which bring in good luck.
Chinese Club Vice President Derek Laam said the fundraiser was made to share the importance of the Chinese New Year with students at Pierce.
"It just brings everyone to the table," Laam said. "We get to enjoy the meal once a year, so I like the feeling and the connection it brings to families."
For those wanting a break from the heat, the Alpha Gamma Sigma Honor Society sold Baskin Robbins ice cream and soda floats. Students who wanted a fast snack could get nachos with Tapatio hot sauce on the side from the Spanish Club, or onigiri rice balls from the Japanese Club.
Chinese Club President Andy Yu said his favorite part of the Chinese New Year is the symbolism of rats.
Yu said he also enjoys the tradition of giving red envelopes.
"Red envelope is what we call lucky money," Yu said. "Parents would put money in red envelopes and put it underneath their kid's pillow to protect them. It's because of an ancient legend about putting a red envelope underneath pillows to protect your kids through the new year and it's considered lucky for the upcoming new year."
Maria Bates, the Chinese Club advisor, said it's important to celebrate Chinese New Year at Pierce because diversity and equality are "crucial."
"I think it's important to bring awareness that there are so many people from different cultures on campus," Bates said. "I don't think we had that kind of club until Derek actually initiated it, so I'm really proud of him and he has created a dynamic group of people that are not just from the Chinese culture. They are all from different diversities and ethnicities."