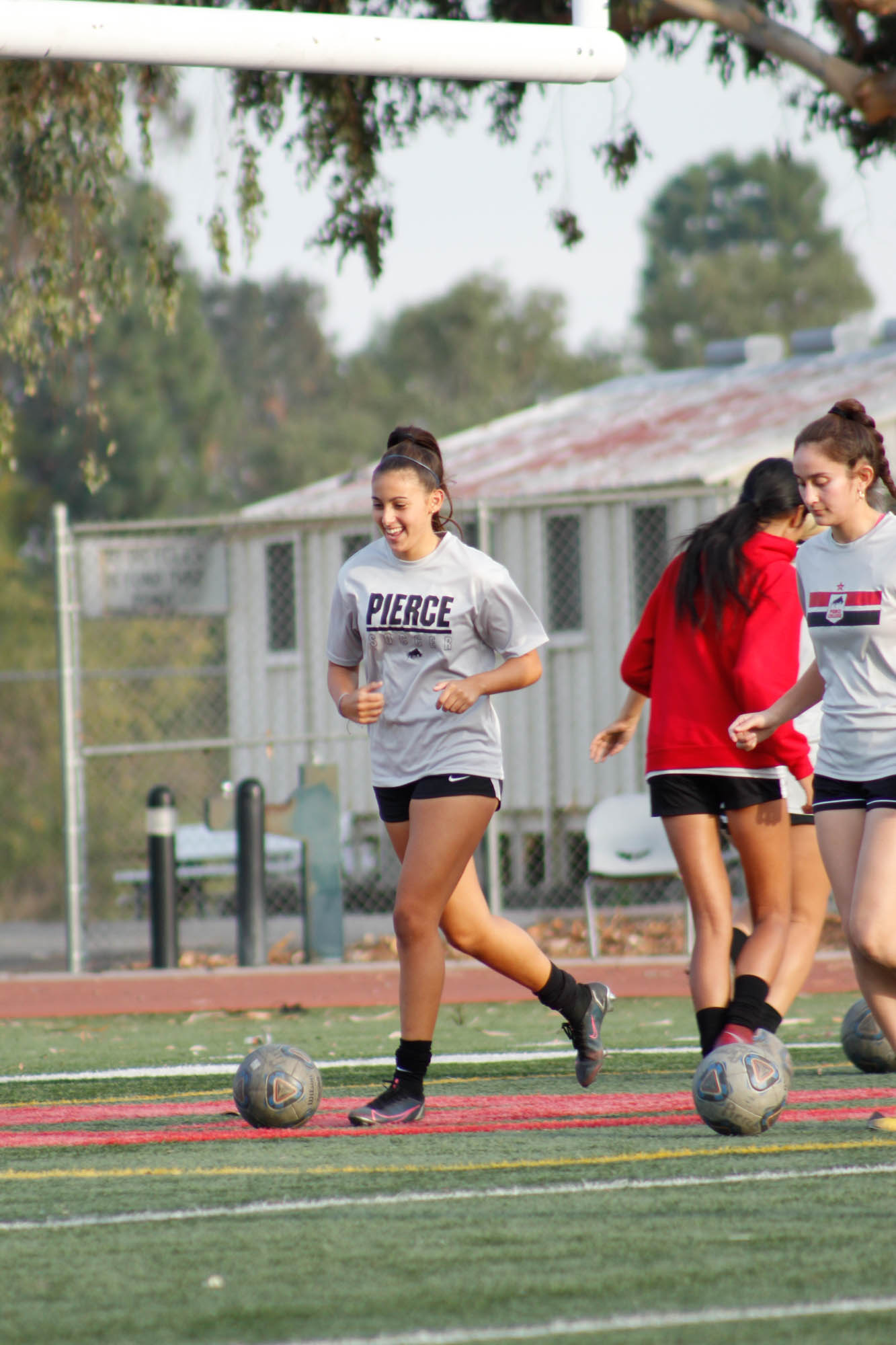 With the Pierce girls soccer team moving into the playoffs, there are no doubt going to be challenges. 
But with freshman defender Natalia Puccio anchoring the team, they are feeling confident in their chances of advancing. 
Puccio has been playing soccer all her life, playing at a high level. So much so in fact she made varsity her freshman year at renowned soccer school El Camino Real.
"Honestly high school was like the best so far the best time of my life, especially the soccer part. It was the best part. When I tried out it was easy. And then I was on the team, and then before I knew that I was on varsity my freshman year." 
This led her to have great resolve which she has carried on to the college level. 
Evidence of this is easy to see, as she is the only member of the roster to have played every minute of every game this season. 
"I'm grateful to be playing every minute and to be starting every game like it's just such an achievement. So I love it." Puccio said, "I can't say I'm not not used to it because all my life I've played pretty much almost every minute of every game."
This stamina added her greatly as it was one of the reasons she was made captain by her peers. 
Coach Adolfo Perez said her show not tell attitude is one of the keys to her success.
"[The team] saw her commitment, her ability to communicate, sometimes she doesn't talk as much as she should, but she does it on the field. You know, she talks with action, and actions speak louder than words."
This has held true, as despite being a center back, she has leg power few coach Perez has seen before. 
"I've been here for 20 years. And I can honestly say that I've had very few defenders that have been able to kick a ball like her. We've won the conference 11 times, We've won over 300 games. So for me to say that It's pretty incredible."
Not only is she a powerhouse on the pitch though, as she has multiple times stepped up to support her teammates. Regularly giving pep talks in huddles to keep the team upbeat and ready for the game.  
Puccio credits this upbeat attitude as another factor in her being chosen as captain. 
"When we had to pick captains, all the girls voted for me. I barely even knew anybody. But like my keeper caught one thing that I said during our first game, I had brought our defense together and I was like, we got this, we can do this. And she noticed it and she brought that up."
This was further expanded upon by teammate Hayley Villafane.
"She has an infectious energy and she really leads our entire backline and keeps everyone there in order." Adding, "Her communication on the field is definitely one of those qualities. And she even can score goals too, even though she's a defender."
The main factor to her success this season, Coach Perez said, is her consistency in the face of any opponent, or challenge in front of her. 
"We played Ventura College, they have great forwards and they were constantly going at her and she was just stopping them. You know, she's consistent and that's what you get in any game. Consistency has been her biggest strength."
As the team begins to look ahead to the playoffs, and the end of the season, the only thing that Puccio could say was that she wished she could give more to her teammates. 
"Honestly, if I could play more games, like if we had more games I would love it. Like, like my body's fine, like I can keep going like it's I just love playing."