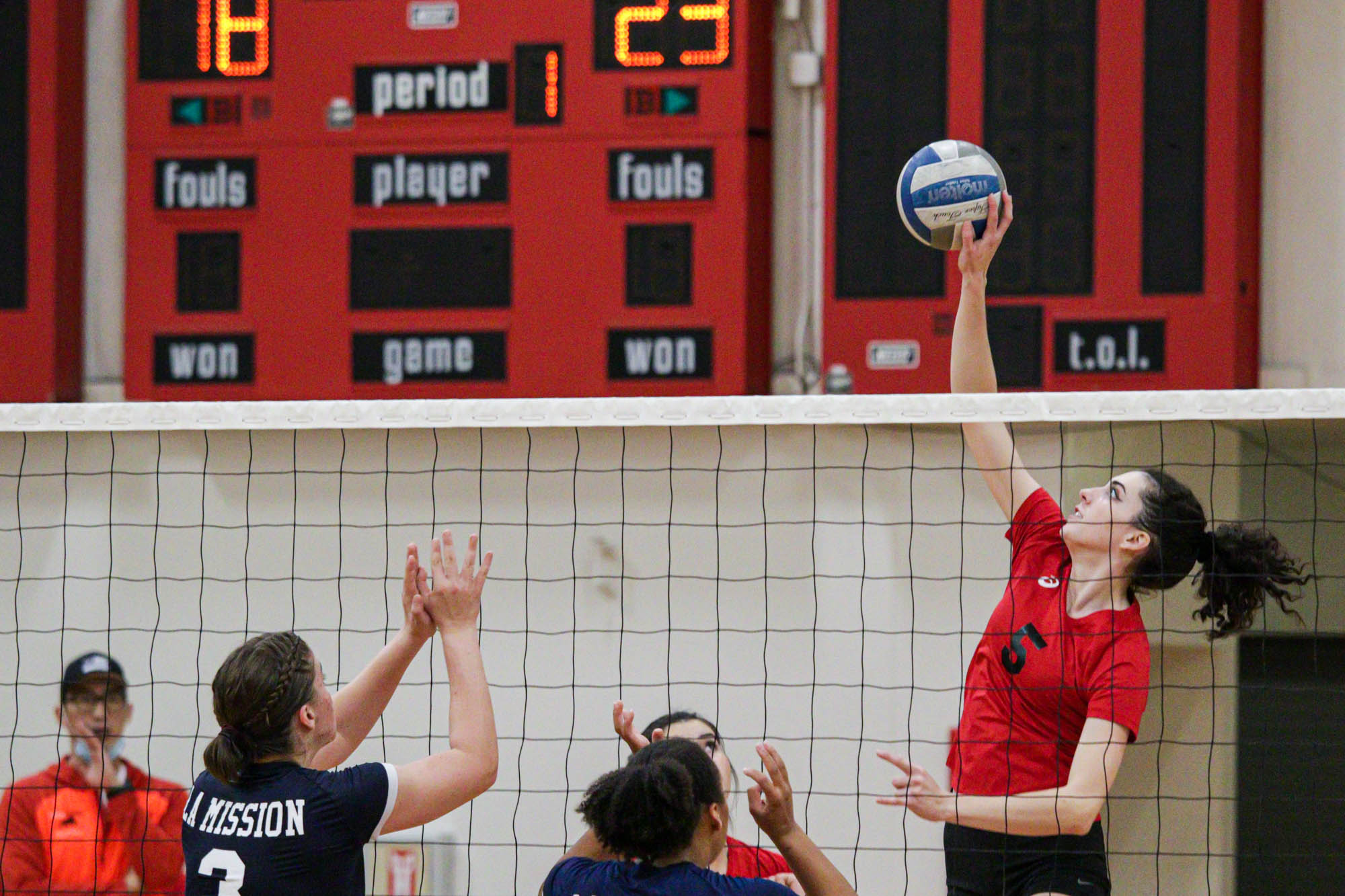 Women's volleyball concluded their season and are getting ready to work for next year.
Pierce lost in their final match of the season to West LA College in five sets (25-21, 25-18, 21-25, 22-25 and 15-12) to end up with a record of 1-13 overall and 1-9 in conference play.
Outside hitter Alejandra Velasquez said her return to the court after a lost season because of COVID-19 and an injury was a passionate one.
"I've basically been off for a whole year, so it was definitely an emotional experience," Velasquez said. "I think after the first practice I definitely cried because I've missed the sport so much, but it was just really nice to be on campus." 
Head coach Edison Zhou was faced with a new challenge this season when it came to the personnel on his roster as many of his players were inexperienced.
"We have a lot of brand new players, so I think that's a great challenge," Zhou said. "We had to have a brand new player on the court and the other players had to cover for her. I think that's a challenge for me and the other experienced players."
For Zhou, one of the biggest obstacles he had to overcome this season was the language barrier between him and his players so he often relied on his assistant coaches and players to help clear up misunderstandings.
"My English is not that good so when I explain something to them, it might not be that clear," Zhou said. "I wouldn't say it's a problem but it's a big part I need to work on."
Libero Saisha Kahae said that the team practically started from scratch and that she was impressed with how they were able to come together as a team.
"There were no returning players, there's only two other players that were on the team previously,"  Kahae said. "Just being able to see how we started and then how we ended the season, we definitely enjoyed it a lot better than how we started."
Kahae also mentioned that not having preseason was a challenge in itself as the team struggled from the lack of chemistry.
"I think the hardest part was not having a preseason," Kahae said. "We didn't really have enough time to mold as a team and to start off that team chemistry before the conference actually started."
For Velasquez, one thing she is going to miss about this season in particular is the bond she's built with Kahae.
"I'm definitely going to miss Saisha, she's literally become my sister," Velasquez said. "So that's going to be tough."
Kahae added, "I made some really good friends. I became close with five girls on the team and we still hangout. I'm definitely going to miss the bonds I've created with some of the girls."
Velasquez and Kahae were already hard at work in the weight room on campus at the time of these interviews which perfectly demonstrates the mentality this team has headed into the offseason.
Kahae's offseason goals will be to get looks from a university and to keep herself in shape.
"I'm working out constantly, sending out my highlights and stuff like that so that hopefully I get an offer,"  Kahae said.
Velasquez will continue to work on the strength of her injured knee and be a leader for this team.
"Working on my leg and recovering and getting back to full strength because I'm still not there," Velasquez said. "And just making sure to keep up the chemistry on our team. That way we can go into next season leaving off where we left off instead of going backwards."