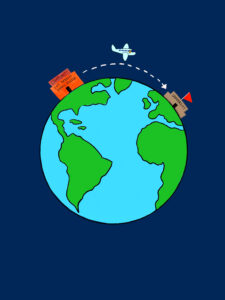 Many students are struggling to decide between what college they want to transfer to after graduation. Students tend to look at colleges out of state to get a new experience and gain independence. This sounds appealing, but for a lot of people it isn't realistic.
Going out of state for college will cost a pretty penny. According to ValuePenguin.com, a majority of these colleges have an out of state fee of $20,000 or more. A lot of state schools offer grants and scholarships that out-of-state students can't apply for, which is a red flag for those who need the extra assistance with paying for school.
According to the College Raptor website, "many states offer their eligible students scholarships or grants for staying in-state to attend college. When students attend a college in a different state, they cannot take advantage of the free money to help them pay for college." 
Also, out of state schools are harder to get into. There's more competition because some of these schools have different requirements, which means more classes and higher grades need to be a priority. 
There is also a higher cost of travel to get to the school in the first place. It's a lot of unnecessary money and fees being spent that could go towards in-state tuition. It's only cost efficient if a student is meticulous about their expenses, but most of the time it's still just simply too expensive.
It may be silly to say but by choosing to stay in state, they'll be closer to home. When they go away they can't go home as often as they'd like and sometimes that can take a toll on a student's mental health. If they're used to being around family and friends, this will be a difficult adjustment. 
According to Medium.com, "an average of 34 percent of students dropout of college due to stress from separation from home."