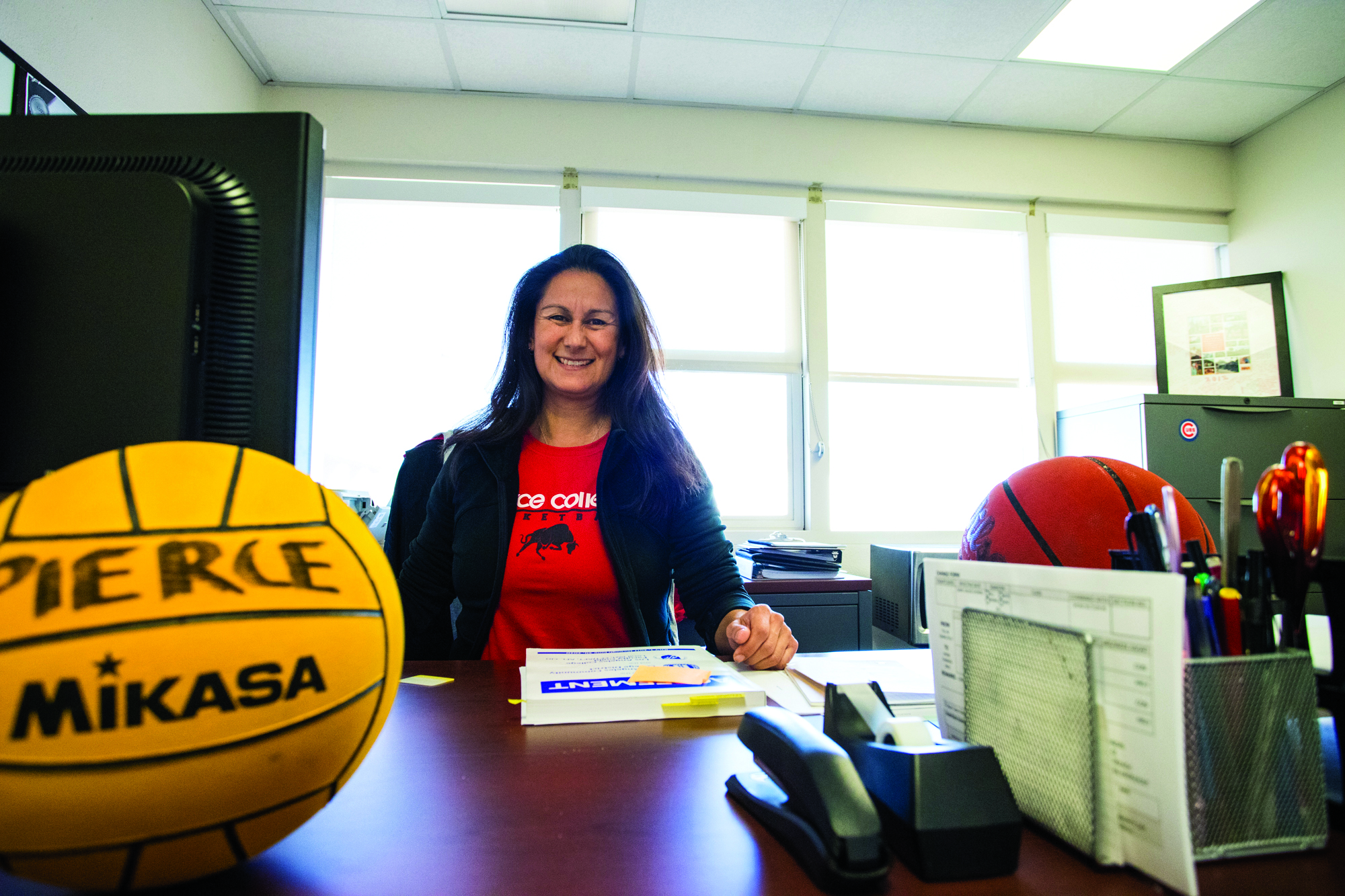 After originally announcing her intention to step down as athletic director, Susan Armenta did a 360 and has returned to lead the athletics department.
Armenta mentioned that her decision to step aside temporarily was because the athletics department wasn't getting the proper support.
But with Claudia Velasco as acting dean, Armenta said she was convinced to return because of Velasco's decisions.
Armenta acknowledged Velasco for stepping up and said that they can build good chemistry.
"At first, I told Claudia that I was there as a resource," Armenta said. "I wanted to be a support for her. Once I saw how dedicated she was to our programs, I felt that athletics had a chance." 
Velasco approached Armenta to ask her to see if she would consider returning.
"At first she said no. I told her I respected her decision, but I asked her to consider it. We spoke again the following weekend and to my delight she said yes," Velasco said.
Armenta said taking time off helped her physically and mentally, but at the end of the day she made the final decision with some input from close family.
"I talked it over with my partner. She saw the struggles and frustrations I was going through," Armenta said. "She said 'This is your decision. I just want to make sure that this isn't going to take a toll on your health.' I reassured her by all means that I wasn't going to allow that to happen."
Armenta recognized that with all the responsibilities, she wasn't prioritizing her health. 
She said the first week back was hectic, but went in with a positive attitude. 
Armenta returned in time for the final basketball games, the start of spring sports and to accommodate a last minute change so the Filipino National Team could have their third baseball tryout.
Armenta said the department still needs to do an overview of all the programs. She mentioned the importance of being efficient as it relates to their spending.  
"We also need to be able to address our equity gaps as far as who we are serving," Armenta said. "Does that mean, do we cut a program, add a new one, or do we find a way to merge programs. We need to become more efficient and equitable."
Armenta said that another reason she came back was because of college support. She said the faculty, Academic Senate and the union are being more receptive. 
In the long term, Armenta wants women's cross country to start and acknowledged the importance of having men's soccer.
"One of my goals is to get that going," Armenta said. "Again, it will have to do with reviewing our existing programs. We saw what happened with tennis. I know the demand[for enrollment], and that is another equity gap that we need to look at. My hope is to see it happen."
Armenta wants athletics to thrive and said she is beginning to reestablish connections with the community. She also said she hopes for attendance to improve at games. 
Velasco said that Armenta's heart is in the right place.
"People respect and care for her," Velasco said. "With the input from her, we can finally bring some stability to athletics. We also have the support from senior administration moving forward." 
Head football coach James Sims said he is pleased that Armenta decided to return.
"She is stepping up to the plate when we need her," Sims said. "She is standing her ground and requesting things that need to get done. In all of my time being at Pierce, this has been the most support I have seen from an athletic director. It looks like the administration is getting behind us."