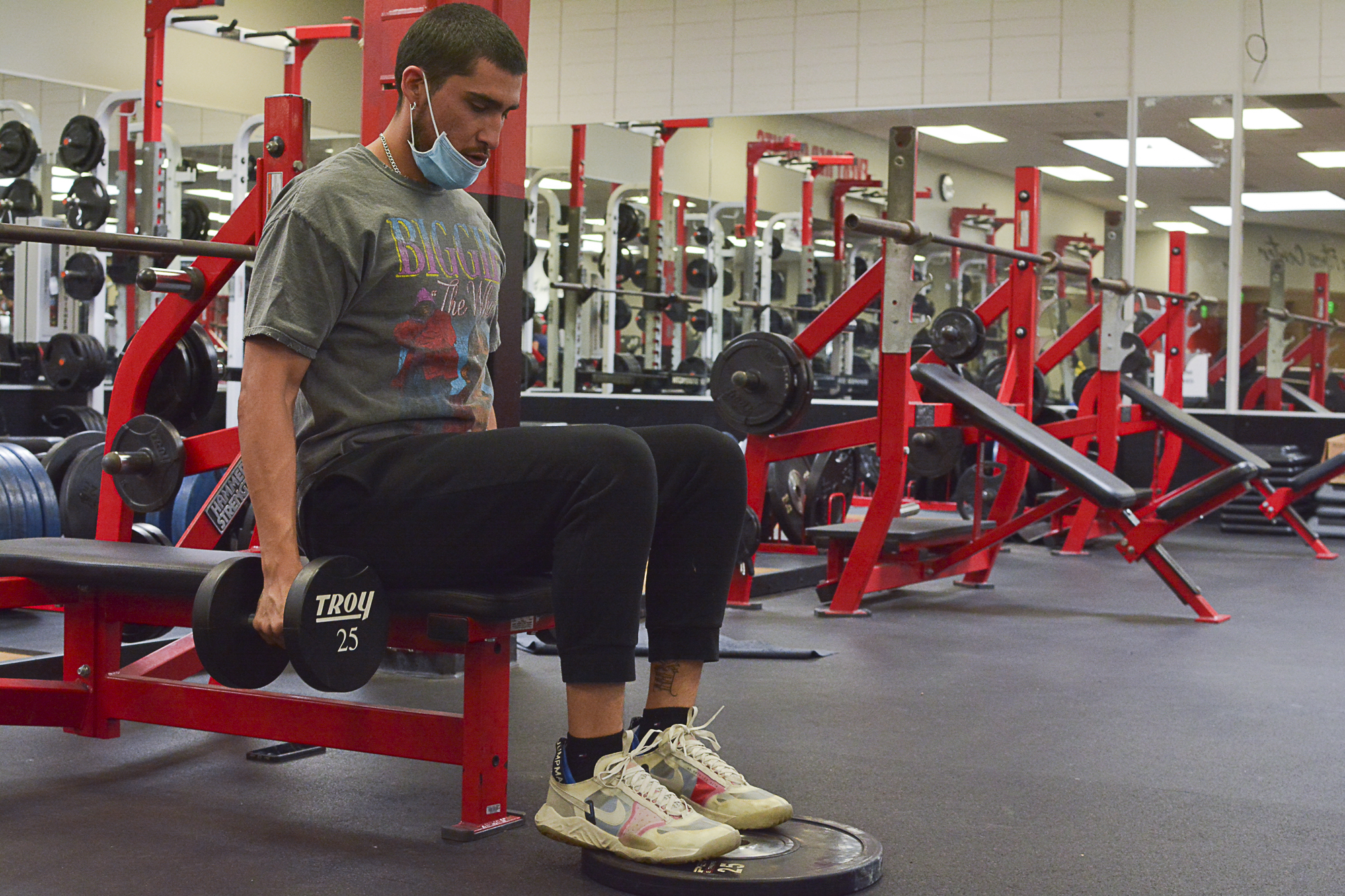 After being closed for nearly two years because of the COVID-19 pandemic, the Fitness Center has reopened to athletes, students, faculty and staff.
Football head coach and Fitness coordinator James Sims said he is glad that the center has reopened, because it can give students a sense of normalcy. 
 "I hope that the students could come back in, start getting somewhat of a normal life and be able to come and enjoy the full campus life of being able to work out and go to class," Sims said. 
Women's basketball assistant coach Zenith Robinson echoed the sentiment and said the opening allows students to get active. 
"They don't have to feel like they're stuck at home or in front of a computer," Robinson said. "It allows them to get back on campus and get in a workout."
Men's basketball assistant coach Travell Robinson said the center is extremely beneficial for student-athletes.
"It gives the athletes a chance to get back in shape, back in conditioning," Robinson said. "We're making sure everybody's staying safe, while being competitive at the same time." 
The fitness center is used by many student-athletes on campus, Women's soccer forward Alexandra Meza said she is happy about the reopening and the support student-athletes are getting. 
"I get to come in everyday, I feel a lot better and I feel healthy," Meza said. "There has been great support for our athletes and our team, preparing our muscles for game day. I love it."
Football player Peyton Pelletier said adjusting to working out through the COVID-19 lockdown was difficult for student-athletes.
"We weren't able to go into the training room to get our bodies right," Pelletier said.  "We weren't able to go into the weight room. It's great to come in here four to five times a week with the coaches and the team, it's really helping us develop a lot more."
Coaches and athletes had to adjust to having their training sessions on Zoom. 
Sims said that he was working with student athletes during the lockdown but the equipment needs were not met for many at home. 
"Some students had weights at home, some had water bottles," Sims said. "I had a student using drills."
Sims said the Fitness Center is one of the many athletic facilities that needs to be remodeled because of the wear and tear it has accumulated throughout the years.
"It's really looking kind of old. Especially the flooring, walls and mirrors because it sat dormant for almost two years due to COVID," Sims said. "The gym is a little over 10 years old, it's time to replace it."
The fitness center is reserved for athletes from 7-11a.m. Students, faculty and staff are allowed access from 11 a.m.-1p.m.