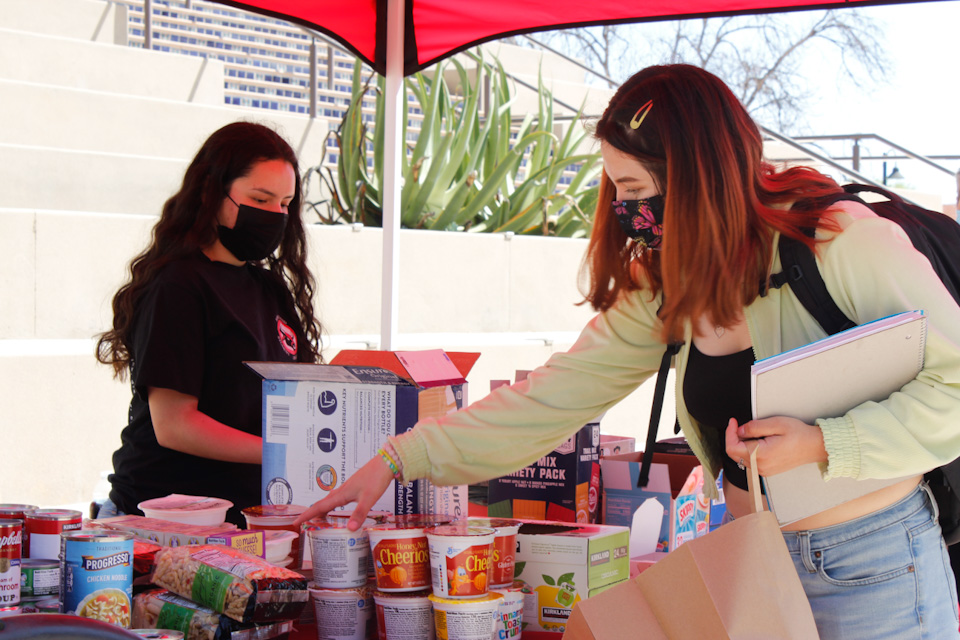 Being able to afford groceries and necessities, especially for students, might be a struggle with rising costs in the country.  
But the Pierce College Brahma Pantry understands this and is willing to help out.  
Student Sarin Esagholian said the program gives students a sense of community on campus. 
"What drew me to the Brahma Pantry was the overwhelming kindness they gave me," Esagholian said. "It's difficult during the pandemic to get groceries, especially with gas prices being so crazy."
A few of the meal items that were offered included tofu noodles and glazed chicken with broccoli and rice. Other items ranged from Ensure protein drinks, protein bars, different types of cereal, an assortment of different types of nuts, Dole fruit cups, canned goods, pastas and even Dorito Chips.  
Student Alejandro Prisciano said that he found out about the program last week when he was just passing by and was glad the service provides useful items. 
"I'm going to give the majority of these items to my friend because they don't have enough food at home," Prisciano said. 
Student Johnny Saoud said the Pantry is a great resource for students who spend a lot of time on campus. 
"I noticed that they were giving out free snacks, so I signed up and was able to grab some food."  Saoud said. "Money isn't the best for everyone, so being able to not worry about food is a major thing." 
He enjoys taking a lot of the items home to his mom, who is very appreciative of it.
"Some people try to convince themselves that others can do everything on their own, but everyone needs a helping hand, at times," Saoud said.
Lead Coordinator D'arcy Corwin said the state of California has granted community colleges the funding to provide students with food. 
"It's so awesome to connect with students and to see how helpful this is for them," Corwin said. "It's amazing and really a pleasure for our program to see the students enjoying the foods and the snacks."
According to the Pierce website, the mission of the Brahma Pantry and the Basic Needs Program is to connect students to resources for them to be successful in school and alleviate any financial pressures they might have.
The service accepts shelf stable donations, including canned foods, snacks or monetary contributions.
The Pantry will be available every Wednesday and Thursday from 12:00-2:00 p.m., outside of the Associated Students Organization building. More information can be found on the school's website.