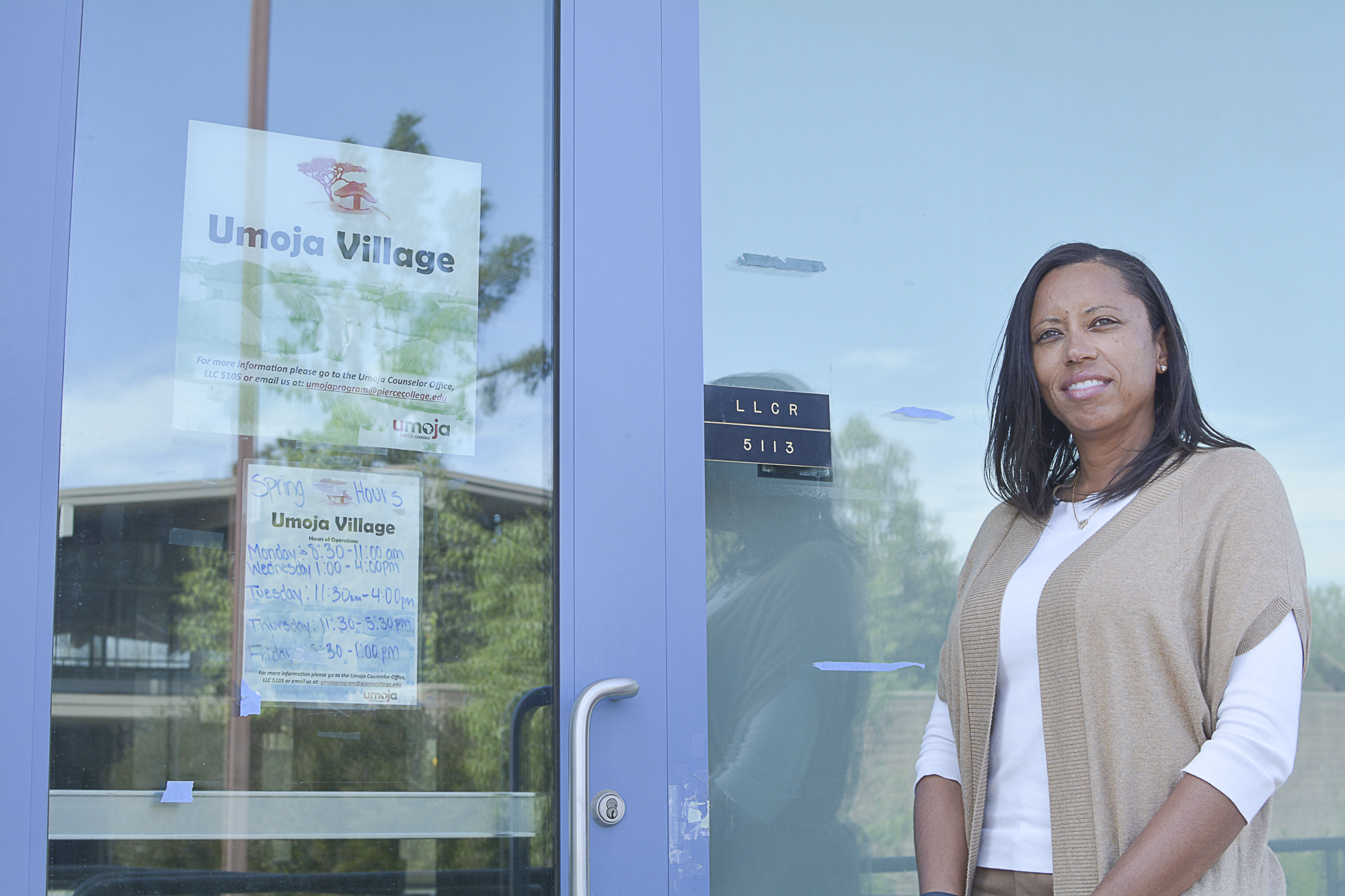 When students tell Kalynda McLean about facing hardships, she recalls the day a San Diego State University biology professor discriminated against her. 
"I had gone to the professor on the first day of class to let him know that I was probably going to be late because I was coming from across the campus from another class," McLean said. "So I told him that I will come in, sit in the back and be quiet. He was looking down at a piece of paper and he said, 'Well, I think you should drop the class. In my experience, you people don't do well in this class anyway.'" 
McLean reported him and ended up changing her double major and leaving the course, but that interaction helped change her career trajectory. 
Today, Umoja Coordinator and Counselor McLean strives to make sure no one else goes through what she did. 
"I always tell them what the process is to report anything that is inappropriate or illegal," McLean said. "And when I was in an administrative role, I was sometimes part of that process. Unfortunately, it happens and Pierce College is not exempt from that."  
McLean began working at Pierce in 2009 as the interim associate dean of Student Services. When she left in 2010 to take a full-time faculty job at LA City College, McLean said she realized that Pierce was the right place for her.   
And in 2014, she got her opportunity to go back as the dean of Student Success, where she served under that position for seven years. It wasn't until 2017 that she brought the Umoja program to campus.  
While working on campus, McLean said that it is an honor for her to work with Pierce College students.  
"I really believe that I'm here to work side by side with students as a partner and also an inspiration," McLean said. "I think that it's important that I lead by example and also that I lead to inspire and leave a legacy." 
Before coming to the San Fernando Valley, McLean was in Queens, New York, where she lived with her mother and her two sisters. Early on, her family instilled in her the value of education and to take it seriously. 
"My mother didn't go to college until I was an adult and I finished college," McLean said. "And my grandfather had to drop out of school in sixth grade. So my mother always stressed the importance of going to college, and my grandfather always explained to us how education shouldn't be taken for granted as not everybody has an opportunity to go to school."
Eventually, McLean graduated from a public high school in the U.S. Virgin Islands and even attended the University of the Virgin Islands before transferring to San Diego State University, where she majored in psychology and minored in biology and received her masters in multicultural counseling. 
After graduating from San Diego State University, she went to Pepperdine University and received her doctorate in educational and organizational leadership.
McLean's leadership and strong advocacy for students doesn't go unnoticed. 
One Umoja student, Yanise Daaku, said she liked how the program treated her and how McLean is supportive. 
"I made a counseling appointment with her," Daaku said. "She was really amazing and very supportive. She broke down assist.org, the transfer process and the different UC requirements. I really enjoyed the Umoja teacher's classes because you get to learn a lot and they care about you."   
ASO Co-Adviser Geremy Mason said that he has known McLean for a while and knows how competent she is with her job.  
"She's very effective at what she does," Mason said. "She's very knowledgeable and when it comes to getting things done, she does a very good job."  
Career Center Counselor Wendi Meckler said she worked with McLean for five years when McLean was the Dean of Student Success. She said that McLean is attentive and always looks out for the best for other people. 
 "She's always thinking of equity and fairness," Meckler said. "She's always looking for how things are going to fit in the big picture. She always looked out for my messages and wanted to help others." 
McLean now makes it her priority to make sure that the Umoja program keeps itself running for the students that really need it. 
"One of the concerns I see, in particular from students, is the support of the Umoja program and the continuity of it," McLean said. "It served as a really good community for them and a really great resource. And so students are concerned about how the program is being supported."
When it comes to Pierce students, McLean said that she learned the value of being self-sufficient. 
"Students at Pierce are very resourceful, and they find a way to get things done on their own, which is fantastic," McLean said. "That's taught me a lot in that it's okay to go ahead and find the answer yourself and to bring it back to confirm it with someone, but it is good to be a little independent and go out and do things on your own."