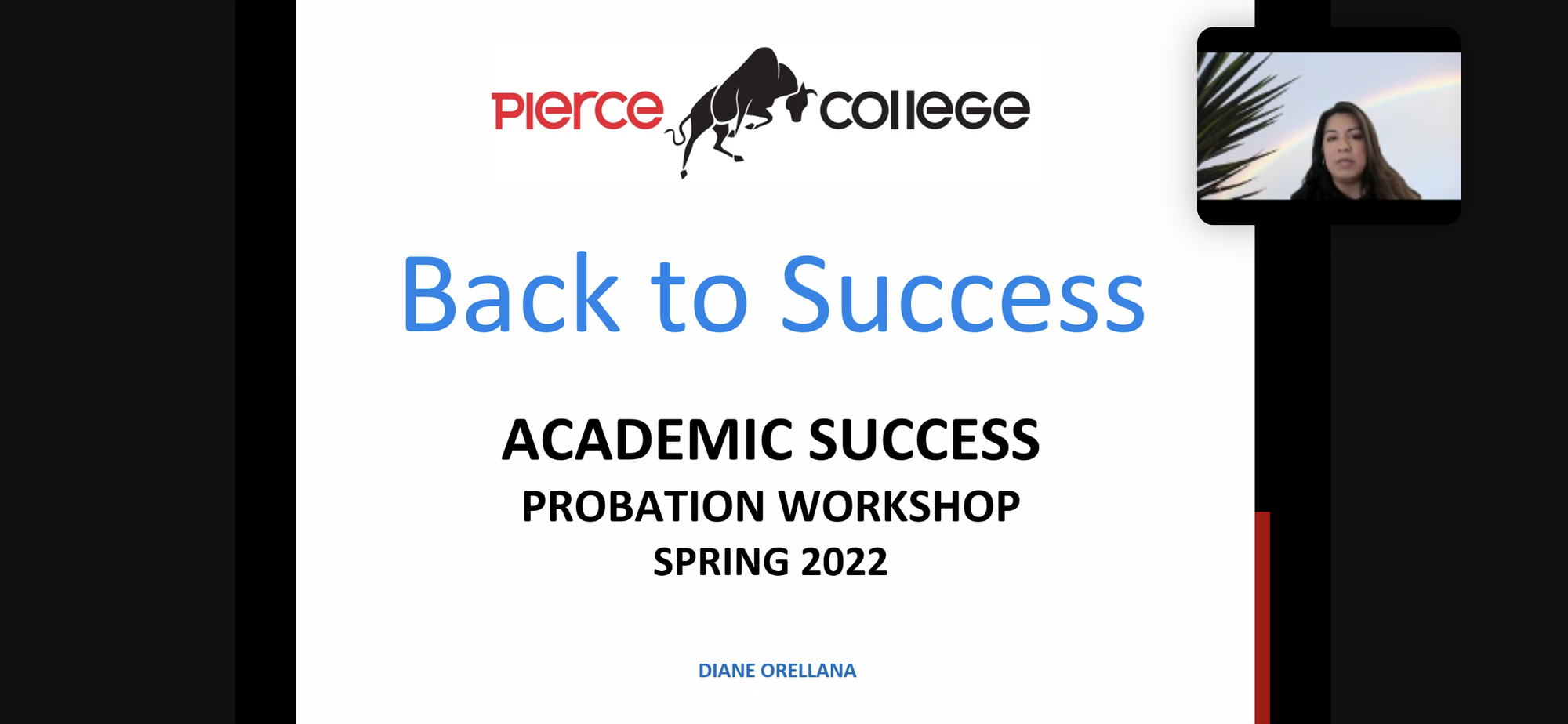 The Pierce College Transfer Center held a workshop on March 23 to get students who were placed on academic probation back on track.
Pierce Tenure Track Counselor Diane Orellana said probation is not a disciplinary action, but rather a procedure.
"Probation is not a punishment," Orellana said. "It is a process used to identify students who are experiencing academic difficulty."
Orellana said she knows students who have all A's and are in danger of being on probation. 
"I've met a student once who had an exceptional GPA of 4.0 but had so many W's that he was still at risk of getting dismissed," Orellana said. 
There is a difference between academic probation and progress probation.
Academic probation is when students attempt 12 units and their cumulative GPA is below 2.0. 
Progress probation is when a student has attempted 12 units and the percentage of all units for which entries of 'W', 'I', 'NP' or 'NC' exceeds 50%. 
There are consequences for being on probation.
At level one probation or first semester on probation, there are no consequences, but rather a warning. 
At level two probation which is two consecutive semesters on probation, students lose priority registration and the CA Promise Grant (BOG).
At level three probation which is three consecutive semesters on probation, students are subject to dismissal. 
If students are dismissed from Pierce, they cannot attend any Los Angeles Community College District campus for two semesters.
There are ways to help improve academic standing, including academic renewal.
"Academic Renewal removes up to 30 units of D's and F's from your transcript," Orellana said. 
Other ways to improve academic standing are course repetition, dropping courses and excused withdrawal. 
Communication studies professor Robert Loy said that he would meet up with a student and set up a blueprint for the student to triumph.
"I will meet up with them separately during office hours, discuss their goals, review what went wrong last time, and layout a game plan to ensure their success," Loy said. "It's important for students to know that we are proud of them when that happens."
Loy also said that whenever a student is going through tough times, it is important for them to reach out. 
"Be transparent and upfront about an issue you're dealing with," Loy said. "Always remember that your success is our success, so we are invested in helping you through this difficult time."
Interim President Ara Aguiar said that faculty are willing to help students with academic improvement.
"Go to office hours with the faculty member," Aguiar said. "Look at ways to maybe consider taking some non-credit courses that can help support studying skills and developing those skills that are necessary so that they can be successful."
Aguiar said being on probation can be caused by not having the textbooks and many students struggle financially. 
"So it's our responsibility to make sure that the textbooks are available," Aguiar said. "And that's why I really support going for online educational resources to support courses because as you know, some students can't afford it."