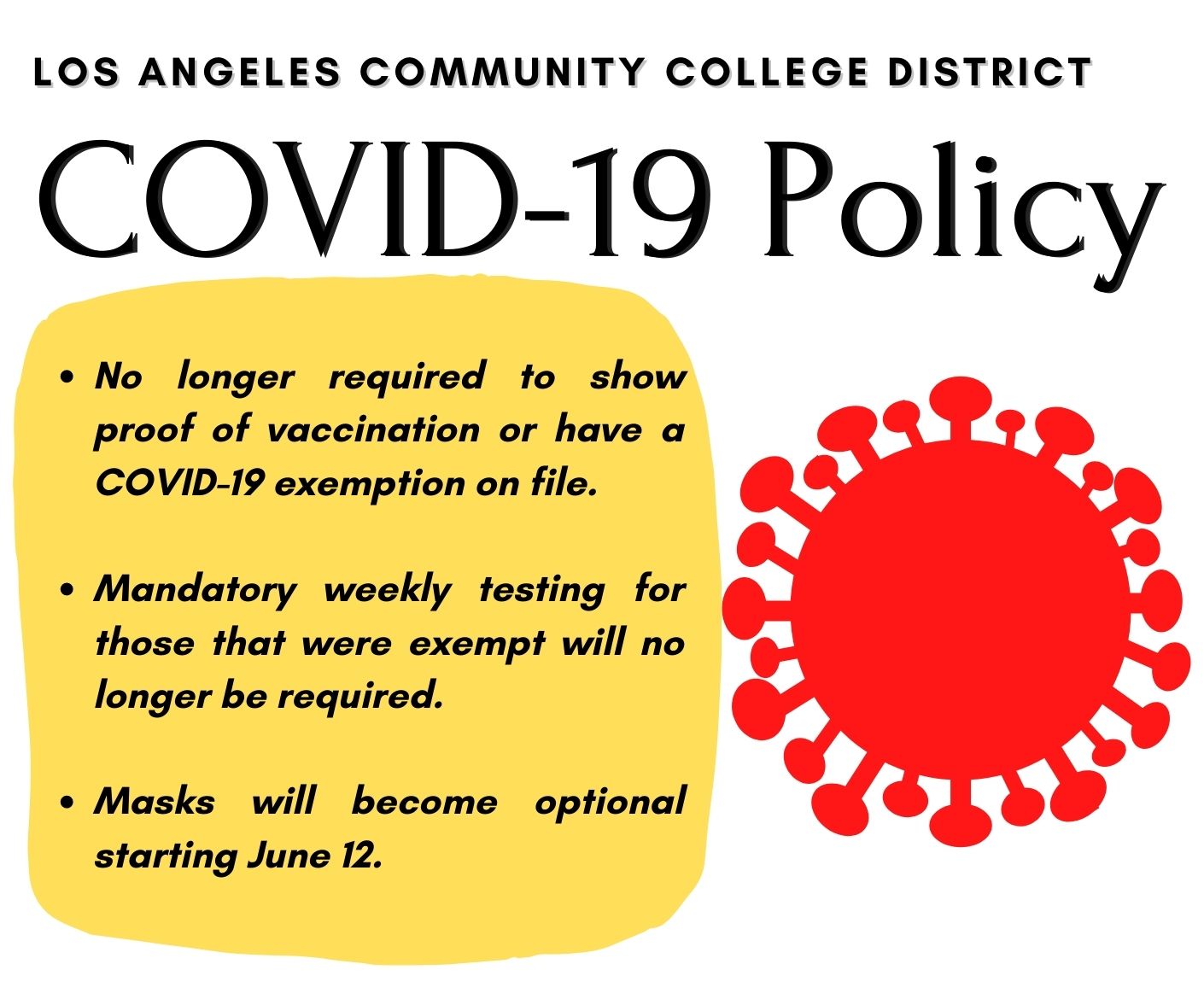 After implementing a vaccine and testing requirement last semester, the Los Angeles Community College District (LACCD) Board of Trustees in a meeting on May 4, voted 4-3 that Board Policy 2900 be modified.
Starting May 5, employees, as well as current and future Brahmas, will no longer be required to show proof of vaccination or have a COVID-19 exemption on file. 
Mandatory weekly testing for those that were exempt will no longer be required.
LACCD Director of Communications and External Relations William Boyer wrote in an email the reason for the sudden change.
"The Board of Trustees voted based upon recommendations from the Chancellor and the prevailing health orders and recommendations from the Los Angeles County Department of Public Health," Boyer wrote. "Now, we will update and revise the administrative procedures for enforcement and governance of the policies."
In addition to the changes in vaccination and testing, masks will become optional starting June 12.
Pierce College Interim President Aracely Aguiar said the district has evaluated the school facilities.
"We have implemented the safety measures that have been recommended," Aguiar said.  "Based on the data, we are in a situation where 80% of our community is already vaccinated and the guidelines and I quote from the Department of Public Health is that the current environment is not creating a health risk or death."
She said this decision will impact enrollment in a positive manner and said they will continue to take action to keep everyone safe while the students meet their academic goals.
"Our custodians have done an amazing job. They go in every day after the classes are done and spray our rooms and disinfect them with the technology that we have purchased through HERF funds," Aguiar said. "So I think all of these factors together are making our students much more open and accepting of coming back and making the choice of what is the best for them and their family."
Aguiar said that they will continue to have options available that meet the needs of each student.
She said that the reaction to the decision has varied from the faculty and staff.
"So I've heard a few things here and there, but many of them have been open to returning to campus," Aguiar said. "Having said that, we also have to be sensitive to the fact that faculty and staff do have the opportunity to go through a process of accommodation as a result of a personal medical situation."
Aguiar added, "So as leaders for the college, there is a process and we will go through that process, work with each person, the District, and do everything to make sure that those requests are looked at in a way with fairness and accuracy."
Athletic Director Susan Armenta said it was necessary to modify the requirements.
"I do see the necessity to do that because we were creating a barrier for student enrollment," Armenta said. "Especially for our athletes. As much as I want to be safe, there is also a downturn in COVID, but I felt it was an opportunity for us to be more welcoming."
Fitness Center Coordinator and head football coach James Sims said he is cautious but happy about the change.
"I still realize that people are still getting sick and some are still dying, and you have to take that into consideration," Sims said. "Until we can move forward, I still realize the risks that are being taken."
Sims said that participation will go up because the student-athletes that didn't participate because of the requirements will finally come out.
"There were people that weren't about wearing masks so they will come out," Sims said. "I still believe though at the end of the day, we need to be looking out for everyone's health which is the most important thing."
He said several student-athletes were excited about the announcement because they weren't up to date with their vaccines or boosters.
However, not everyone is happy with the district's decision.
Veterinarian Tech major Mayra Borja said LACCD was wrong for lifting these restrictions.
"I think everyone needs to be vaccinated for other people's safety," Borja said. "I understand that people are frustrated about wearing masks, but they need to wait a bit longer. And with cases rising, we might have to do it again."