Where are you from? 
Los Angeles City College graduates were asked that question by keynote speaker first lady Jill Biden. 
Biden addressed the LACC graduates of the 2020, '21 and '22 classes during the commencement ceremony at the Greek Theatre on Tuesday, June 7. 
"Never forget your path," Biden said. "The people who brought you here, or the lessons you've realized along the way." 
LACC's mission statement says the school empowers students from diverse communities,  including its graduates' backgrounds. The oldest graduate was 69 while the youngest was 16 and still enrolled in high school. 
Biden told the story of a graduate that completed her final exams while going into labor with her third child; the story of a graduate who, for 25 years, worked as a graphic designer before deciding to return to college and obtain a degree in childhood education, and the story of a Marine who suffered from post-traumatic stress disorder (PTSD) after a deployment in Afghanistan. 
"These stories of perseverance and resilience are so inspiring," Biden said. 
Biden was introduced to graduates by Los Angeles Mayor Eric Garcetti, who eschewed his prepared speech in favor of speaking from his heart. 
"Jill Biden is a North Star for our country and for our world," Garcetti said. 
Valedictorian Voleak Sip spoke about the difficulties students faced during the pandemic, mostly attending classes on Zoom. 
"If there's one unifying descriptor for all of us here today, it would be that of tenacity," Sip said.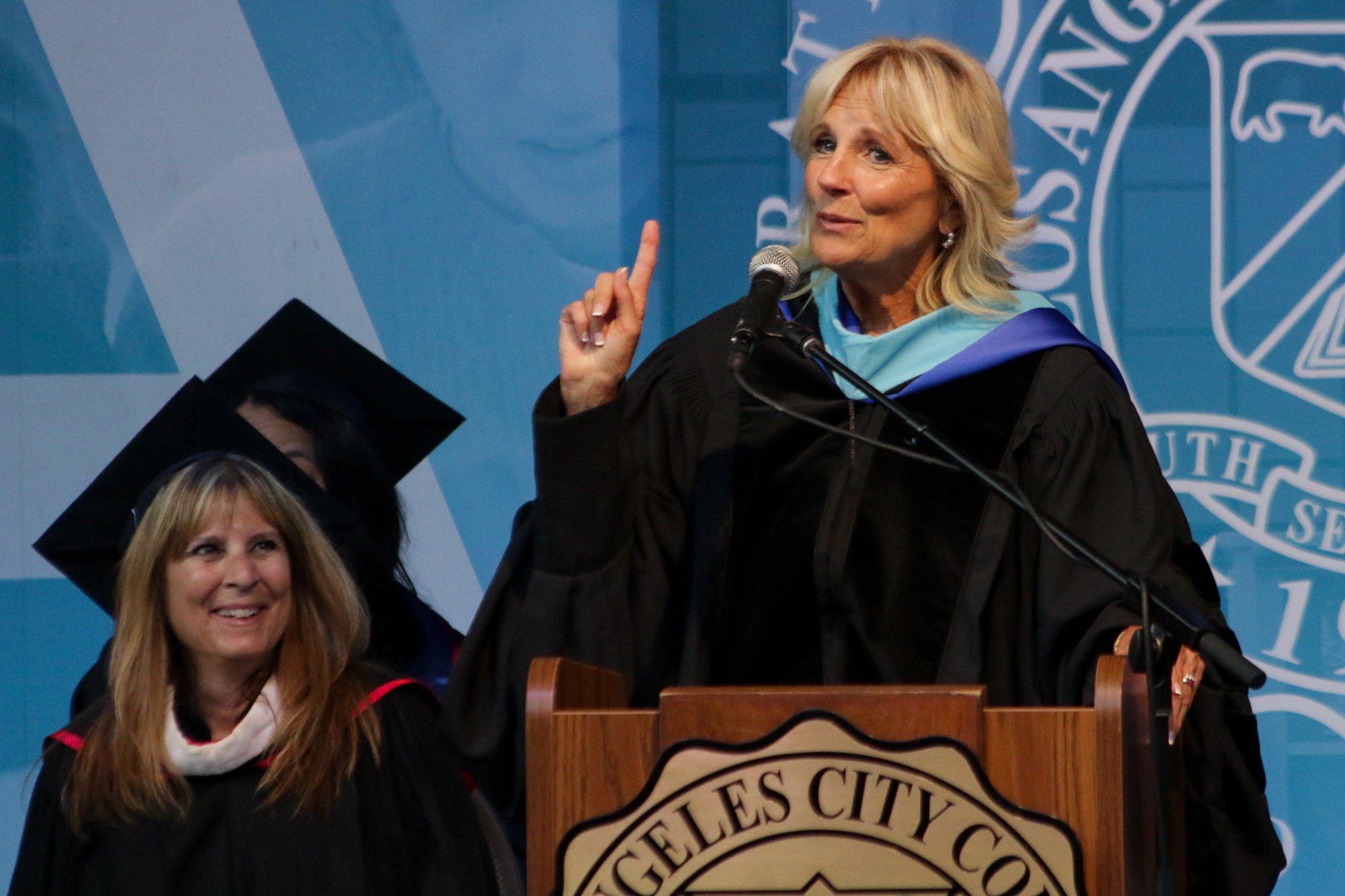 Biden told the graduates to prepare themselves for what the future has in store for them.
"Explore the world and all that it has in store for you," Biden said. "There will be no shortage of incredible opportunities in your future." 
As first lady, Biden still works as a professor for Northern Virginia Community College and has pushed for free community college tuition, but her latest initiative is no longer on the Democrats' spending bill. 
"When we make community college affordable, it opens up a world of possibilities," Biden said. 
Biden concluded her speech saying to always remember your roots.
"Never forget where you came from," Biden said. "It doesn't have to define you but it will always have something to teach you."