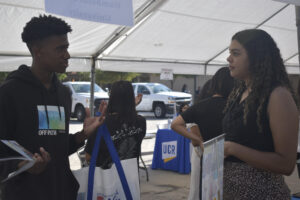 Both ends of the campus walkway last Saturday were reserved for high school, ongoing college students, their parents and anyone to stop by and check out what Pierce, other sister colleges and universities had to offer.  
"I'm just interested to see all the colleges," said Sebastian Carrasco who attends El Camino Real Charter High School. "I spoke to some schools already and I'm really interested in some of the programs."    
The event lasted from 9 a.m. to 1 p.m. where more than 20 booths were set up and roughly six workshops took place at the Campus Center, ELM, IRIS and GINGER buildings. 
Each workshop had three sessions where attendees can go between 9:30 a.m. to 12:15 p.m. to learn about transferring, the Community College Promise program, financial aid, growth mindset and student engagement. 
For financial aid and the Community College Promise/transfer workshop, there were seminars in both English and Spanish.                                                                                                                      
Vice President of Student Services Jason Cifra said that this event is important for students to learn and find what's right for them. 
"We've invited a variety of partners and also schools where students can get information about admissions and if they have the right programs, and how to get into the college of their choice," Cifra said. "At the same time Pierce College is here so that students know they can start with us. We do have a variety of student support services like EOPs, UMOJA, our tutoring is here, and also our peer mentors are here in addition to the programs that we offer."     
Carrasco mentioned that he wants to pursue computer engineering and he said that he's open to any school that offers him what he needs.  
"Some of them give offers like obviously having a lot of people and obviously fitting my wants to have computer engineering, but there's other schools that offer more like family-oriented communities and that's what I really love cause you have a deeper connection with everybody rather than just having a lot of people," Carrasco said. "You have a few people but they feel so much closer, it's like comparing one-hundred pennies to four quarters. It's a big difference."      
Peer Adviser from the Career and Transfer Center Elizabeth Pitpitan said that she transferred to a four-year university and wished she knew more about community college. 
"I went directly from high school to a four-year at CSUN," Pitpitan said. "And part of me kind of feels like I should've done more research on the community college system because I felt like it would've been much better to do for myself and my mental health and financial status looking back now that I know more."     
In addition, Pitpitan said that along with others who are a support system for potential students, she'll do her part in helping them navigate college. 
"I should do my part to educate others, unlike myself, to really know what's out there before really committing," Pitpitan said.  
Cifra mentioned that having an event like this would've helped students, including him when he was starting out in community college. 
"For me being a community college student who went to community college first and as a first generation learner, this is exciting because this is what I needed when I was a student or when I was trying to think about college," Cifra said. "So for me it's exciting that we have people interested in getting our community prepared, getting our students prepared not just when they are graduating from high school, but even earlier. And also bringing parents and family here when college is a family decision and not just an individual decision."