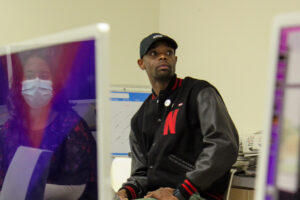 A former Roundup newspaper reporter returned to campus after leaving about a decade ago to tell students about his journey from college newspaper reporter, to broadcaster—and now to a Netflix employee. 
As a visual development coordinator at Netflix, James Hermon talked to reporters, photographers and editors about his work, and how the skills he learned at Pierce College for The Roundup and KPCRadio.com prepared him for several careers.
"I look at my time here as an experience that primed me for my career," Hermon said. 
Hermon said it is important to trust your coworkers, because that is how you strengthen your small but mighty team. 
Hermon's first job in the industry was at The Hollywood Reporter. Shirley Halperin, the Head Music Reporter, spoke at Pierce College in 2011, which Hermon took as an opportunity to make a connection. 
They met up for coffee, he interned for her for nine months, and then was offered a job at The Hollywood Reporter as a freelance worker. He covered the Grammys, the MTV Awards, and the BET Awards.
The Bull magazine Editor-in-Chief Fabiola Carrizosa said there is no shame in changing careers throughout your life.  
"I was raised thinking that you had to stick to one career your whole life, but James is proof that it's okay to change your profession and career and just keep an open mind about different career opportunities," Carrizosa said.
Hermon responded with the retired co-host of Good Day LA, Steve Edwards. James was inspired by Edwards because of the variety of different professions he has been successful in.
"City of Ghosts" was the first show at Netflix that Hemon worked on, which won a Peabody Award. "City of Ghosts" is currently nominated for four Emmys. 
During a Netflix Town Hall meeting in New York, Hermon instantly knew that he had to become involved with the show "Intergalactic."
Hermon reached out to a past colleague Mike Pinkett who was working on the project and was ultimately offered commission.
He has worked on "Intergalactic" for the past two-and-a-half years, which started during the pandemic. 
The team behind "Intergalactic" successfully worked through the pandemic and did the entire show over Zoom.
Journalism Professor Jeff Favre added, "You put out good energy, you do good work, they remember you," as a reminder to take that leap of faith.
"Keep in mind that what you're doing here at The Roundup is literally shaping your future," Hermon said.