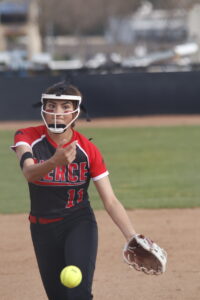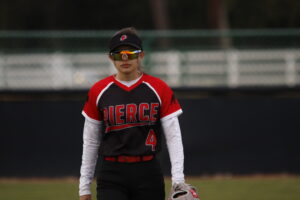 Pierce College Softball is back in full swing this Feb. after a nearly four-year hiatus.
With a new coach and a roster, the program is looking for a fresh start to get the bats swinging and the balls spinning again.
Leading the way is newly appointed Head Coach Brett Marschall, whose resume boasts four years of assistant coaching at El Camino College as well as four years of lead assistant coaching at Marymount California University.
Marschall is also in his fourth year of teaching economics at Pierce.
Given his extensive coaching history, availability as a full-time faculty member, and dedication to the excellence of student-athletes, he was deemed a great fit by the administration.
Marschall feels strongly about sports at Pierce and saw the job as a chance to share that conviction with students.
"I wanted to give our female student-athletes at Pierce the opportunity to represent the school and play college softball," Marschall said.
Having been a collegiate athlete himself, Marschall wanted to give that same support to those wanting to experience playing at the college level. He sees it as a unique, once-in-a-lifetime opportunity.
He's looking forward to coaching a team of talented players, most of whom are playing their first year of college softball.
"Collectively, as a group, I'm looking forward to seeing them all continue to grow and develop in their roles," Marschall said. "(Fans) will see the players really giving it their all."
The last time softball was played at Pierce College was nearly four years ago. The year before that, the season was canceled due to not having enough players to field the team.
Player eligibility not only depends on playing ability, but a GPA requirement has to be met by each student as well.
These factors, along with overall participation, can make it hard to fill a roster of dedicated players.
Just as softball was gearing up for its return in 2020, the COVID-19 pandemic hit and forced all sports to a halt.
Things are looking better now as the softball team has a roster of 16 eligible players, an increase from previous years that have sometimes seen only eight to ten players sign up.
But Marschall doesn't want to ponder on the past and the whys of it all. He's only looking in one direction– forward. He knows it'll take some time to get to a comfortable pace, but he's excited to make that trek with the team.
"Anytime you're starting up a new venture, there's always going to be challenges and growing pains," Marshall said.
For one, Marschall sees the prospect of traveling hours to games as far away as San Luis Obispo to be quite daunting, given that most players are also full-time students with regular obligations like classes and homework.
He credits the resilience of student-athletes as a factor that fuels the players when things get challenging.
Marschall's goals for the young team don't just include winning games, he's prioritizing the little victories and milestones in watching the team do better in each matchup.
He's already seen significant improvement since the team's season opener on February 16 against Allan Hancock College, which resulted in a loss.
"This is going to be a process of improvement every game so that's what we're focusing on right now," Marschall said. "Our goal is to go out and compete in each game and continue to get better."
Pitcher, first baseman, and outfielder, Andrea Roldan, is excited to be playing but admits she feels the pressure of being part of a budding softball team.
"The team we have is great, but there is a bit of pressure because we want to give Pierce a good name in the softball world," Roldan said. "My personal goal for the season is to help build a solid team through camaraderie and dedication."
Meanwhile, her teammate, center fielder Olivia Vasquez looks to work on her approach at the plate.
"Because softball is such a test of mental strength, I'd love to bolster my confidence and execute at the plate when I'm needed," Vasquez said.
More than anything, Vasquez is proud to be on the team.
"Knowing that I'm part of a group of girls that is rebuilding this program is something that fills me with a sense of accomplishment and pride," Vasquez said.
Athletic Director Susan Armenta has a positive attitude about the revamped softball program and the new team. She says fans can expect an improvement in skill in each game.
"I think we have a great cohesive team– all the players are very positive and supportive of one another," Armenta said. "They also have a great coach (in Marschall), who was very instrumental in getting this team together so I'm really excited for the players."
Marschall shares that optimism and hopes for this team to blaze a trail for future softball players at Pierce.
"This team is laying the foundation for future years of softball at Pierce," he said. "The vision for this is to absolutely have teams in future years and continue to grow, develop and improve each and every year."
Come support the Brahmas at their next home game on March 7th at 2:30 pm against Santa Barbara.