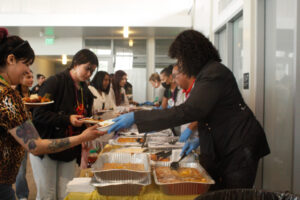 February has many holidays and festivities that can give students new perspectives with food, music and traditions. One of those holidays is Mardi Gras.
The Mardi Gras celebration welcomed all students, faculty, and staff on Tuesday afternoon to bring the campus community together. It was sponsored by Los Angeles Pierce College Student Services.
Multicultural Center Coordinator Tatevik Melkumyan talked about the importance of on-campus events in order to re-engage the community and bring the campus back together.
"Today is the celebration of Mardi Gras, but it's also to unite the campus and bring everybody together," Melkumyan said. "I think since we've gone to remote learning like almost three years ago, not a lot of people are on campus. So now we're working on putting together a lot of events and activities for students, faculty, and for everyone to be excited to be back on campus."
Director of International Student Services Abby Watson and Student Engagement Coordinator Lara Conrady assisted student services in the arrangements of the Mardi Gras celebration. 
"Today we're here just as a community building event to learn more about other cultures," Conrady said. "Mardi Gras is a really fun event for students to learn about. We're already teaching some students some of the traditions about it."
The celebration brought students, staff and faculty together, and taught students a culture they might not have known about otherwise. There were many activities, live music and catered creole food. 
"It's really just so that students and staff and faculty can get together, have some food and just sort of a welcome for spring 2023," Watson said. "Our music department trained to march around with percussion drums. They will be here sort of doing a little march around Pierce."
Along with live music from the percussion instruments played by Pierce College students, there was a mask-making station run by the senior office assistant Meagan Truxal.
"We have feathers, we have rhinestones, we have puff paint and some metallic pipe cleaners," Truxal said. "I had to add another mask-making station – it's very popular. We're here just as a way to get together, to bond, to learn about another culture and just to kind of celebrate." 
Students participated in the activities while bonding over the inclusivity and celebration of Mardi Gras. The line to get free food was almost out the door for the duration of the event. 
"The food is going to be creole food," Conrady said. "So we have jambalaya, shrimp creole, shrimp and grits, beignets, and collard greens and black-eyed peas so there are vegan and vegetarian options."
Also in attendance were ASO students, who supported and helped Student Services during the event.
ASO Co-chairperson Kaden Lewis attended the celebration to support and interact with other students. 
"Every big event is to help bring the community together and strengthen us," Lewis said. "You meet people you've never talked to before, so it's always a great experience. I'm always trying to be a voice for the students and answering any questions or helping out in any way that I can."